VR/AR on path of mainstreamed adoption
According to our survey, an impressive adoption of the technology is already afoot. More than one-third of US manufacturers we surveyed either already use VR technology or plan to do so in the next three years, with adoption plans for AR technology roughly the same. Meanwhile, another one-third of manufacturers have no plans in place to adopt the technologies. Of course, adoption could run the gamut—from experiments or trialing the technology, to more ubiquitous or more widespread use among workers for whom it makes sense.
Clearly, users of VR and AR technology have been using "legacy" devices such as computers, smartphones and tablets for some time and may well continue to do so, as new technology comes on line, such as less expensive and more advanced wearable technology including smart glasses, smart watches and headsets equipped with wider and more "realistic" sensory experiences.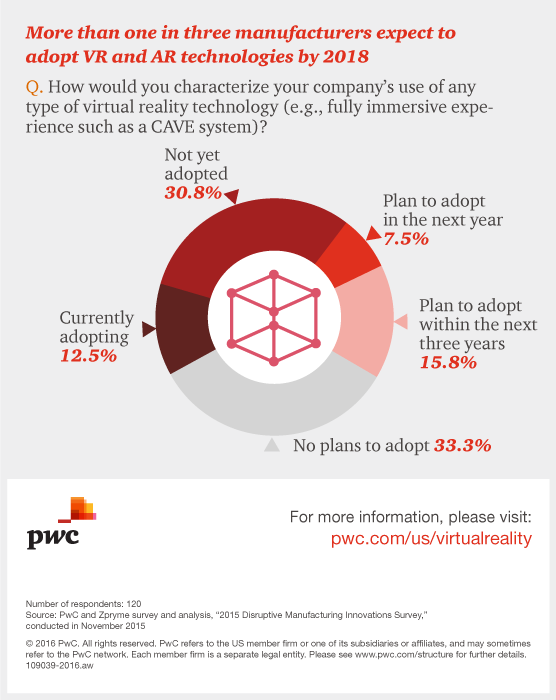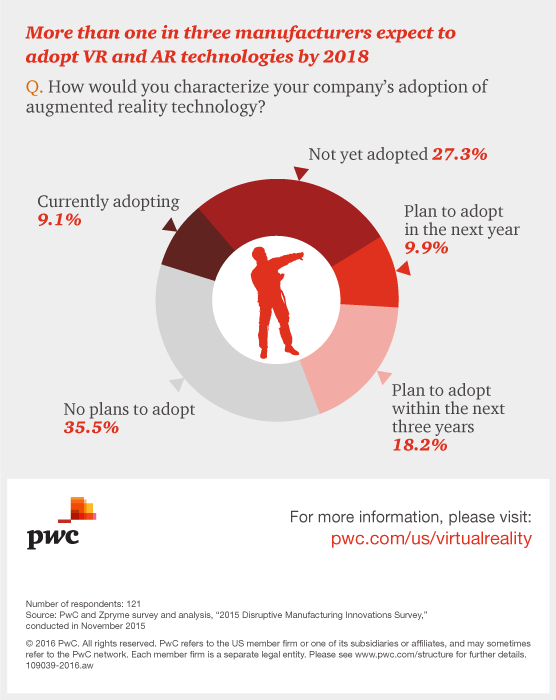 New visions for competitiveness
As the technology begins to be adopted globally and continues to demonstrate improvements in productivity, product development and even supply-chain advancements, for example, US manufacturers will likely see the need to adopt these technologies more aggressively to compete—our survey suggests. Looking ahead, nearly three of four respondents believe that VR will be at least moderately important to US manufacturing competitiveness.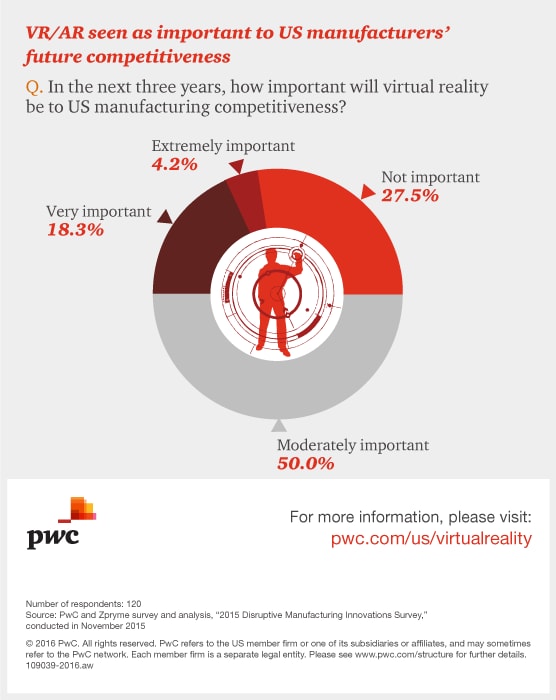 Product design most common application for VR/AR
How are manufacturers using VR/ AR? Pretty much any way they can. According to our survey, the most popular application of AR and AR was product design and development (38%), followed by safety and manufacturing skills training (28%), maintenance, repair or equipment operations (19%) and remote collaboration (19%). [Note that respondents could choose multiple answers.].
What we're seeing, then, is VR/ AR as an advanced manufacturing technology tool—just like robotics, 3D printing, and the Internet of Things. And they're being used in innovative ways. Some companies are fitting warehouse workers with smartglasses which read barcodes on containers of supplies inventory boxes and provide details contents and destination/ origin information. Others are using it them for remote maintenance: picture a field technician that relays a live image of a part that needs to be fixed and a remote colleague supplies relevant data, instructions or images that could serve as a virtual repair manual. Or, smartglasses that help track complicated assembly processes to ensure that all parts are assembled in the right sequence without the down-time of consulting a clipboard, manual or even tablet. To take yet another example: parts inspectors can take a photo of a part that needs to be modified, and also add a spoken record of the issue and relay those data to the appropriate co-worker in seconds.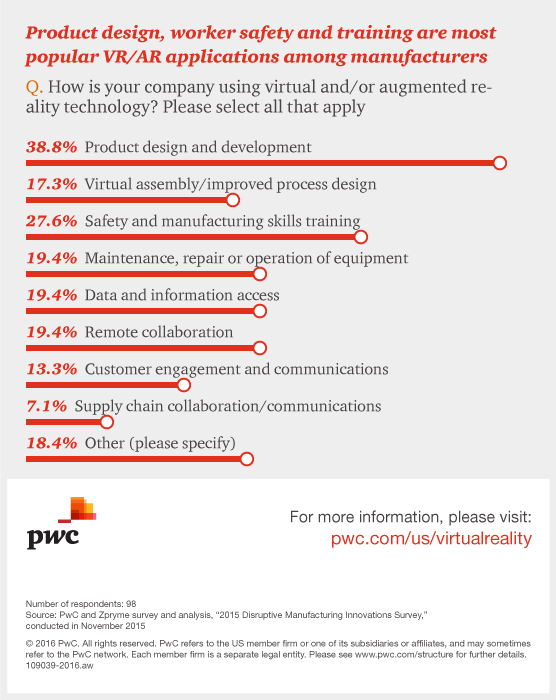 The VR/AR fence-sitters
Meanwhile, what's holding back some manufacturers from jumping into the VR/AR world? According to our survey, about one-third of respondents not adopting say they are sitting on the fence because they have "yet to identify a practical application", followed by those who cite prohibitive costs (20%) and another 31% who believe the technology is not "ready for prime time".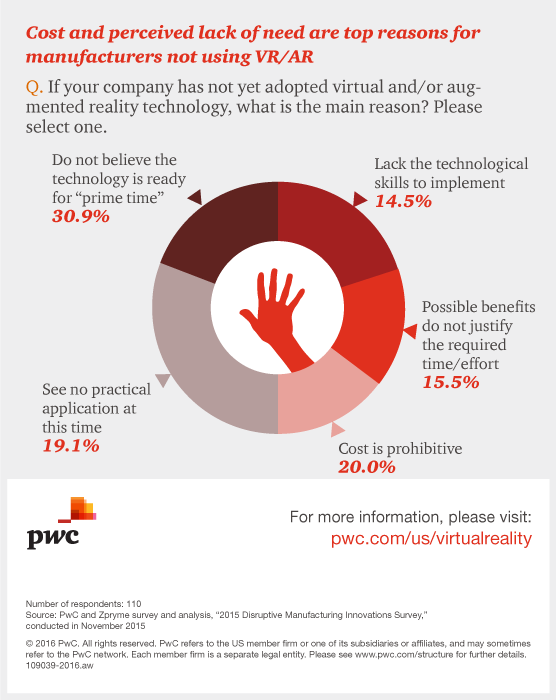 What's next?
While about one-third of manufacturers are using or plan on using VR/AR in the next three years, nearly 90% of those same manufacturers believe that no more than half of all manufacturers in the US will be using AR/VR technology over the next decade--and over one-third believe less than 10% will. At the surface this seems puzzling. But maybe what this is telling us is that adopters of VR/AR may believe they are higher up on the tech adoption curve than their peers. In any case, as the technology improves and price points lower for headsets and smartglasses, we expect manufacturers to keep finding creative applications to improve productivity, efficiency and, most important, worker safety.