Champion workforce transformation
More executives identified upskilling as a top-three priority (36%) than any other option for ensuring 4IR's successful integration into their workplaces, followed by hiring new employees with 4IR tech skills (35%) and implementing a cultural change to deploy 4IR technologies (33%). That's a good start, but 4IR effects could be so large and pervasive that businesses should also rethink the jobs they offer: redesigning the workflow for greater performance, combining some jobs, adding others and probably eliminating some as work flows and roles shift.
It's also important to appreciate that some human skills cannot be automated or replicated with a software update—including communication, leadership, judgement, ethical instinct, to name a few—and to acknowledge that such attributes will always be highly valued and needed, especially as businesses ramp up their machine-human hybrid workforce.
To participate wholeheartedly in a transformation of this sort, employees need to get involved in shaping their own futures. Invite them to voluntarily gain new skills with a citizen-led approach to innovation so they're equipped to drive their own success and help others around them.
Assess first what the business needs to accomplish, provide personalized learning and give people true upskilling opportunities to use new skills in day-to-day work right away. Then listen to their concerns.
Our survey revealed that one in four business leaders agree that establishing mechanisms for employees to share concerns about such technology should be top of mind in deploying 4IR technology. Yet, only one-fifth of those leaders cited evaluating employee satisfaction with 4IR at work among their highest priorities when doing so.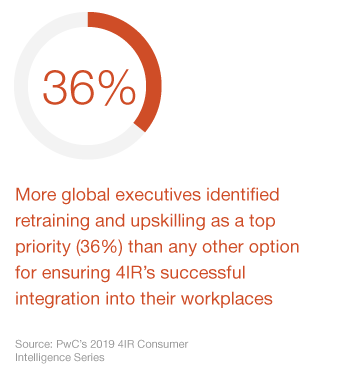 Design trust as a feature
Whether at home or at work, people want to feel that they're in charge of the technology that increasingly pervades nearly every aspect of their lives. Our findings suggest that they trust 4IR-enabled products and services more when they have the ability to turn potentially worrisome features on and off, when they have confidence that any misuse or misappropriation of their data will be brought to their attention immediately and when any personal information being collected is closely linked to the benefits they feel they're receiving. They want to feel that they're being encouraged to use a technology (whether as consumers or employees) because it will make their lives better, and that any tradeoffs involved are easily understood.
The message for business is clear: trust can be a differentiator when it comes to technology, but it must be earned. Companies increasingly recognize this, but disconnects remain. When asked to identify their top three 4IR investment priorities, only 40% cited alerting consumers to data breaches—yet consumers ranked this second-highest among steps most likely to increase their comfort with 4IR.
However, consumer privacy and data security are only two aspects of a multi-faceted picture when it comes to trusted technology. AI presents an emerging challenge—and opportunity—for business, with consumers more likely to predict they'll use the technology more in the coming years (59%) despite feeling discomfort with some AI-driven technologies. For instance, just 48% of consumers say they are comfortable with artificial intelligence making decisions for them and just 40% of consumers are comfortable sharing space mobile robots in the home or workplace.
Therefore, a heavier onus will likely be placed upon both companies and developers to follow stringent data protection design principles, including embedding privacy and data security into technology infrastructure and devices and maintaining transparency into what data is being collected and how it is being used.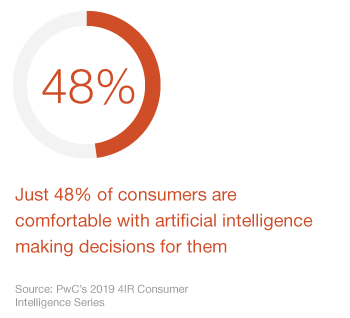 Make good on 4IR's promise
Disruptive technology's evangelists can make high-minded pronouncements about how their product or service's mission is to "change the world," while their true purpose—whether delivering pet food, renting electric scooters or sharing snapshots—could actually hug closer to the quotidian. Indeed, some 4IR technologies will be more disruptive, more needed and more attractive than others. In any case, our research found consumers hold lofty ambitions when it comes to 4IR's promises. Interviews with survey respondents reveal that consumers clearly expect that 4IR technologies can—and should—help make the world a better place and should be applied to tackling global challenges such as education, hunger and the environment.
How can businesses make good on the promises that consumers perceive them to have made? How can they rise to customers' challenge to tap into 4IR's transformative potential? The truth is that many 4IR technologies are capable of changing the world for the better. For example, PwC is already helping businesses meet sustainability commitments by using IoT-connected sensors to turn off lights and adjust heat or air conditioning in office spaces that aren't in use—and saving money, to boot. And, we're creating digital tools that let companies better detect and stop fraudulent financial transactions that can support criminal activity and terrorism. By sharing these powerful stories, companies can help forge a strong connection between the 4IR's world-changing impact and the digital products and services consumers rely on everyday.