Traditional TV and video
Subscription TV revenue of US$98.9bn in 2017 will contract at a -1.3% CAGR to US$92.7bn by 2022 due to a mature market and cord-cutting, largely resulting from SVOD competition. The sector's emphasis has shifted in recent years from generating subscriber growth towards minimizing churn in the face of heightened competition from streaming services. Over the forecast period, the traditional pay-TV market will continue to try to reinvent and maintain itself with the introduction of next-generation platforms.
In the near term, there will be a push to upgrade households to higher-ARPU (average revenue per user) premium packages with HD and UHD channels, "TV Everywhere" services and multiplay bundles. Price increases have been announced for 2018 to offset an increase in programming and network infrastructure costs.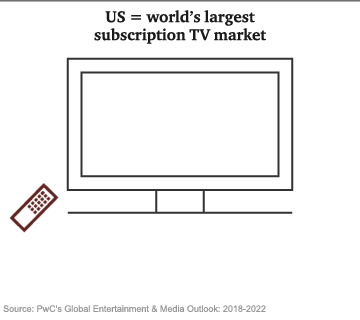 Cinema
Total cinema revenue in the US will remain stable through 2022 in spite of unstable market conditions. We can expect to see modest revenue growth over the forecast period at a 1.8% CAGR, reaching US$12.3bn by 2022.
The market is becoming increasingly polarized—while there are more films grossing over US$1.0bn worldwide, the failures are becoming more noticeable, too. As a result, box office revenue will remain reliant on a small number of big-budget studio "tentpole" and franchise movies, the most successful of which will account for a huge proportion of total receipts. Overall, we expect to see slight growth in box office revenue over the forecast period at a 1.7% CAGR. And though admissions have been falling, rising ticket prices and an increase in film production have helped to conceal the drop.

Explore more from a global perspective >
Explore more from a global perspective >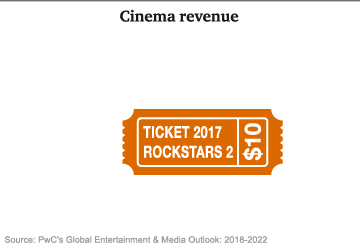 Over-the-top (OTT)
The US is the largest over-the-top (OTT) video market globally, accounting for more than half (55.6%) of all OTT revenue in the world in 2017. OTT video revenue in the US reached US$20.1bn in 2017 after 15.2% year-on-year growth. Although rates will slow as the market matures, further expansion at an 8.8% CAGR will produce revenue of US$30.6bn in 2022.
OTT video has been a disruptive technology to the traditional TV market, although the extent of cord-cutting has not been as severe as initially feared. Increasing competition and a shift towards original programming and exclusive content results in households having to subscribe to a range of services to receive the content they desire. This situation may put pricing pressure on existing and new services, and will provide opportunities for operators to offer bundled OTT services.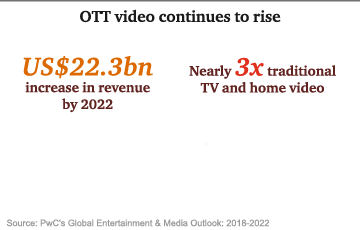 Virtual reality
The US virtual reality market has developed into an entertainment and productivity platform that is projected to grow rapidly over the next five years. The US is the world's leading VR market with revenue of US$1.5bn in 2017, an increase of over 250% year-on-year and expected revenue of US$7.2bn by 2022. Gaming remains the primary application of VR, accounting for 61% of total VR content revenue in the US in 2017.
The market for VR video is growing rapidly and is forecast to overtake gaming revenue as the single largest component of the VR content market in 2022. In addition, the increasing availability of VR content will inevitably drive hardware sales, and in the US market there will be 55.1m active VR headsets by 2022—with 21.3m of those being the newer, more consumer-friendly, portable dedicated units.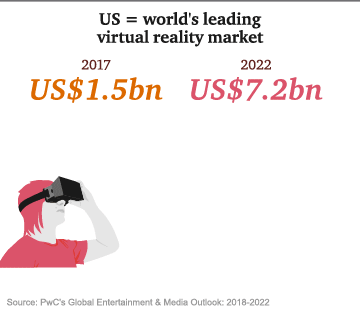 Video games and e-sports
Total video games revenue in the US was US$23.4bn in 2017, up from US$15.2bn in 2013, and it is forecast to grow by a 4.5% CAGR to reach US$29.2bn in 2022. Notably, PC gaming is undergoing somewhat of a resurgence. This growth can be attributed to the ongoing success of free-to-play (F2P) games, more subscription services (including potential PC cloud gaming services) and a PC gaming scene reinvigorated by e-sports.
As the world's largest e-sports market, the US continues to push the boundaries and explore potential new revenue opportunities. On the consumer side, ticket sales revenue continues to rise at healthy double-digit rates, and the US sports franchises are moving in on the trend for e-sports versions of their own leagues. Altogether, ticket sales revenue will rise at a healthy 17.2% CAGR by 2022.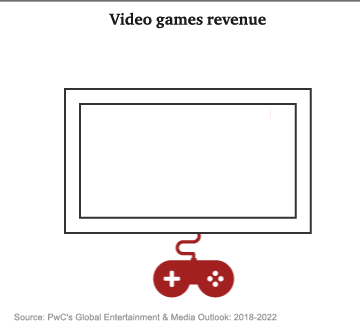 Internet advertising
The US continues to lead the global internet advertising market, with total revenue of US$88.0bn in 2017—equivalent to nearly 40% of the global total. The market will continue to experience growth over the forecast period, expanding at a 7.7% CAGR between 2017 and 2022 to reach a value of US$127.4bn.
Most notably, mobile display internet advertising revenue overtook wired display internet advertising in the US in 2016, and continued to grow its share in 2017. As this trend continues over the next five years, mobile's share of the total US internet advertising market will grow to 72.3% in 2022, a 56% increase from 2013.
Yet there is one issue that is holding back overall spending in the market: the effectiveness and transparency of measurement. As the ad-tech market becomes more consolidated—and as more players, publishers and advertisers move toward automated, cross-device advertising platforms and campaigns—trust and transparency of measurement is crucial.