1. No one is immune
Of the US respondents, 80% reported having experienced at least one crisis in the last five years. That's an even greater share than the global tally of 69%.
Even more telling: expectations of future crisis appear to be growing sharply. In our 2016 CEO Pulse on Crisis survey, 73% of chief executives predicted they would experience at least one crisis in the next three years. In this survey, only three short years later, the number that expect a crisis in the future totals almost 100%. And while these two surveys differ slightly in their methodologies, the trend is clear.
Are companies just more apt now at identifying a crisis as a crisis? Indeed, one-third feel most confident in their acknowledgement that the incident was, in fact, a crisis and therefore warranted a robust response.
This upward trend could also be due to a shedding of a crisis stigma. We see more companies accepting that crises are a reality for them—and acknowledging when they've been hit. They recognize the diversity of crises, and the many different ways one could arise: a big "bang" out of nowhere, or a series of smaller incidents that escalate into a full-blown, enterprise-wide crisis.
Crises are personal—they affect organizations on a human level. Yet what triggers a crisis can vary dramatically by company and industry: a mere inconvenience to one could be an extinction event to another. The bottom line is that every company is likely to face an unplanned event that has the potential for significant consequences. The big takeaway? Crisis is the new normal.
2. Just a plan is not enough
US companies have an enhanced awareness of the importance of having a crisis response plan, with 92% confirming that they have one in place (vs. 82% globally). This is a good thing. But just having a plan is not enough. With the diversity of threats evolving around the globe, the best defense is a plan that is crisis-fit. What does that mean?
Make it crisis-agnostic. Out are the long crisis plans that try to account for every possible scenario. In fact, only 23% of our survey respondents say they used and derived value from their plan during a crisis. Here's how to be crisis-agnostic: identify the most likely crises for your organization and industry. Prepare and train your workforce on those scenarios to build muscle memory. Put a framework in place that sets you up for success regardless of the nature of the crisis.

Align it to your corporate culture and values. Nothing will test your values—and how your team measures up to them—like an actual crisis. One half (48%) of US respondents said they felt overwhelmed by their most recent crisis. That could mean one of two things: either their plans were not in line with their values in the first place, or the execution of those plans fell short or exposed stress fractures in the culture. Using your corporate values as your north star will increase your team's confidence in your decisions.

Practice, practice, practice. Recognize that reading about roles and processes is one thing; practicing is a step that truly distinguishes companies that take crisis preparedness seriously. Just 21% of US respondents review and test their crisis response plan regularly. Simulations help your organization test, reassess and improve in order to build your team's muscle memory, especially if elements of the plan are counter to their knee-jerk reactions.
3. Team coordination is a top vulnerability
Both in the US and around the world, one in four say they have no executive owner for crisis in their organization.

22% US executives say they have an owner in name only—there are no designated roles and responsibilities.

Only slightly more than half (55%) of US organizations have accountable crisis owners with defined roles and responsibilities.

A mere 41% of US respondents they have a team with defined roles and responsibilities.
Is it any surprise that the US feels more vulnerable when it comes to team coordination? US companies are almost three times more likely to rank team coordination as a top vulnerability, compared to global responses.
Clearly establishing crisis teams, roles and responsibilities is critical to the efficiency of your organization's response. Surviving a crisis together is a bonding experience, and teams that forge this bond may experience stronger working relationships—and results—in other areas. Focusing on team coordination can pay dividends and drive competitive advantage outside of crisis.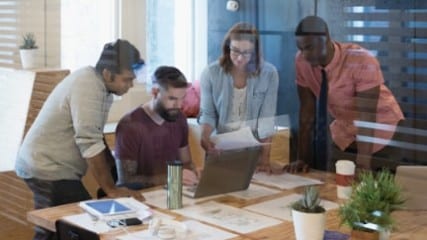 4. Not enough companies are acting on lessons learned
In the United States, 80% of companies have been through a crisis—and almost all (98%) expect to be hit by one in the future. But if you've been through a crisis, and you don't know what you did right or wrong, how will you emerge when the next one hits?
Too few US companies (just 15%) perform root cause analyses and use lessons learned to inform their crisis planning and follow through on actionable changes. The data points to a huge gap—and a huge opportunity—in this area.
Why such a low number? We hypothesize that companies may perceive digging into causes (and committing people and funds to making actionable changes) as tantamount to an admission of fault, or a self-inflicted failure. You need to flip the perspective: digging into the root cause doesn't mean focusing on error—it means seizing the opportunity to improve readiness, and emerge stronger from the next crisis.
Take the chance and learn from the settling dust. A root cause analysis can help you uncover the causes and accelerators of your crisis, identify weaknesses and address them. While you may not face the exact same crisis twice, the analysis can make you stronger, even when its "business as usual".
5. Companies that emerge stronger take specific actions
Of US executives who reported experiencing a crisis, exactly half said they were "in a better place" post-crisis. What did these organizations do differently?
1. They allocate budget to crisis management—before it hits
Half (49%) of companies that said they emerged "in a better place" after a crisis had dedicated budget for crisis management and response.
Moreover, 71% of these same companies said that their management of the crisis led to no negative impact on revenue. This underscores the reward for investing proactively a clear crisis response program and governance structure.
2. They have a plan—and test it.
When a crisis hits, there is no substitute for muscle memory. In the United States, 98% of those that said they emerged stronger from their most serious crisis also had a plan.
two-thirds of these companies keep it up to date, review it regularly, test it and make sure it is familiar to its intended users. Whether via workshops, tabletop exercises or real-time simulations, testing your plans will give you the means to identify and understand the full set of actions, people and work streams needed to enable a more rapid and effective response when crisis hits. The confidence you gain through testing can make all the difference when decisions are needed in the heat of the moment.
3. They adopt a fact-based approach—and don't neglect key stakeholders
Facts are the compass in your response: 94% of those in a better place post-crisis recognize the criticality of establishing facts accurately during crisis. In our survey, they were more likely to say that, in the midst of the crisis, they gathered facts accurately and quickly.
There is still significant lifting to do here to turn theories into action. Over 30% of US respondents report that they didn't actually have the facts they needed to mount an effective response. To make this happen, all relevant stakeholders need to operate under a clear understanding of the facts. Cast a wide net on the perspectives of every important stakeholder, both internal and external, and ensure all your bases will be covered when the time comes to communicate in an emergency.
4. They perform a root cause analysis—and follow up
The majority of those (92%) who ended up in a better place performed a root cause analysis on the crisis. Furthermore, they were almost two times as likely to implement actionable changes based on the findings (as compared to the US total).
5. They act as a team—and hold to their values
Operating under the same set of facts is a start, but working as an effective team is what makes the difference. Survey data shows a strong correlation between great teamwork and great outcomes. Of the companies who self-identify as "in a better place," 90% confirmed that they acted as a team in response to the crisis.
Leaders that reported coming out of their most disruptive crisis in a better place were 2.5 times more likely to say they acted with integrity than those who said they are in a worse place.