Model risk management services
Stress testing: A look into the Fed's black box
Risk governance: OCC codifies risk standards, paving the way for increased enforcement actions
Capturing Model Risk & Uncertainty in Capital Planning: PwC Survey Results
Model risk mitigation and cost reduction through effective documentation
The evolution of model risk management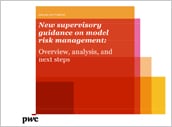 New supervisory guidance on model risk management
What is model risk?
Financial institutions rely heavily on financial and economic models for a wide range of applications ― such as risk management, valuation, and financial / regulatory reporting. The level of sophistication of models used for such applications varies widely from relatively simple spreadsheet tools to complex statistical models applied to millions of transactions.
Regardless of the level of sophistication, model usage exposes a financial institution to model risk ― which typically involves the possibility of a financial loss, incorrect business decisions, misstatement of external financial disclosures, or damage to the company's reputation arising from:
Possible errors in the model design and development process (including the design and development of changes to existing models) ― such as errors in the data, theory, statistical analysis, assumptions, or computer code underlying a model


Misapplication of models, or model results, by model users


Use of models whose performance does not meet company standards


Possible errors in the model production process ― such as errors in data inputs and assumptions, or errors in model execution.
PwC model risk management services
PwC offers a full range of Advisory services to assist you in identifying and managing the complex risks associated with the development, deployment, and maintenance of complex models used for risk management, valuation, and financial/regulatory reporting purposes.
Our services
Assistance with independent model validations for a wide range of model types ― including:


Consumer and commercial credit models ― including credit scorecards, credit loss forecasting models, allowance for loan loss models, and models used to support Basel II economic capital estimates


Mortgage loan prepayment and valuation models


Financial instrument valuation models


Financial reporting models ― including FAS 91 amortization, FAS 5 reserves, and SOP 03-3



Design and development of model governance programs ― including:

Organizational design


Development of model validation policies and procedures


Resource planning and analysis



Evaluation of existing model governance programs for effectiveness and for consistency with regulatory expectations and industry leading practices
Why PwC?
We are well qualified to deliver industry-leading model risk management services:
Highly-experienced team of model risk management specialists: We have a broad and deep team of model risk professionals whose experience covers virtually all financial model types – including those used to manage credit risk, market risk, operational risk, and compliance risk – as well as those used for financial reporting, valuations, and economic capital estimation.


Significant exposure to, and driver of, industry leading practices: Our combination of advisory and audit-related model validation work for many of the largest global financial services firms provides us with significant exposure to leading practices in the areas of model validation and model risk management. Additionally, PwC has been at the forefront of the professional services industry in developing and refining approaches to implement the Office of the Comptroller of the Currency's ("OCC's") 2000-16 guidance on Model Validation for various model types.


Deep knowledge of regulatory expectations: PwC has developed strong relationships with the US bank regulatory agencies and has met regularly with the OCC to discuss both existing and emerging model risk issues. PwC has also provided training to both Federal Reserve and OCC examiners in the area of model risk and model validation.


Extensive thought leadership: PwC is an industry leader in sharing our point-of-view on model risk management issues through published articles in American Banker and Bank Accounting & Finance, through our FS Regulatory white paper series, and through invited presentations at industry conferences.