1. Rebuild trust and redefine employer brand to attract and retain tomorrow's workforce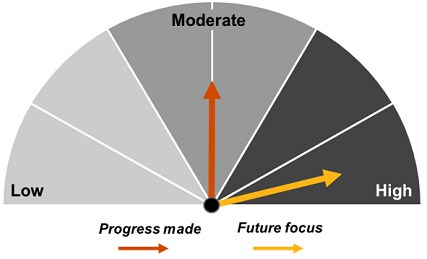 Many FS firms have focused on rebuilding their brands to combat lingering reputational damage from the 2008 financial crisis and more recent regulatory and customer data protection issues. And while there are still lingering reputational and brand issues and lot of work to be done in this space, 90% of CEOs say data about their companies' brand / reputation is critical to make decisions about the long-term success of the business, but only 24% say they have comprehensive data to do this.
Efforts have certainly been made to build a more effective risk culture, and put in place proactive risk avoidance / mitigation to enhance the customer experience.
However, while focusing on risk culture to build the brand may satisfy regulators and some customers, in order to get back in the good graces of top talent, FS firms need to better demonstrate that they are doing the right thing for society at large. This includes, 1) developing purpose driven campaigns which highlight community contributions, 2) being prepared to take a public stance on important social issues, and 3) effectively marketing efforts and accomplishments to candidates during the recruiting process. In short, FS Leaders need to show candidates (especially Gen Z) that social responsibility is part of their brand and DNA, and that they are in business to make more than a buck.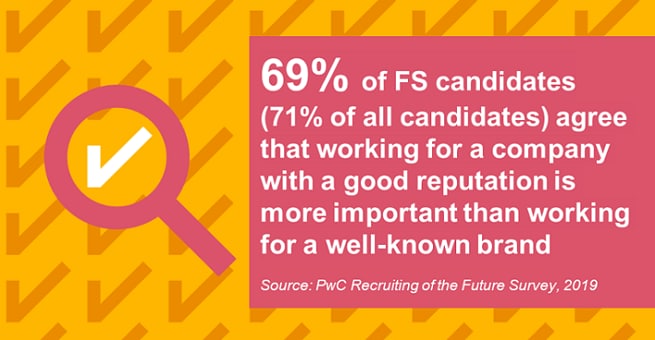 2. Develop dynamic workforce supply/demand models to prepare for the workforce of the future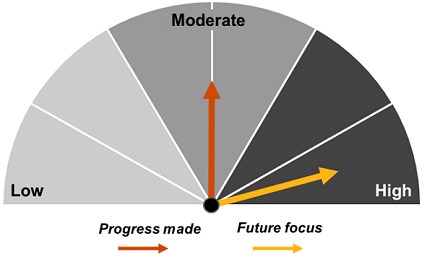 FS firms have been inconsistent in how they are addressing their workforce planning capability, and most have yet to fully mature in this space. The pace of organisational change and the multi-scenarios businesses need to plan for have made it difficult to build and implement the highly configurable models needed to run multivariate analysis and draw insights to plan for the future.
Our initial HC2020 paper assumed these models would be more widespread by now. However, there are roadblocks which have hindered FS organisations from delivering true strategic workforce planning to date:
Lack of good data - Data to run multi-scenario analysis is dispersed, and demand-side workforce data is lacking
Existing tools fall short - Human capital technology has yet to crack the code in linking workforce supply and demand data at scale
Skills gaps within HR - FS firms have not fully invested in the right analytics skills within HR to build and interpret data from workforce models
Siloed execution - Firms attempting workforce planning are doing it in silos within business units, not as an integrated enterprise approach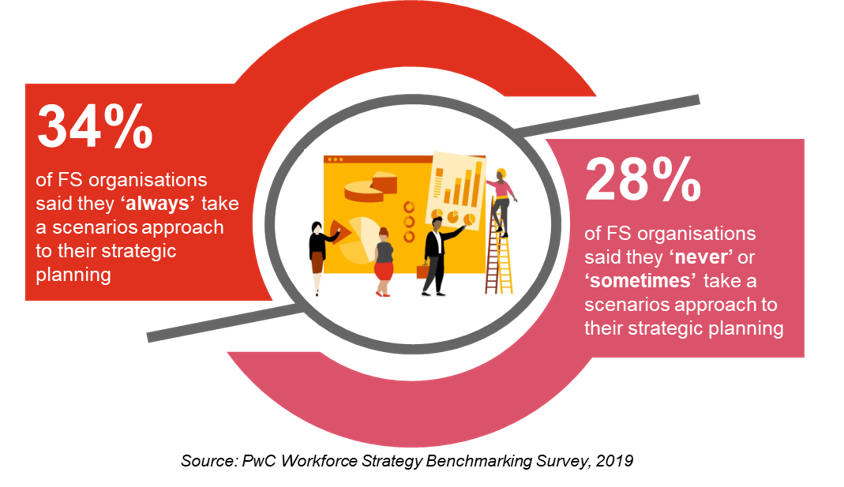 3. Maximise the potential of digital 'talent exchanges' to promote a better match between talent 'buyers' and 'sellers'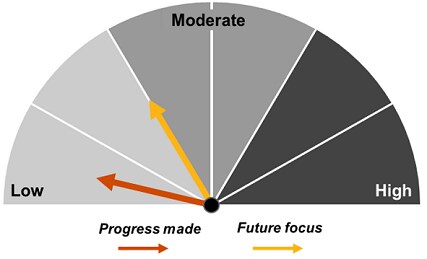 There is little evidence that FS firms have embraced digital talent exchanges to share talent across firms in the way our initial HC2020 laid out.
Evidence suggests we overstated our initial assumptions in HC2020 regarding how open workers would be in sharing their personal data with employers, and overestimated FS firms willingness to share talent with one another. In reality, candidates have a justified skepticism of how employers will use and protect their personal data. On the employer side, tight labor markets are making FS firms reluctant to share their best talent with peers and competitors for fear they won't be able to fill the gap.
However, while true "digital talent exchanges" have not become mainstream, many FS firms are trying for deeper candidate insights to promote a better match. Use of psychometric testing and gamification to assess culture fit is on the rise, and candidates are looking for ways to get a meaningful preview of their future roles before coming onboard - 67% of FS candidates agree that using technology to preview a job would make them more likely to accept a role (Source: PwC Recruiting of the Future Survey, 2019). Two-way employer / employee feedback is happening informally via social media, but transparent / attributable two way feedback is still not yet a reality.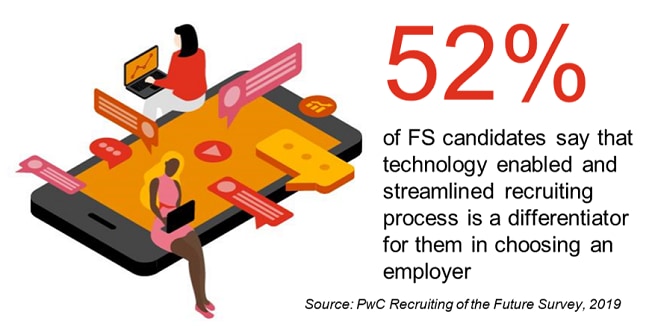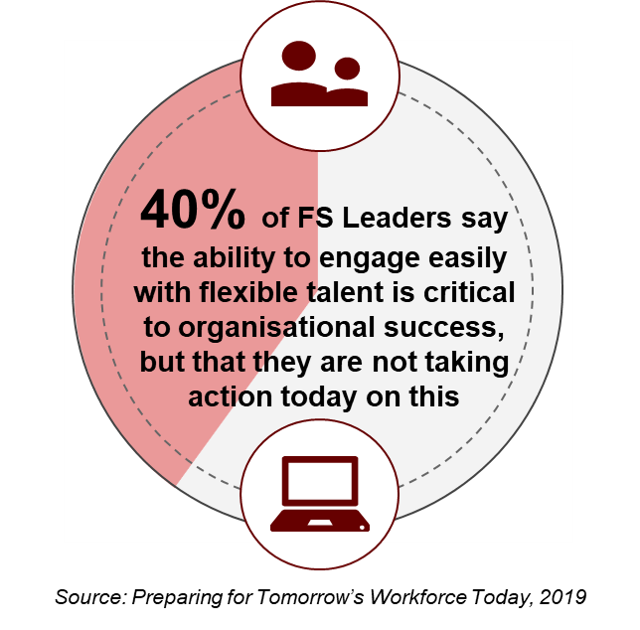 4. Influence redesign of academic curricula and modernise corporate learning & development to build an adaptive workforce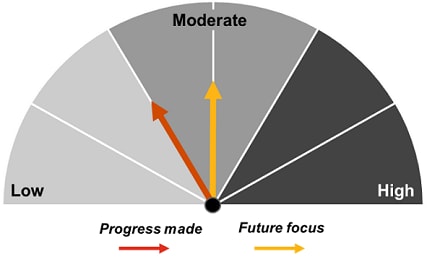 As FS firms continue to focus on re-skilling and building needed capabilities for the future, we are seeing a significant shift in the way they train and develop their talent. The perception of what is considered "learning" is becoming broader and less formal, and firms are supplementing internal learning with more publicly available learning content as a way to expand content libraries and give staff variety in how they learn (e.g., videos, podcasts, snackable learning).
The biggest recent trend we are seeing is many FS organisations have put in place specific programs to digitally upskill workers and create more flexibility / adaptability in their workforce. These are the capabilities that will drive future employability and productivity, and FS firms need to continue to provide these more diverse learning opportunities to meet demand from workers - 77% of adults say they will learn new skills now or completely retrain to improve their future employability (Source: PwC New World New Skills, 2019).
Progress has been made in this space for sure, but going forward there needs to be continued focus on driving a culture of citizen-led learning, and providing talent with a variety of tools and resources where they can take ownership of their development.

5. Digitise the workplace to fuel increased workforce productivity
Our data and client experiences show that a majority of FS organisations have at least some focus on this, and some are making significant scale investments to implement technology to supplement their workforces. The biggest investments to date are in robotics, artificial intelligence, and automation to replace manual work (e.g., back office), and optimise the use of existing talent.
FS firms are just scratching the surface of a digitised workplace, and opportunities remain, including:
Clarifying digital strategy - Define the tech strategy and know which tools to invest in
Building digital skills - Bridge the skills gap to be able to identify digitisation opportunities and make use of digital tools
Measuring ROI - Build the business case, measure productivity gains, and prioritise opportunities
Citizen-led innovation - Harness the power of the masses to democratise execution and adoption of digital initiatives
Ongoing concern about how automation will impact employment and society is not going away, and FS organisations will need to be mindful about how to effectively re-design work end-to-end to effectively embed digital solutions alongside humans, as well as re-skill, re-train, re-deploy staff as they are displaced by new technologies.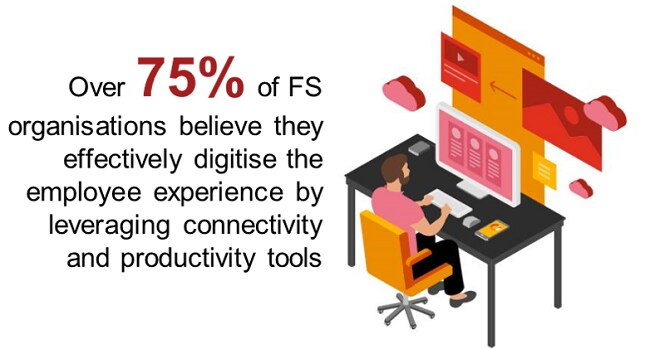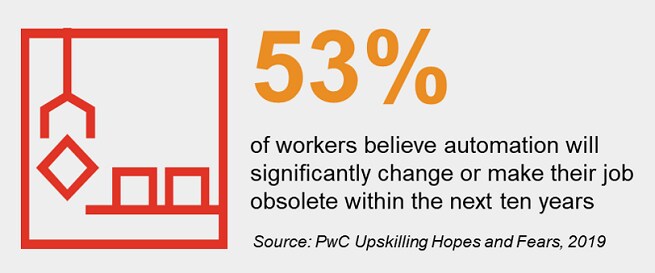 6. Integrate human capital data analytics in priority business decisions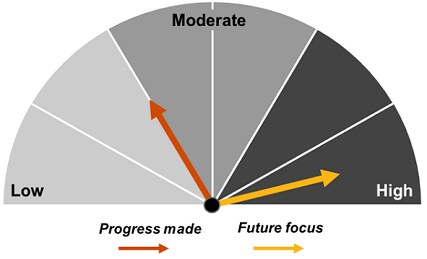 There is a desire to more effectively leverage people analytics into decision making, but challenges remain which may be holding FS firms back:
Quality of available data: Many are still working from traditional people metrics (turnover, performance ratings, etc.), which limit insights
Insufficient tools: Where good data is available, firms struggle to find the right tools to create truly predictive analytics
Lack of data skills: Many HR functions are still missing key skills to manage and make meaningful use of the data they do have
Reactive behaviors: FS firms tend to look at human capital data retroactively to diagnose what's already happened rather than predictively to inform proactive planning decisions
In order to unleash the power of real human capital analytics, FS organistions need to: 1) make investments in HR tech with robust data analytics and visualisation capability, 2) build HR talent with the right data skills and business acumen to connect people data with underlying business implications, and 3) keep the human aspect of decision making in place to mitigate risk of faulty / unintentionally biased data.

7. Redesign jobs and compensation models to reward contribution to business value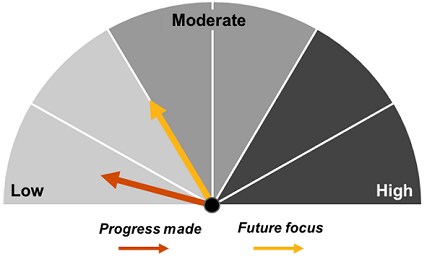 With the cost of top talent rising, many FS firms are still focused on traditional compensation models, with little evidence that they are upending the traditional rewards-based approach to valuing employees. This seems to align with candidate preferences, as our data shows that employees still value the consistency and stability of traditional salary and benefits models, over non-traditional "value-based" models.
Upending traditional compensation models will require a dramatic re-thinking of how jobs are structured, and require sophisticated modelling to be able to maintain structures in a dynamic way on an ongoing basis. FS firms (and most other industries) simply are not there yet. Some are exploring talent / job architecture programs to simplify job structures and integrate new and emerging roles, but they are looking towards promotion and mobility programs as an alternative reward structure vs. a complete overhaul of compensation programs.
Some firms are beginning to experiment with incentivising employees for contributing to overall business value, but the gap remains in how to define "value" and how that definition changes over time. FS firms are naturally cautious about this shift, and perhaps wary of potential "first mover disadvantage" if they are the first to change the compensation structure for highly competitive roles. For those that get it right, it could be a major opportunity area.