Digital Transformation
Engage with Digital Transformation to empower and propel your business into the digital future…
Build secure, new digital experiences—online, offline, or both—for customers, employees, and suppliers.
Collaborate with PwC's Experience Center—a digital accelerator that blends the creativity of an agency with the rigor of a consulting firm.
Rapidly prototype new products and services
Improve apps or develop new apps for traditional devices and mobile.
Carry out usability testing to improve the user experience (UX).
Business & System Integration
With extensive experience in various industries (banking and insurance, public sector, utilities, telecommunications), our team combines strong business acumen with sound knowledge of IT solutions and current technology trends. Our services range from strategy, business analysis, functional designs, to system integration, business cutover, migration and test management activities.
Whether you plan to implement new industry regulation, test disruptive technology, or enhance customer experience, we can provide support from idea generation to solution delivery
Program and Project Management
Projects and programmes have to be organized and managed in a professional manner if they are to take companies forward. This is where the experts at PwC can help.
Anyone looking to prevent expensive transformational mistakes doesn't only have to do the right things – they also have to do the things right. With PwC's help, companies are able to ensure a goal-oriented progress of their projects. As a result, there is an enormous increase in the probability that business, IT and financial objectives can be achieved within the prescribed time frame. In this respect, PwC's experts help their clients not only with individual projects but also with complete programmes of projects linked with each other. As required, PwC will also take over the management of a enterprise-wide portfolio of project activities.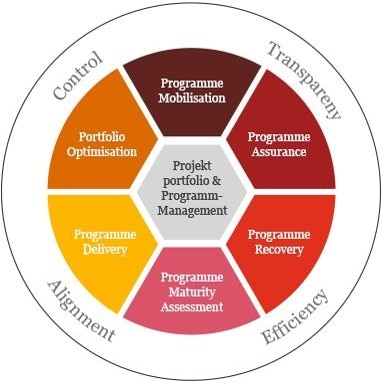 Enterprise Architecture
We have a special team dedicated to provide leading-edge enterprise architecture services. We help to ensure that our clients' decisions in the field of IT/data/software/hardware architectures are robust and support business at optimal operational cost. We are able to support decision-making process on new software developments, optimization of existing IT landscape, detailed technical design decisions etc. Whether you need to challenge your existing vendors with independent view on architectural topics, or get more clarity on new technological trend, our experts are ready to support you.
PwC and SAP
Thanks to our deep industry know-how and comprehensive consulting capabilities, PwC can deliver the right SAP applications, products and technologies to your organization.