PwC Club
PwC Club – is an opportunity for students, graduates and young professionals to meet with PwC experts at Kyiv office (free, only registration is required).
There is a chance for participants to learn more about our teams and services, about real projects, trends in economic, financial, business or tax sphere. Our experts also offer the participants to solve the cases to show their strengths. HR representatives are always there to answer internship, recruitment or career related questions.
The cherry on the cake is tea/coffee with sweets on our terrace with a magnificent view.
Do not want to miss next #PwC_Club? Follow us on Facebook, Instagram and Telegram.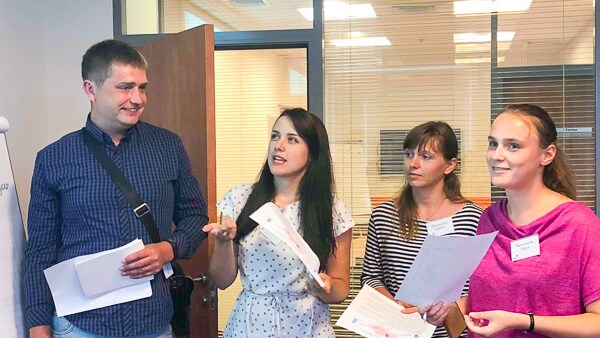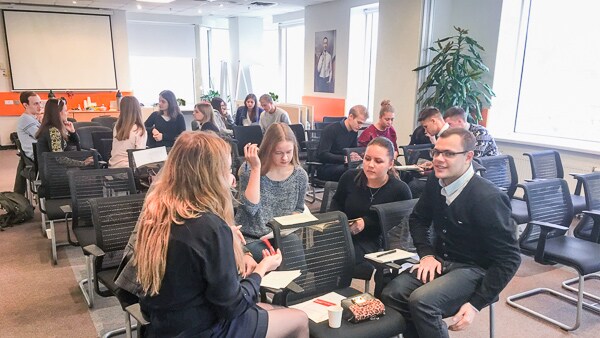 #MyWayUp
#MyWayUp is an opportunity for students, graduates and young professionals to feel yourself as a PwC employee by participating in a simulation of a real project and to experience the 'from intern to top manager' path during a week.
#MyWayUp includes:
Acquaintance with PwC and peculiarities of audit work and career path.
Upgrade of 4 important skills for starting a career in business environment: MS Excel, Teamwork, Time Management, Leadership.
Challenges to gain or improve these 4 skills.
Success stories from auditors, senior auditors, managers and top managers of the company.
Job offers for participants who reach the level of "top manager" and the ability to join PwC audit team by a simplified procedure for the rest of the audience.

More information: pwc.com/ua/mywayup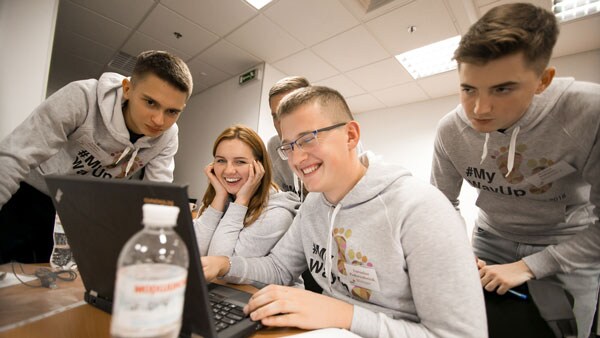 IFRS Tournament
IFRS Tournament – all-Ukrainian team contest for students and undergraduates in form of role-playing game, which promotes acquisition of problem solving, presentation and teamwork skills by applying IFRS in complex business situation.
The Tournament' team-winners get valuable prizes and an opportunity to become a part of PwC Assurance team by a simplified procedure.
When: Spring.
Registration is open! Gather your team and join

Process:
Team registration, passing of Numerical Reasoning test.
Up to 2 weeks of quarterfinal and semi-final tasks preparation by 16 teams with the best NRT results.
Quarterfinal and semi-final.
Final for the best 4 teams.

More information: pwc.com/ua/IFRStournament

#PwC_IFRS_Tournament
Brain Workout
Brain Workout is an educational event for students, graduates and young professionals, which consists of training on a specific topic (e.g. transfer pricing, business valuation, etc.) and case solving (independently or in teams).
During the event, participants learn tools, methods and approaches that our experts use, as well as apply them in practice through the preparation and presentation of a practical assignment. The best of them have an opportunity to become a part of PwC by a simplified procedure.
#PwC_BrainWorkout
ExceLove
Knowledge of MS Excel is your competitive advantage at the beginning of your career!
PwC experts are ready to share with you their life hacks during ExceLove, training for students, graduates and young professionals, who seek opportunities to improve MS Excel skills and plan to start career in Audit and Assurance.
Trainers: Senior Associates or Managers
Like MS Excel as we do!

#PwC_ExceLove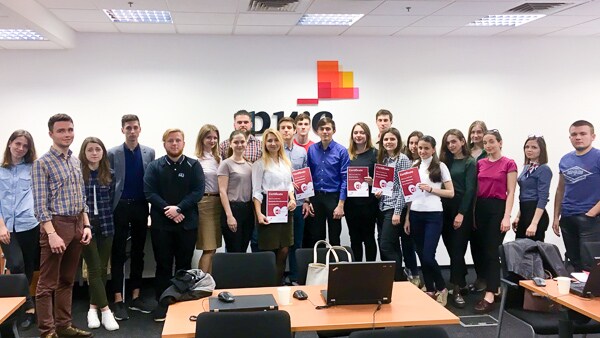 International Taxation Course
We focus on bringing more of young and skilled tax professionals onto the market who are familiar with the best international tax practices. We accomplish this by conducting the International Taxation Course that we specifically designed for the two major Ukrainian universities specializing in tax education, i.e. University of the State Fiscal Service of Ukraine, and National University of Kyiv-Mohyla Academy.
As for now, more than 600 students, future tax consultants and tax inspectors, benefited from our International Taxation course

#PwC_InternationalTaxationCourse
Lectures and company presentations at universities
PwC experts deliver lectures in their professional fields and presentations about PwC.
Invite us to your university or institute. Please, find our contacts below.
PwC Legal Internship Program
PwC Legal Internship Program is a paid full-time internship with the possibility of further employment for the most successful participants in the following practices: Commercial and Tax Disputes; Corporate / M&A; Banking and Finance; Market Entry, Labor and Immigration; Restructuring.
More information: pwc.com/ua/legalinternship
#PwC_Legal_Internship_Program
Career fairs and partners' events
Do you want to see PwC as the participant of your events? Invite us to your university or organization. Please find our contacts below.