PwC Hive Hackers CI
PwC Hive Hackers CI is a great example of living our Purpose, and leading by example.
The aim of PwC Hive Hackers CI is to develop and build trust in society here in the Channel Islands, by inspiring, encouraging and preparing children for a world of technology through exposure to innovative digital education.
The brainchild of Narelle Allen, one of our amazing colleagues at PwC Northern Ireland, the vision of this programme is to develop the digital skill set of children as individuals so they become more confident contributors to society, the economy and the environment. Recently, with Narelle's help, we ran a pilot of PwC Hive Hackers CI with the wonderful Year 3 children at d'Auvergne School in Jersey, and we really hope we can deliver the programme to many more schools across both Guernsey and Jersey starting in Autumn 2019. Watch this video to witness the fun everyone had at d'Auvergne School...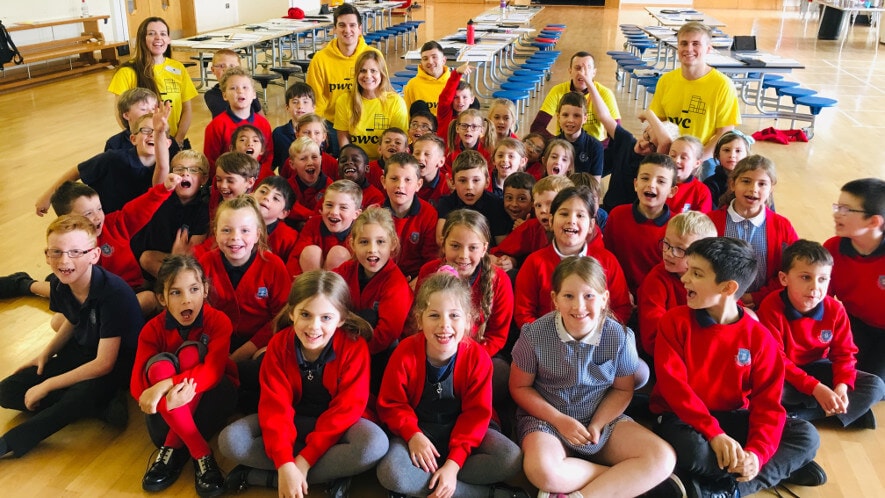 Collaboration with The HUB in Guernsey
We're currently supporting a number of important talks in Guernsey, in collaboration with 'The HUB', which are aimed at parents and guardians. We've already held four such events at the Centre for Performing Arts on such topics as 'Growing up online in Guernsey', and the positive influence parents can have on their children's self-esteem. All evenings had an excellent turnout with lots of positive media coverage and parental feedback generated as a result.
The most recent event took place on Wednesday 26 September 2018. It covered the impact of trauma on children's resilience. When we talk about trauma, this could be a separation, bereavement, a serious accident, anything that could affect the way children are able to manage situations in later life. This event was held in partnership with Child and Adolescent Mental Health Services (CAMHS).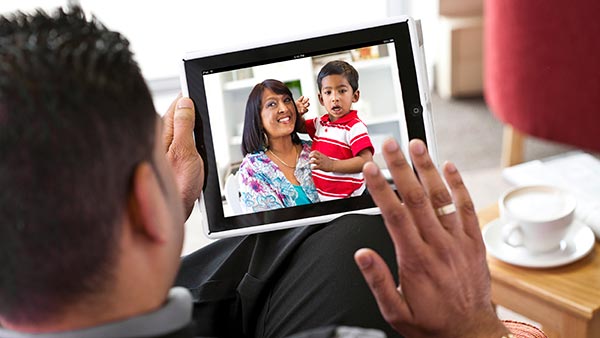 PwC Netball Academies
On the sporting front, as part of our community engagement programmes, we're also long-term supporters of the Jersey netball academies. In fact, what fun we had on 8 July, when given the opportunity to attend an inspiring day packed with full-on netball coaching and well-deserved awards for the players who make up the PwC Netball Academies on the Island, as the Jersey Netball Association wrapped up another fabulous netball season for lots of talented young girls in Jersey.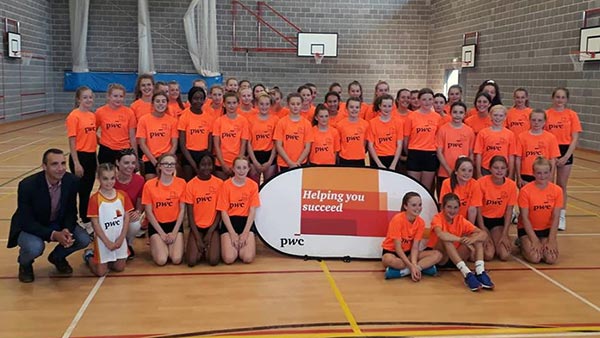 The annual Jersey Primary Football Festival
PwC was delighted to come on board once again in 2019 and support the 45th Jersey Primary Football Festival this Easter break, taking place from 14 to 19 April. The festival was again the longest running of its kind in the British Isles, with the first one having being held way back in 1974. This year, teams with parents and coaches travelled from across the UK to take part in football matches and team-building activities during the Easter school holidays.
The festival has long been regarded as the pinnacle of under 11 football and has an important role to play in developing the aspirations of the Island's young players. Every primary school on the Island is involved in primary school football, so we're looking at a figure of about 700 children to start with, all of whom have an opportunity to trial for the festival over the months leading up to the event. It's a great achievement for those local children selected to represent Jersey and follows the culmination of practice and hard work during the inter-school league programme.
About 250 children, parents and coaches alike gathered at FB Fields to kick off the festival on the Sunday morning and this year's crop of Jersey's rising stars trained very hard in preparation for action against some of the highly talented teams visiting from across the UK.
Of course it's not just about the victories. Paul Silcock commented: "We see the festival as a great example of the quality of work done in youth sport on the Island and it's fantastic for Jersey's reputation as a tourism and sporting destination, as well as for the children participating. It's encouraging to see them playing well, enjoying their games and making new friends. We're also proud to play a small part helping to embed the right behaviours and attitudes in the young football stars of the future, whilst highlighting some of the excellent work being done in junior football here in Jersey."
He added, "We're really enjoyed witnessing how all these young and energetic football enthusiasts had developed their sporting talent, as well as their self-confidence and teamwork skills, during the week-long festival." Festival organiser, Pat Cullinane, added: "We are immensely grateful for the support from PwC. The event is more than just a football festival for the children attending. Each year, they also go on outings and activities in the afternoons. This builds their confidence and gives them opportunities to make new connections and forge new friendships with other teams that last long after they return home.

Ride the Nation
The second ever PwC Charity Cycle Challenge, 'Ride the Nation 2017', was set to reach our shores on 4 and 5 June 2017. Its aim that year was to link the 31 PwC UK offices and all 23,000 staff from across the UK network, from Aberdeen to Plymouth and from the Channel Islands to Northern Ireland.
Ride the Nation 2015 remains the single largest event of its kind the UK firm has embarked upon, raising over £150,000 for The PwC Foundation and charities local to each and every office in the UK network, with over 700 staff taking part on their bikes with support from all grades of staff in all offices nationwide.
The event was conceived and continues to be organised and run solely by PwC staff, to demonstrate the firms ethos of doing the right thing in our communities, what can be achieved when we work together as One Firm and to physically connect us all in a way that, before May 2015, had never been done before.
PwC CI Director James de Veulle, regional Ride the Nation champion for PwC in the Channel Islands, said:
"It's great to see so many of our CI team joining in this ambitious nationwide challenge. Whether it's getting in the saddle to cycle the distance, fundraising or simply cheering colleagues on, it gives us all the opportunity to raise much needed funds for our own chosen charities as well as our network's PwC Foundation, supporting our local community and making a difference to a lot of people's lives."
Here locally, Ride the Nation 2017 was raising funds for Jersey Charity 'Acorn' and 'The Guilles Alles Childrens' Library' in Guernsey.
The event returns to the Channel Islands on Sunday 23 June in Guernsey and Monday 24 June in Jersey. More updates to follow.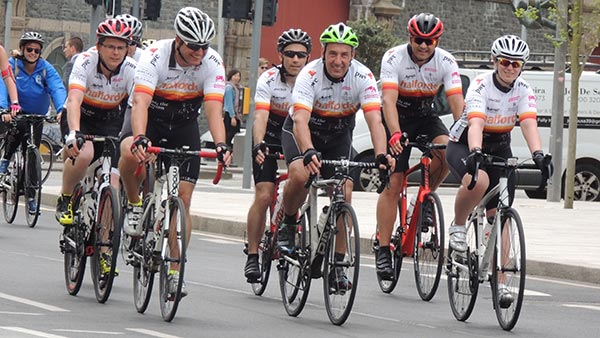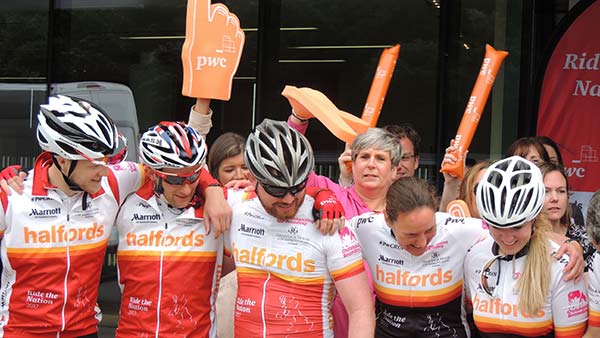 PwC Learn to Swim programme
Our support of the 'PwC Learn to Swim' programme in partnership with Le Mourier swim school has now entered its fifth year. This is one of our most successful community projects in Jersey. The initiative provides ten free swimming lessons to all children of reception class age, and is offered to all interested schools. It builds children's confidence, both in the water and socially too, and gives them an opportunity to accomplish a skill that they may not otherwise get. As our relationship with Le Mourier has evolved, we've also identified certain PwC staff who can't swim. Currently, we have about ten employees who attend swimming lessons together on a Monday evening after work with Le Mourier, so they can really embrace island life this summer – so everyone's a winner!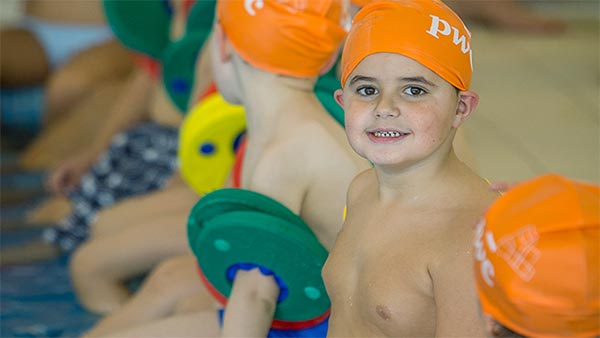 Male Uprising Guernsey (MUG)
PwC in Guernsey is proud to continue lending it's support to Male Uprising Guernsey (MUG).The focus of MUG is to increase awareness and promote education around the symptoms and treatment of prostate, bowel and testicular cancers. Funds raised are also used to improve the diagnosis and care of local men suffering with male cancers.
MUG aims to get men, whatever their age, to be more confident, outgoing and questioning of their health symptoms. Most importantly, MUG encourages men to seek medical advice and assistance at the earliest opportunity. Most recently, some of our Guernsey chaps got their legs out daily during Bermuda shorts week in aid of the brilliant work done at MUG.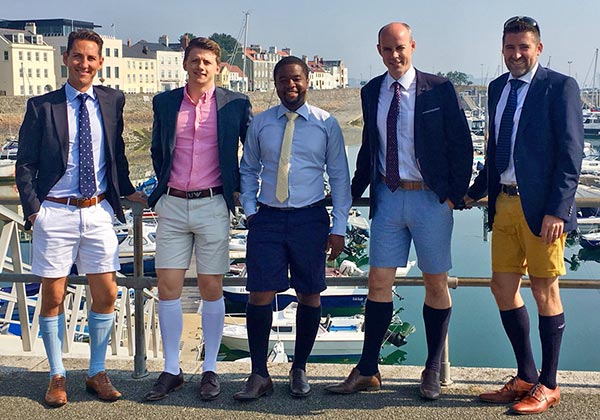 PwC Guernsey Hockey Academies
PwC is proud to support the Guernsey Hockey academies since 2006 and it's a relationship which continues to flourish. At these academies, the coaches strive to ensure that sessions are fun, engaging for the players and inclusive and it's great to see that the girls are firmly on the same pathway as the boys. Also, with lots of disciplined sportsmen and women now working for PwC on the Islands, there's always demand for them to share their skills by taking part in a Sunday morning coaching session or giving a talk to the next generation of sporting enthusiasts on what it takes to be a real team player.