Identifying financial stress
Financial stress can be caused by a number of different factors. It is critical for companies and their stakeholders to quickly recognise the key signs of stress and take action to preserve value.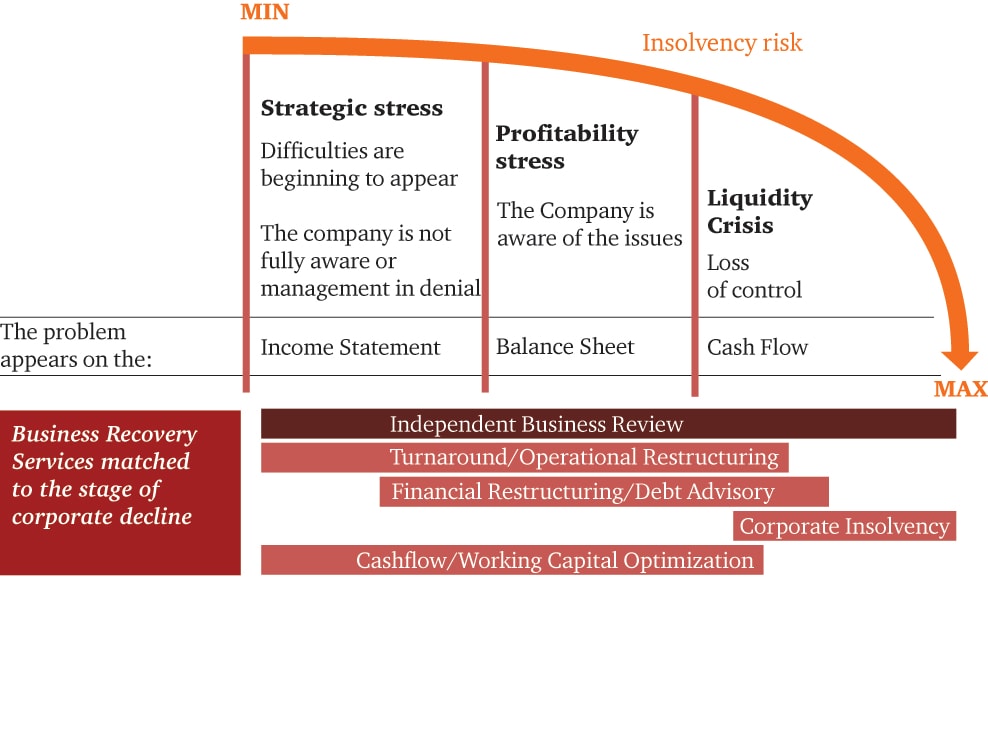 Comprehensive recovery and financing solutions
Our Business Recovery specialists are used to working quickly with management teams and financial stakeholders to confirm and then address the causes of financial stress. Our services are provided to quoted, private and government/public sector clients. This can be at a corporate level or helping larger Groups or Banks deal with portfolio issues such as non-performing loans or non-core assets, including disposal, run off and/or carve out.
Capabilities
CEE based business recovery leadership
Our Business Recovery Services ("BRS") practice is led by highly experienced professionals who are solely focused on this specialist area operating regionally from major centres in CEE. Their experience comes from operating internationally including a BRS Partner and Director from PwC UK and ex-Investment and Corporate Bankers. Our CEE-based BRS senior team are valued by clients for their ability to quickly identify problems, gain cooperation, develop viable solutions and implement them with sensitivity and precision against the local and regional landscape.
Leading edge capabilities
We access a global knowledge base of expertise and tailor it to ensure the solutions meet your needs on an international, regional and local basis.
Solutions include:
Financial restructuring / Debt & Capital Advisory
Operational turnaround, working capital and cashflow
Independent business review
Non-Performing Loans / Bad Bank
Distressed M&A services
Corporate insolvency
Credible local presence
Our BRS experts work with local teams to ensure a full understanding of culture/language and the legal, commercial and political background.
Networked to international financial stakeholders
Our team is closely linked with BRS and Financial Services specialist colleagues in the key territories outside the CEE where Banks and other financial institutions are headquartered, both in Europe and across the World.
Deep industry experience
We have completed many succesful restructuring and recovery projects across the majority of industries combining our business recovery "situational" skills with PwC's significant industry sector specialists drawn from Hungary, the CEE and the wider PwC Firm.
In addition we have carried out confidential work on behalf of Financial Services clients. This includes services provided to Hungarian banks such as: loan portfolio analysis and restructuring strategy advice (exit, decrease exposure, execute collateral etc.) at a portfolio or transaction level.
We are happy to provide relevant references on request.