Insights for insurers from HRI's survey results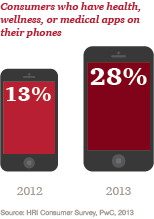 February 2014
Insurers competing for new exchange customers have a distinct challenge. They must appeal to a younger, healthy demographic known to frequently switch products and services for the best experience.
At the same time, insurers must be able to quickly identify and manage the conditions of less healthy members.
Findings from an HRI survey of 101 insurance executives  and a survey of 1000 consumers in 2013 offer insight on what consumers value most in their healthcare.
Key findings
Although  94% of insurance executives think price will be extremely important to consumers, just 64% of consumers feel the same way


While  91% of insurers say that premiums are the most important cost concern for exchange shoppers, the majority of consumers (69%) say total out-of-pocket costs are a critical concern


Mobile health is becoming increasingly ubiquitous: the use of health and wellness mobile apps was up 15 percentage points between 2012 and 2013


Consumers demonstrate a preference for insurer mobile apps with alerts/reminders and electronic health record access