Concern over key skills is up
Thirty-two percent of US CEOs we surveyed are now extremely concerned about the availability of key skills as a threat to business growth, up 21 points from 2013. There simply aren't enough people with the skills businesses need, and that challenge is going to get harder to meet as business models evolve amid lightning-fast technological change.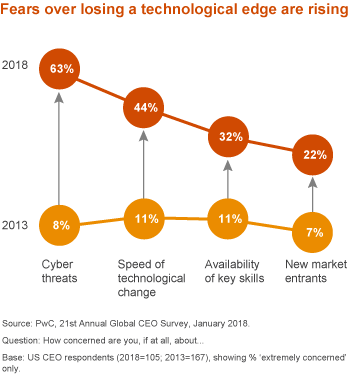 More can be done to develop skills in house
More companies are initiating upskilling efforts, providing new digital tools for work, and using their efforts to invest in new technologies as part of their overall recruiting and retention strategies. But there's more work to be done. Though leaders worry about the lack of available skills, only 39% of US CEOs are implementing continuous learning programs to develop and recruit people for the digital age.
Options for retraining? Depends on your location.
A PwC survey of 10,000 workers showed that 37% are concerned that automation is putting jobs at risk. In 2018, half of US CEOs said they have a responsibility to retrain employees whose tasks and jobs will be displaced by automation (53%). That's far fewer than CEOs in other advanced manufacturing economies.