Playing catch-up
Who's playing catch-up? Which companies have CCOs, and why all companies could benefit by following the leaders
While the majority of respondents (69%) said their companies have a CCO, almost a third said they do not. Larger companies are more likely to have CCOs, as are companies in heavily regulated industries, which are also almost twice as likely to have a dedicated compliance function. We were not surprised that many smaller and less regulated companies don't have CCOs, but we encourage them to establish this role, given the complex business and regulatory environment.
The job title of the compliance chief varies, from director to executive vice president. Only 26% of respondents said the chief is a C-level executive (although 79% are at least at the level of vice president). Only 34% of compliance heads report formally to the CEO, and many of these are general counsels who wear two hats, making it difficult to find the time to develop compliance into a more strategic function. We expect to see more C-level compliance chiefs as it becomes more evident that compliance is an enabler of business performance in a complex environment.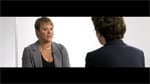 State of Compliance 2014: Playing Catch Up
PwC's Sally Bernstein and Andrea Falcione discuss which companies have CCOs, and why all companies could benefit by following the leaders.
Back to top