PwC survey finds US Private Companies raise revenue forecasts
In Latest 12-month forecast, expansion to new markets deferred, though investment continues
US private companies raised their 12-month revenue forecasts by 15 percent in the third quarter, despite economic and political challenges at home and abroad.
New hiring plans remained steady, though wage pressure and lack of qualified workers continue to pose challenges.
International companies' planned capital investments outpace those of their domestic-only peers despite scaled-back plans for expansion to new markets abroad.
New York, Nov. 5, 2013 - Despite ongoing US fiscal-policy issues, CEOs of US private companies raised their 12-month revenue forecasts to 9 percent in the third quarter, up 15 percent from the 7.8 percent they projected in the second quarter, reports PwC US's Trendsetter Barometer.
The last time that private companies' revenue growth rates were this high was in the first quarter of 2012, when they projected a 9.5 percent growth rate. Among private companies overall, those selling exclusively in the United State reported a sharply higher revenue growth rate of 10.4 percent  compared with their international peers, which forecast a more moderate 7.3 percent increase. Private companies' projected revenue growth continues to well-outpace current and forecasted US GDP growth rates, which remain in the low single digits. 
Optimism about the US economy's 12-month prospects held relatively strong, with more than half of the CEOs surveyed (55 percent) reporting optimism (just four points below the prior quarter). Pessimism was at a low nine percent. Two-thirds (66 percent) of chief executives said they believed the nation's economy was growing, while only four percent viewed it as declining. With respect to the world economy, uncertainty remained the predominant sentiment, voiced by 54 percent of private companies, a 13-point increase from the second quarter. Thirty-five percent said they were optimistic, down from 39 percent the prior quarter. 
"Private companies' strong revenue projections indicate steady improvement in the US economy," says Ken Esch, a partner in PwC's Private Company Services practice. "While growth may be slower than we would like to see, this latest forecast is a positive sign. Certainly US political and economic issues continue to be of concern. That said, private-company leaders have come to expect short-term political fixes and therefore aren't making strategic decisions on that basis. Most of their businesses haven't felt the long-term effects of sequestration, and so the recent economic debate in Washington hasn't kept them from pursuing their growth objectives." 
This graphic depicts the trajectory of private company optimism over time.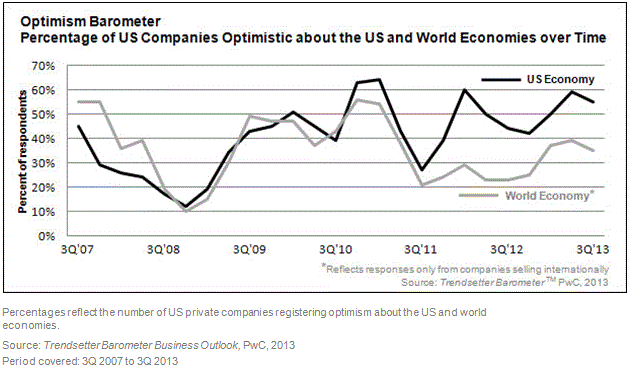 Hiring Plans Level, Lack of Qualified Workers a Challenge
While private companies' plans for net new hiring over the next 12 months were well above what they'd been a year ago, when 1.6% workforce growth was projected, the third-quarter projection of 2.2 percent is markedly below the prior quarter's 3.2 percent. A key reason for the dip was that larger private companies scaled back their hiring plans. However, the overall percentage of private companies planning new hiring remained steady at 57 percent, and just 4 percent of companies expected to reduce headcount. 
Average increases in hourly wages, however, rose to 2.89 percent - up 12 percent from a year ago and the highest planned increase in five years - reflecting companies' ongoing difficulty finding qualified workers. More than one-quarter (27 percent) of private companies cited this difficulty as a potential barrier to growth, with another 19% citing pressure for increased wages. 
"Lack of skilled labor is a significant headwind for private companies, compounded by the rapidly retiring workforce," says Esch. "Among our domestic-only manufacturing clients in particular, we see challenges in finding sufficiently skilled blue-collar workers such as welders and machine operators. But we're also seeing companies searching for people to fill white-collar roles, such as such as controllers and chief financial officers. We encourage companies to make attracting, retaining, and training key workers a strategic priority so they'll be well-positioned for the next growth opportunity." 
International Companies Continue Investment, Defer Expansion
International companies' 12-month plans for capital investment remain strong, continuing to outpace the spending plans of companies that sell solely in the United States - 44 percent versus 21 percent. In terms of operational spending, nearly three-quarters (72 percent) of international companies plan to increase spending, compared with 55 percent of their domestic-only peers. 
Markedly fewer companies reported increased sales abroad in the third quarter - thirty-one percent, compared with 47 percent in the second quarter. The percentage of international companies planning expansion into new markets abroad also dropped, falling 11 points to 15 percent in the third quarter. 
"Although we see a pullback in expansion to new markets abroad, we believe this is a deferral, not an abandonment of global growth strategies by private companies," says Esch. "The long-term bet is still on international markets." 
Additional Survey Findings
The top twomajor potential barriers to growth over the next 12 months are lack of demand (63 percent) and legislative/regulatory pressures (52 percent), though the percentage of companies concerned about lack of demand is 11 points lower than a year ago.
Merger-and-acquisition volume is tepid, despite the improving economy and companies' cash reserves. Looking at the next 12 months, 44 percent of companies expect to participate in various new business initiatives such as business acquisitions, strategic alliances, and joint ventures, down nine points from the second quarter.
Banking activity saw an uptick in the third quarter, with 17 percent of private companies reporting new financing activity, up three points from the prior quarter, and 15 percent reporting new bank loans (up four points), due to borrowing capacity and active lenders.
About PwC's Private Company Trendsetter Barometer
Each quarter, PwC's Private Company Trendsetter Barometer tracks the business issues and best practices of America's leading privately held businesses. This quarter's report incorporates the views of 226 C-suite officers (CEOs/CFOs): 130 from companies in the product sector and 96 in the service sector, averaging $308.9 million in enterprise revenue/sales, and including large, $500M-plus private companies. 
About PwC's Private Company Services Practice
Located in all major US markets, PwC's Private Company Services (PCS) is a national practice comprised of more than 170 partners who provide customized tax, audit and advisory services to private companies, their owners and high net worth individuals. More than 60 percent of America's largest private companies are PCS clients(1). They span a broad scope of sectors and industries ranging from manufacturing to retail to industrial to professional services.
A hallmark of PCS is a robust thought leadership program that provides clients with timely, thought-provoking information to help manage and grow their businesses and wealth. 
Visit us online at pwc.com/us/pcs. 
(1) Forbes 2012 List of America's Largest Private Companies 
About PwC US
PwC US helps organizations and individuals create the value they're looking for. We're a member of the PwC network of firms in 157 countries with more than 184,000 people. We're committed to delivering quality in assurance, tax and advisory services. Tell us what matters to you and find out more by visiting us at www.pwc.com/US. Gain customized access to our insights by downloading our thought leadership app: PwC's 365™ Advancing business thinking every day.
Learn more about PwC by following us online: @PwC_LLP, YouTube, LinkedIn, Facebook and Google +.
© 2013 PricewaterhouseCoopers LLP, a Delaware limited liability partnership. All rights reserved. PwC US refers to the US member firm, and PwC may refer to either the PwC network of firms or the US member firm. Each member firm is a separate legal entity. Please see www.pwc.com/structure for further details.
 
Colleen Krieger
Edelman for PwC's Private Company Services
Tel: +1 (212) 277-3725
colleen.krieger@edelman.com