PwC survey finds US private companies increase revenue forecasts, amid overall tempered optimism
PwC's Private Company Trendsetter Barometer tracks the business issues and best practices of privately held US growth businesses. It incorporates the views of 234 chief executive officers (CEOs/CFOs): 136 from companies in the product sector and 98 in the service sector, averaging $337 million in enterprise revenue/sales, and including large, $500M-plus private companies.
New York, November 16, 2012 - In the third quarter of 2012, against the backdrop of continuing economic uncertainty and the looming fiscal cliff, PwC US's Private Company Trendsetter Barometer survey found that private companies increased their projected revenue growth rate for the next 12 months, up from 8.3 percent to 8.6 percent. The increase was driven by private companies that sell solely in the United States. Their projected revenue growth rate rose from 6.9 percent to 8.6 percent, highlighting domestic companies' confidence about the next 12 months. International companies, on the other hand, reduced their revenue growth rate (8.5 percent, down from 9.7 percent last quarter).
Meanwhile, Trendsetter executives' optimism about US economic prospects for the next 12 months remained tempered, with 44% expressing confidence (down six points from 50 percent in the second quarter), 15 percent registering pessimism (up three points), and 41 percent voicing uncertainty (up 3 points). Despite the further dip in optimism, private companies are significantly more confident than they were this time last year, when only 27 percent expressed optimism.
Among international private companies, optimism about global economic prospects for the next 12 months remained subdued, changing little from the second quarter. Twenty-three percent of companies were optimistic, while a similar percentage registered pessimism (21 percent). The majority of international businesses remained uncertain (56 percent).
"As we approach the end of another year of slow growth, US private companies are as uncertain as they are optimistic," says Ken Esch, a partner with PwC's Private Company Services practice. "These mixed sentiments have been common among Trendsetter companies in recent years. But private companies are resilient, and so although ongoing uncertainty has caused some businesses to delay or scale back plans, it hasn't translated into inaction. The uptick in private companies' projected growth rate shows that they feel they've moved past the worst of the economic downturn and are in a position to take advantage of growth opportunities, particularly here in the United States."  
Trendsetter companies' optimism about the US and world economies, today and over the past several years, is shown below: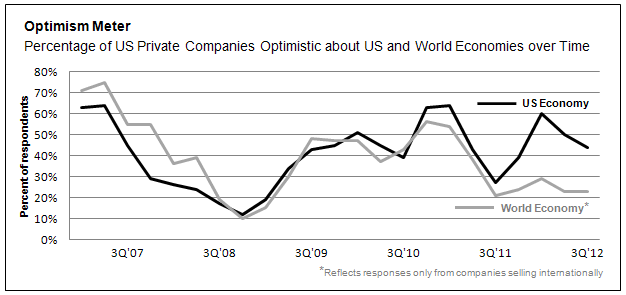 The breakout of private companies' growth projections and economic sentiments for the next 12 months is shown below. Alongside that data are Trendsetter projections and sentiments from the prior quarter and from this time last year.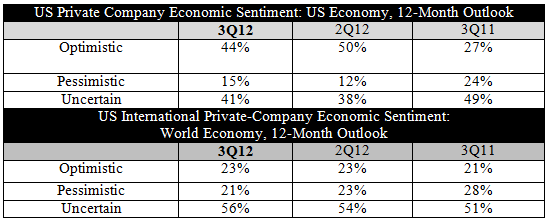 Majority of Companies Hiring, Lack of Qualified Workers Poses Challenge
The majority of private companies (55 percent) are planning net new hiring over the next 12 months, and only 5 percent plan to lay off workers. But slightly less net new composite workforce hiring is expected, down from 2.4 percent to 1.6 percent. Hourly wages are up though, from a 2.05 percent rate of increase a year ago to 2.57 percent.
While more than half of private companies plan to hire, 29 percent say a lack of qualified workers is a major potential barrier to growth over the next 12 months, showing a gap between the jobs that need to be filled and the availability of skilled workers to fill them.
 "The talent gap continues to impact private companies' growth," says Esch. "While many executives seek to fill key positions to help them execute their business strategy and drive growth, they face a shortage of workers with the right skill sets. We're likely to see private companies continue hiring only at the margins until this gap can be bridged and economic growth takes off."
Lack of demand was again the chief barrier to growth in the third quarter (74 percent). Private companies also cited legislative/regulatory pressures (52 percent), increased taxation (33 percent) and profitability/decreasing margins as leading barriers to growth.
The breakout of private companies' top barriers to growth in the third quarter is shown below, along with comparative data from the second quarter and from one year ago.

Continued Spending and Increased Bank Loan Activity, as Companies Prepare for 2013
As private companies prepare to transition into 2013, almost one-third (32 percent) of them are planning major new investments of capital over the next 12 months, down two points since the second quarter and six points below a year ago. Spending levels at 6.5 percent of sales are moderately high, above the second quarter, as companies position themselves for growth.
Increased operational spending is planned by 73 percent of private companies over the next 12 months (up 5 points), with information technology continuing to top the list of spending areas.
The breakout of private companies' top spending areas is shown below.

In line with private-company executives' robust plans to reinvest in their businesses, banking activity nearly doubled in the third quarter, with 11 percent reporting new bank-loan financing activity, up from 6 percent in the second quarter. International companies operating in emerging markets led bank-loan activity (14 percent), followed closely by domestic companies (13 percent). 
"Because of what's currently looming from a tax perspective, coupled with frothy debt markets, we're seeing more domestic M&A activity among our clients, as sellers try to lock in capital gains at lower rates before 2013," says Esch. "Now, especially, is when private-company executives need to be in planning mode so that they start the new year in an advantageous position."
About PwC's Private Company Services Practice
Moving beyond tomorrow's uncertainty and growing your business matters to you, and to us. Experience what it is like to work with professionals dedicated to serving private companies and their owners. Working with you on both day-to-day and more-complex issues such as compliance, controls, cash flow, expansion, succession, and personal financial matters - this is PwC's Private Company Services.
You talk, we listen and share insight. We are proud to serve as advisors to more than 60% of America's Largest Private Companies(1), collaborating to help you achieve long-term success.
Experience the difference. Visit us online at pwc.com/us/pcs or email us at pwcpcs@us.pwc.com to start the conversation.
(1) 2011 Forbes America's Largest Private Companies List
About the PwC Network
PwC firms help organizations and individuals create the value they're looking for.  We're a network of firms in 158 countries with close to 169,000 people who are committed to delivering quality in assurance, tax and advisory services. Tell us what matters to you and find out more by visiting us at www.pwc.com.
Learn more about PwC by following us online: @PwC_LLP, YouTube, LinkedIn, Facebook and Google +.
© 2012 PricewaterhouseCoopers LLP, a Delaware limited liability partnership. All rights reserved. PwC refers to the US member firm, and may sometimes refer to the PwC network. Each member firm is a separate legal entity. Please see www.pwc.com/structure for further details.
Colleen Krieger
Edelman for PwC's Private Company Services
Tel: +1 (212) 277-3725
colleen.krieger@edelman.com