Growth-focused private companies embrace digital tools for customer engagement and research
PwC's Private Company Trendsetter Barometer tracks the business issues and best practices of privately held US growth businesses. It incorporates the views of 217 CEOs/CFOs: 114 from companies in the product sector and 103 in the service sector, averaging $283 million in enterprise revenue/sales and including large, $500 million-plus private companies.
NEW YORK, July 11, 2012 — In today's highly competitive world of compressed margins and slow economic growth, private companies are looking for new ways to boost revenue. One key way is to engage and learn about customers via digital means rather than strictly through traditional avenues such as direct mail and print advertising. According to PwC US's Private Company Trendsetter Barometer, most private companies (70%) are now doing some form of customer outreach through digital avenues, including via email and company websites. Within this group of Trendsetter companies that engage/research customers digitally, 67% are leveraging social media and mobile devices to that end.
Fast-growth private businesses in particular are embracing digital tools in their customer outreach. Among Trendsetter companies, those that use digital means to engage and learn about customers forecast 11.3% revenue growth over the next year, compared with 6.3% revenue growth projected by private companies that are not using digital tools for customer-engagement purposes.    
"Speed and interaction are essential for businesses looking to remain ahead of their competitors," says Ken Esch, a partner in PwC's Private Company Services practice, "and so most private companies see digital tools as a pathway to faster growth. Not only does digital technology enable companies to reach many customers quickly, it also allows them to learn considerably more about those customers than they could before."
Notably, private companies using digital means of customer engagement and research to a moderate/great degree also tend to have higher annual revenue ($244 million) than those using digital means to a smaller degree ($191 million).
"Digital means of customer engagement level the playing field, helping private companies catch up to their larger public counterparts," says Esch. "By leveraging social media, for instance, private companies can engage and track current and potential customers on a scale that, in the past, would have been cost-prohibitive. It's important, however, that companies have a disciplined social media plan that matches their business objectives. A haphazard approach is apt to yield uneven results."
Digital Tools Deliver Clear Value, But Full Benefits Depend on Data Analytics
Targeted marketing to individual customers — for instance, via email promotions, text messages, and pop-up ads — is the top way private companies are using digital technology for customer engagement/research (65%). Half of private companies that are using digital channels for customer engagement/research are also encouraging customers to act as brand ambassadors — for example, by posting online testimonials about products and services and spreading the word via social media. Roughly the same percentage (48%) use digital means to solicit customer insights for product development, including innovation.
Private companies that are using digital channels for customer engagement are notably positive about the benefits, saying that digital means help their businesses do a better job of marketing their products/services to customers (76% of respondents) and improve customers' experience and overall satisfaction (72%).
Relatively fewer Trendsetter companies are using digital tools to research customers: 43% are using such tools to gather information on customers' behavior and preferences, while 40% are employing digital means to obtain demographic information. Despite these lower percentages, fully three-quarters (75%) of the companies using digital technology in their customer-focused efforts say that doing so helps them obtain better and more useful information.
"To make the most of their digital investment and the information it yields, companies must have the right processes and skills in place," says Esch. "Without these, the customer data a company gathers may be of limited value. Increasingly, companies are looking to hire people who know how to tailor data-analytics tools to a business's customer-research needs, as well as understand how to put that data to profitable use."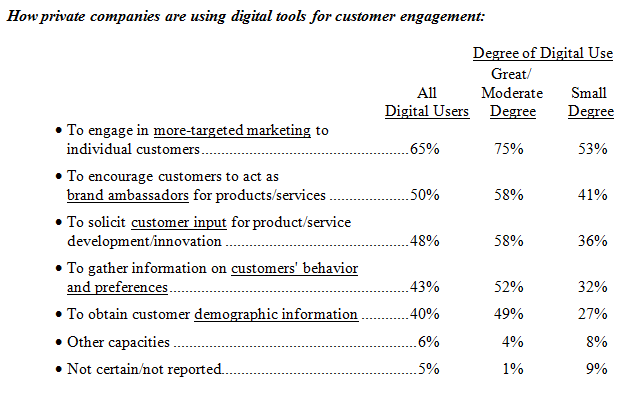 Digital Users Lead the Way in Customer-Focused Investment, But It's Still Early Days
Regardless of whether they're embracing digital technology or still relying on traditional means of customer engagement/research (e.g., direct mail), private companies overall are investing in customer engagement and research. That said, businesses enlisting digital tools for this purpose are leading the way, reporting consistently higher levels of customer-focused investment across the board.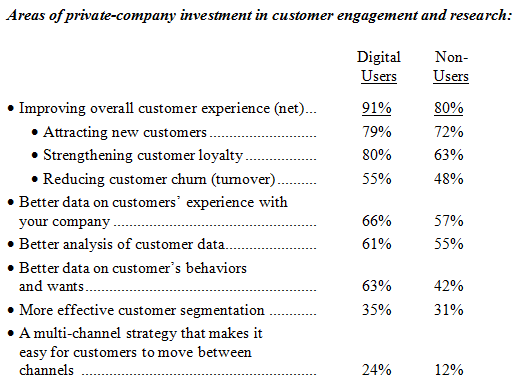 Three-quarters (75%) of Trendsetter companies consider the customer information they collect (via both digital and traditional channels) relevant to their product development and innovation. This percentage rises to 84% among private firms that use digital tools to a great or moderate degree.
Nonetheless, roughly one-quarter (28%) of private companies have not yet enlisted digital tools in their customer outreach. Meanwhile, among those companies enlisting digital technology to that end, only a minority (28%) believe that doing so is currently helping them achieve lower costs.
"Most businesses are still getting their feet wet when it comes to effectively harnessing digital technology for customer research and engagement," says Esch. "As investments in these areas begin to pay off, more companies are likely to follow suit. In the process, they'll start moving up the learning curve, discovering the most expedient ways of using digital tools — at which point, lower costs may join the ranks of key benefits to using digital technology for customer outreach."  
# # #
About PwC's Private Company Services Practice
Moving beyond tomorrow's uncertainty and growing your business matters to you, and to us. Experience what it is like to work with professionals dedicated to serving private companies and their owners. Working with you on both day-to-day and more-complex issues such as compliance, controls, cash flow, expansion, succession, and personal financial matters — this is PwC's Private Company Services.
You talk, we listen and share insight. We are proud to serve as advisors to more than 60% of America's Largest Private Companies,1 collaborating to help you achieve long-term success.
Experience the difference. Visit us online at pwc.com/us/pcs or email us at pcs@us.pwc.com to start the conversation.
1.   2011 Forbes America's Largest Private Companies List
About the PwC Network
PwC firms help organizations and individuals create the value they're looking for. We're a network of firms in 158 countries with close to 169,000 people who are committed to delivering quality in assurance, tax and advisory services. Tell us what matters to you and find out more by visiting us at www.pwc.com.
© 2012 PricewaterhouseCoopers LLP, a Delaware limited liability partnership. All rights reserved. PwC refers to the US member firm, and may sometimes refer to the PwC network. Each member firm is a separate legal entity. Please see
www.pwc.com/structure
for further details.
Colleen Krieger
Edelman for PwC's Private Company Services
colleen.krieger@edelman.com
(212) 277-3725