Assurance & Audit Services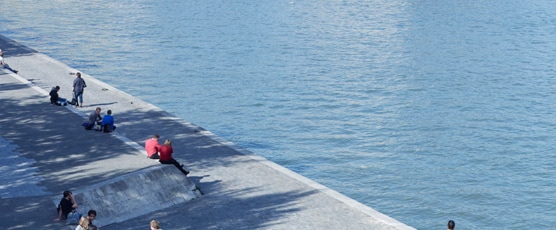 Credibility. Comfort. Confidence.
The PwC audit experience
With the leading US Fortune 500® audit market share* — and a leading Fortune 1000® audit market share* — PwC is well placed to bring the right industry experience and subject-matter capabilities to your audit.
When it comes to getting a quality audit, industry insight and knowledge are critical. Knowing that your audit team "gets" your industry-specific issues — and how they impact your company's success — is invaluable.
We touch Power & Utility clients in every region of the world, giving us the depth of resources and range of experience needed to clearly understand the special dynamics (and volatility) of the utilities marketplace. Our experience in this industry allows us to deliver a broad range of industry relevant insights and advice - inside and outside the audit.
Having the right independent auditors can be an asset. They help protect capital markets — and your brand — by attesting to the accuracy of your financial statements. Additionally, the right auditor helps you understand and better manage your critical risks by sharing accounting and business best practices. Finally, by offering informed views, a quality auditor can help you anticipate the financial and reporting impacts of your business decisions.
To a publicly traded company, the financial statement audit offers credibility. To its shareholders, it offers comfort. And to all stakeholders — including the market at large — the external audit offers confidence.
At PwC, we believe that a high-quality audit is defined by how well we deliver on all aspects of our services, including tailoring it to your needs. As one of the largest professional services firms in the U.S., we are committed to meeting the expectations outlined below:
Your business need
What you will receive
Performance of a high-quality audit

An audit that helps give stakeholders confidence in the integrity of your financial statements
Our views on the nature of your accounting policies
Our perspective around your judgments and estimates

Informed points of view

Context around complex issues and the broader implications to your business
Through our experience with other, similar businesses, advice and insights that can help you make better judgments and anticipate opportunities and challenges

Meeting regulatory requirements

Monitored developments in industry and technical regulatory requirements so that you can keep your accounting and reporting current and accurate

Responsibility to stakeholders/protecting your brand

An independent and objective opinion on your controls and financial statements, as well as insights into your other reports and disclosures, so you can maintain consistent messaging and protect your reputation

Continuous service improvement

Annual effectiveness reviews offering an independent perspective on audit quality and process
Coverage of new areas you consider to be of risk and exploration of the audit implications of significant changes in your business — looking for ways to consolidate efforts, while providing necessary audit coverage
Assurance is PwC's largest business. Through this practice, we carry out our most important role in the financial reporting system: enhancing the credibility and reliability of financial statements through the issuance of an audit report. Maintaining capital market confidence in the quality of our audits is therefore a paramount objective for us.
Read more about what PwC is doing to achieve our objective of consistently performing high-quality audits in Our focus on audit quality.
* Source: Nationally, on the basis of percentage of number of clients, we maintain the leading US Fortune 500® audit market share and a leading Fortune 1000® audit market share. Source: Audit Analytics, Fortune Magazine May 2013
The risk landscape is changing: Are you changing with it?
As a utility, you face a growing number of challenges, any of which can send significant risks in your direction. These include ongoing regulatory uncertainty, the introduction of new technologies, demand for leaner supply chains, and increased threats to energy infrastructure from cyber terrorists. Meanwhile, technology continues to increase the overall speed of business — and, therefore, of risk.
It's clear that the risk landscape is changing. The risks you face every day are more complex, more interconnected and more difficult to manage than they were yesterday. What's more, both the speed at which risk events occur and the extent to which they regularly spread have risen dramatically in the last few years. Risks that once seemed improbable or even remote are becoming "the new normal."
Business leaders everywhere must now expect the unexpected. And in no industry is that more true than in yours.
Approaching risk holistically
At PwC, we understand that risk assurance is never a check-the-boxes exercise. And we don't split risk up into separate compartments, because business doesn't work like that. Our approach is to see and deal with risk holistically, bringing together our powerful capabilities in technology, finance, regulation and business processes to analyze emerging trends — and help you address them in advance.
So you can plan, forecast and make the informed decisions that can keep your business on track and your customers' lights on. Here are just a few of the risk assurance services we can offer you:
Creating risk controls, or strengthening the ones you've already got so they better align with your strategy
Making sure you have the right internal systems to help you see risk clearly and assess the implications
Having the processes in place you need to report accurately and comply with all regulations
Giving your internal auditors the skills and tools they need to correctly anticipate risk
With proper risk management, everything you do can be clear and transparent to all your stakeholders. So you'll be a business that investors, customers and partners can trust.
Consider the big picture
At PwC, we cover the full spectrum of risk. We look at your processes, policies, systems and controls with a fresh eye. We also bring into the mix regulation, IT and other projects, internal audit, data integrity, and third parties you work with.
And, as the majority of our 2,300 U.S. Risk Assurance practitioners maintain certifications relevant to their areas of specialty, we are able to focus on the details of your risks through the lens of a deep understanding of your industry.
Contact us to learn more about how we can help you achieve business resilience in an atmosphere of growing risk.