US GAAP Convergence and IFRS: What you need to know about the IASB and FASB's joint projects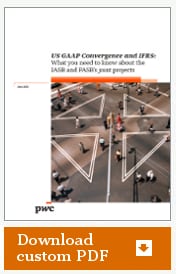 This is a compendium of our convergence publications, designed to provide you with one single, customizable reference resource as you manage the potential impact of the proposed standards on your company.
Contents include the following:
Summary overview of the standard-setting landscape
PwC's point of view on effective dates and transition methods
Technical insights on the standard setting projects

Financial instruments
Fair value measurement
Statement of comprehensive income
Balance sheet offsetting
Pensions and postemployment benefits
Consolidation
Financial statement presentation
Contingencies

Discussions of what companies can and should be doing now to prepare for these changes.
The convergence projects are ongoing and details will change; as they do, we will provide updates on this site.