2011 North American wireless industry survey
March 2012
PwC's annual survey report for 2011,
No wires attached: Changing trends in the North American wireless industry
, analyzes survey responses about financial accounting and operations practices of the wireless telecommunications industry. The survey aims to inform wireless, telecom, and broadband industry participants of the current and emerging trends to empower them in decision making in this fast-changing environment. The results of this survey reflect the participation of eight US and four Canadian wireless operators.
The survey includes more than 200 data charts covering items from smartphone and data usage to customer retention programs and from customer care to the useful lives of property, plant, and equipment assets. We dive into this level of detail to provide readers with relevant data for understanding trends in key performance measures and the financial accounting and reporting policies and practices of wireless telecommunications service providers. The survey period covers calendar year 2010 as well as certain information as of June 30, 2011. Companies participate voluntarily, and individual survey results are kept confidential by PwC.
Click on the headings below to explore highlights of the survey.
Embracing the smartphone boom
Smartphone device sales, users, and revenues are accelerating across the board. The sale of smartphone devices to new postpaid subscribers continues to grow, representing 48% of device sales as compared with 30% in the 2010 survey. The number of total postpaid subscribers using a smartphone also grew to 37%, up 15% from the prior year. Given the data service component for smartphone plans, the average service revenue per user remains significantly higher than the average revenue per user for postpaid customers, at $83 in the 2011 survey.
Smartphone subscribers as a percentage of Total subscribers, postpaid and prepaid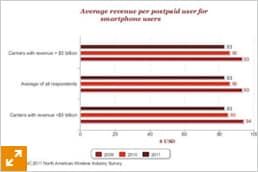 Average revenue per postpaid smartphone user
The rise of the prepaid subscriber
Prepaid plans continue to represent a significant and growing portion of carrier revenues as consumers opt for less expensive, no-commitment wireless plans. Prepaid services now represent an average of 29.2% of total service revenues, up from 22.5% in the 2010 survey. The significant growth in the prepaid subscriber base is thought to be attributable to the combination of a maturing market, with mobile subscriber penetration recently nearing 100%, and recessionary consumer purchasing behaviors, which have evolved toward mobile services that allow more careful control of spending.
Prepaid revenue as a percentage of total service revenue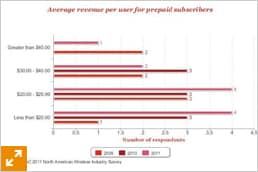 Average revenue per user for prepaid subscribers
Building out the network
As the demand of subscribers continues the shift toward data-intensive services and the speed of data delivery becomes even more important, wireless operators are investing in significant capital improvements. Capital expenditures averaged approximately 24% of service revenue, an increase over the 20% of the 2010 survey. The year also saw accelerated depreciation and impairments believed to be the result in part of ongoing network upgrades to 4G technologies, accelerating the retirement of legacy 2G and 3G network assets.
Capital expenditures as a percentage of service revenue
Depreciation expense as a percentage of service revenue