The rise of robots
The last several years have seen a sharp resurgence in orders of industrial robots, roughly tripling in the wake of the Great Recession. A flurry of investor activity has accompanied the rise in adoption of robots by manufacturers, piquing the interest of manufacturers of all stripes and, interestingly, firms outside traditional industrial manufacturing. Venture capital investments in robotics technology startups are up, too.
Annual robots orders in North America surpassed 20,000 units from 2011–2013, and a surge in orders occurred in the first half of 2014.


According to the PwC/NVCA MoneyTree Report based on data from Thomson Reuters, capital investments by US venture capital firms rose to about $172 million (in 10 investment rounds) in 2013, nearly tripling 2011 levels.


The number of global published patents for robotics technologies passed 5,000, the highest level ever, in 2013, up from about 1,400 in 2004.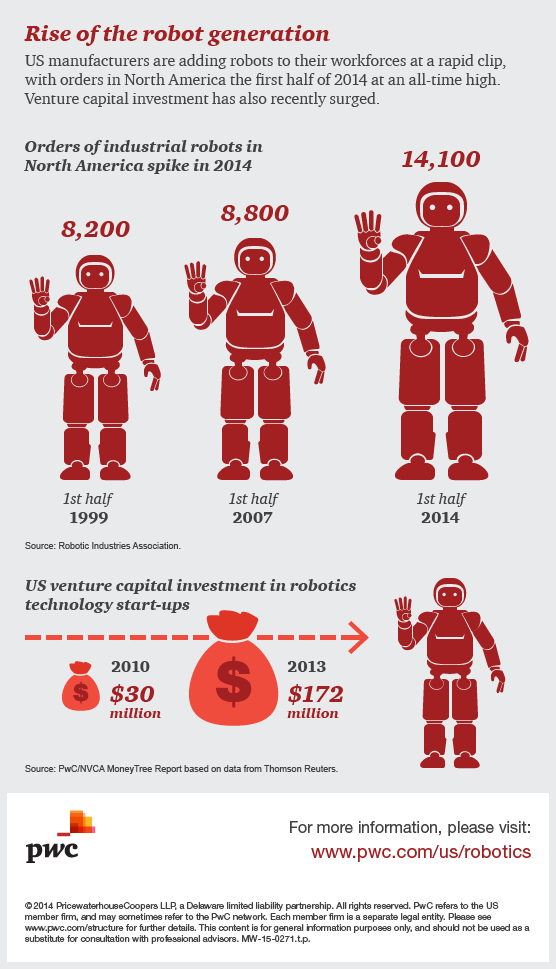 Robots are landing new jobs… in new industries
For decades, advanced industrial robotics have been chiefly pioneered and deployed by the automotive industry, particularly Japanese carmakers, followed closely in their wake by European and North American counterparts.
Enabling technologies are making robots smarter at a rapid clip: these include greater computing power, sensor technology to enable vision recognition, more sophisticated sound and movement detection, tactile, force and torque control sensing (giving robots the ability, for example, to sense when they are bumped and "give" to prevent hurting humans or sense when a human in nearby).
In 2005, 69% of all industrial robot orders in North America were made by automotive original equipment manufacturers of automotive components companies, according to data from Robotic Industries Association. By 2014, that figure had eroded to 56%, offset by increasing shares by other industries including the food and beverage, and consumer goods industries.


A PwC survey of US manufacturers found the most common task was assembly (25%) followed by machining (21%), with the least common tasks being warehousing and performing dangerous tasks (both 6.5%).
People and robots: A new collaboration
As legions of robots and other automation technologies find their ways into production facilities and distribution centers - as well as through supply chains - manufacturers will grapple with an advanced level of commingling of human and machine. Indeed, manufacturers could be looking at an awkward period of systemic human-resource change as they introduce robots to more varied manufacturing tasks, and as they call for greater human-machine collaboration. They'll also prepare for the implications of displacing human workers with robots through so-called "botsourcing."
Could a greater robotic work­force actually drive a need for more human talent to train, repair and minister to that growing robotic workforce, not to mention the talent needed to develop the burgeoning robotic technology industry itself?
According to a PwC survey of US manu­facturers, over one-third of manufacturers said that the biggest impact robots will have on the manufacturing workforce in the next three years is that they will lead to "new job opportunities to engineer advanced robots and robotic operating systems."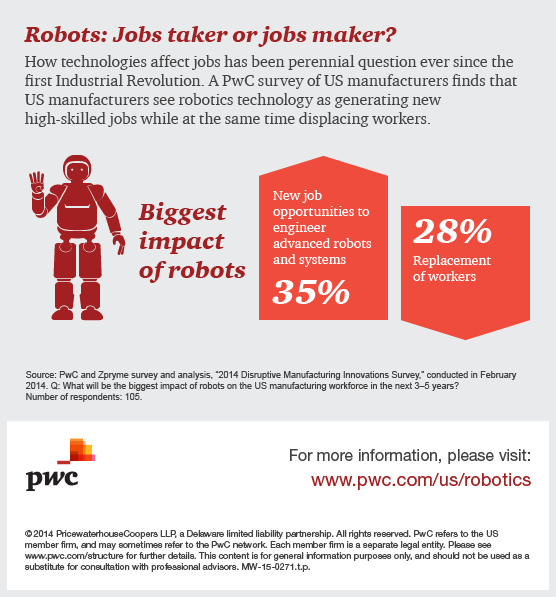 Robots and flexible manufacturing
For decades, robotics and other forms of automation have delivered on the promise of speed, efficiency and productivity. But how will a widespread adoption of advanced robotics deliver on flexibility and adaptability to fast-changing customer needs- and on rising expectations for developing new products faster?
As companies program or train their robotic fleets to perform more and more applications in one plant, what is the potential for a company to transfer that knowledge to robotic cohorts in another plant - even one on a different continent? Such machine-to-machine knowledge sharing could well make it easier for companies to switch production from one locale to another, or from the production of one product to another without the considerable investments in talent, training, set-up time and related costs traditional manufacturing requires.
Barriers to widespread adoption of industrial robots
Despite strong momentum surrounding the development and adoption of robotic technology, there nevertheless still exists resistance to widespread adoption. Much of this resistance seems to be tied to cost, expertise and a lack of understanding of how they could produce an attractive return on their investment - both up-front and ongoing - through maintenance and programming of new tasks. According to our survey of US manufacturers, some 41% of companies surveyed do not currently use advanced robotics technology and top reasons for limiting investment in robotics technology in the next three years include that: "they are not cost effective" and "see no need".
Small and mid-sized manufacturers will likely need robotics that can accommodate smaller production runs and more frequent set-ups and re-programming of their robotic workers to adapt quickly for production of new products or variants of existing ones. Bigger growth in robot adoption, then, will likely come when robots can easily produce in small-lots situations. Most small and medium-sized enterprises will need cheaper and more easily programmable robots to make that happen.
Are you robot ready?
Certainly, manufacturers are approaching robotics in many and varied ways and, and assessing the degree of need and spotting the "right" application differs across industries and from manufacturing plant to manufacturing plant. As companies- especially small and mid-sized enterprises - look for new and viable ways to integrate robotics and automation into their operations, robots are becoming a stronger factor in manufacturing competitiveness globally. And, the potential for an even greater rise of their ranks could be considerable, making it potentially an important competitive differentiator. A continued uptake of the technology will nudge most all manufacturers, big and small, into considering if they ought to initiate, or expand, their adoption of robotics technology.
A few questions companies might ask themselves as a sort of "robot-ready self-assessment":
Have you audited your manufacturing processes and identified repetitive, onerous, or dangerous tasks done by humans that could be carried out by robots?
Have you explored what sorts of gains in productivity, efficiency, and waste reduction could be achieved by deploying robots in your operations?
Are there manufacturing processes that require high precision and dexterity for which you find it difficult to secure human talent to perform?
Have you assessed what possible return on investment and cost-benefit analysis robotics would bring (comparing initial and ongoing cost of robotics system, and expected useful life span of that system) versus cost of relying on human labor?
Does your company have the talent to exploit robotics technology to the fullest (e.g., train, repair, clean, de-bug and program for quick set-up)?