Rulemaking slows, but guidance continues unabated
The FDA has slowed its rulemaking in concert with priorities laid out by President Trump during his campaign and during his first year in office. Over the past year, regulatory actions taken by the agency decreased significantly compared to any year during the Obama administration. The FDA issued just six new significant regulatory actions in 2017, compared to 30 the year before. None were related to pharmaceutical or biotechnology regulation.

However, the FDA has not slowed its creation of policy. The issuance of draft and final guidance documents by the FDA—key ways in which the regulator shapes policy—was roughly on par with prior years, according to an HRI analysis of Federal Register data.
This indicates that while the FDA isn't issuing new regulations, it's still using other existing statutory and regulatory authority at a similar pace.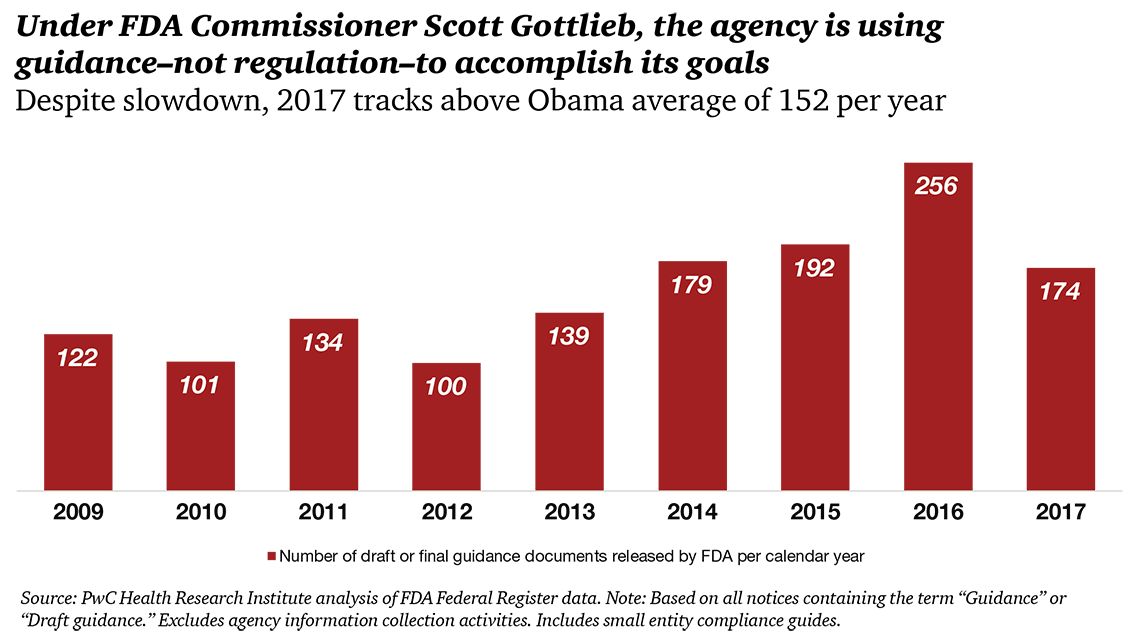 Approvals soar, though part of a long-term trend
The FDA approved more new drugs—that is, new molecular or chemical entities that had never before been approved by the agency—in 2017 than in any year in its history aside from 1996, when it approved 53 new drugs, according to FDA approval data. Many of these products were submitted for approval during the Obama administration as there is typically a 10- to 12-month period between a drug application submission and approval.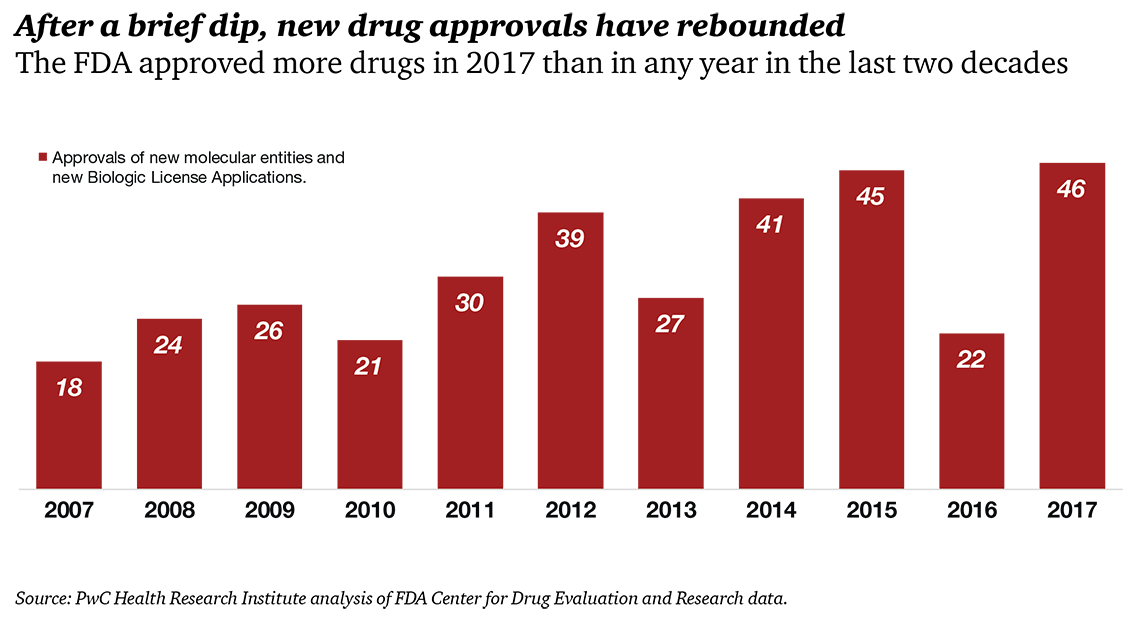 The increasing rate of drug approvals, which began about six years ago, likely has been, at least in part, fueled by the passage of regulatory-focused legislation such as the FDA Safety and Innovation Act of 2012, the 21st Century Cures Act of 2016 and the FDA Reauthorization Act of 2017. These laws gave the FDA additional resources and authority to review drugs more quickly.
In 2017, the agency approved the most generic drugs in its history, thanks to a years-long effort to improve the generic drug review process. The FDA has approved more generic drug applications in each of the last four years, nearly doubling its rate of both full and tentative approvals.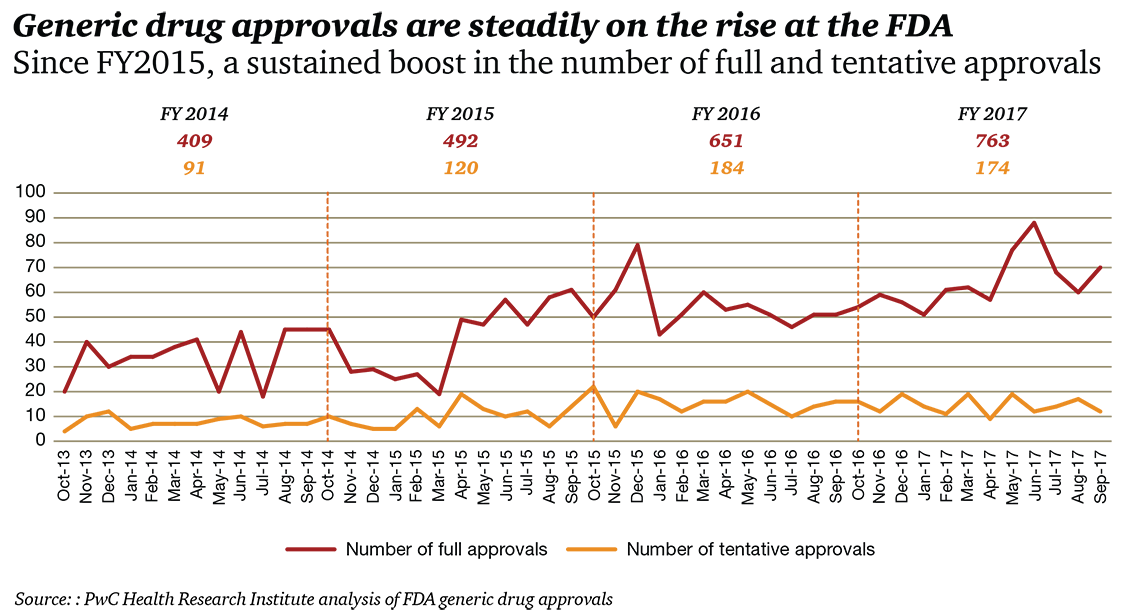 As with new drug approvals, generics have benefited in recent years from the creation of a new user fee program in 2012 called the Generic Drug User Fee Act (GDUFA), which generated significant new funding for the FDA to hire additional review staff. The program was extended as part of the 2017 FDA Reauthorization Act. The increasing approvals also are partially the consequence of more drugs coming off patent that were originally approved in the late 2000s, when the FDA approved 24 new molecular entities each year on average.
Companies seeking approval for drugs treating rare diseases also have experienced recent success at the FDA. The FDA approved 64 rare disease drugs in 2017, more than any other year in its history, according to an analysis by HRI. When it comes to "orphan" disease drugs—products intended to treat fewer than 200,000 Americans—the FDA granted 476 products this designation in 2017, the most ever granted in one year. This trend is likely partially the result of more pharmaceutical companies developing specialty and oncology drugs, which typically treat smaller populations of patients.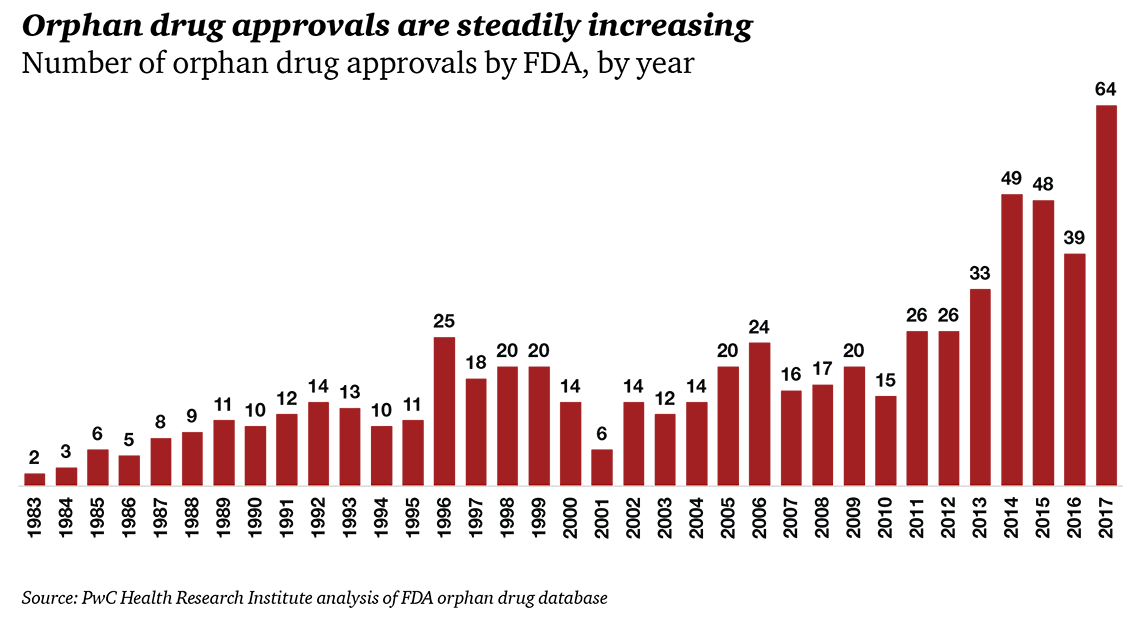 While the orphan designation status has been historically useful for unlocking tax credits worth 50 percent of the cost of all research and development incurred for a drug, that tax credit was cut in half under the recent tax legislation, and is now only worth 25 percent of costs.
Fraud recoveries increase, but mostly as the result of Obama
While regulatory actions may have slowed, fraud recoveries by the US Department of Justice (DOJ) have continued, often initiated at the request of the FDA or in response to found violations of federal law over which the FDA has jurisdiction. Based on an HRI analysis of the DOJ's public statements, the department fined pharmaceutical companies an estimated $1.63 billion in 2017, compared with an estimated $1.45 billion in 2016.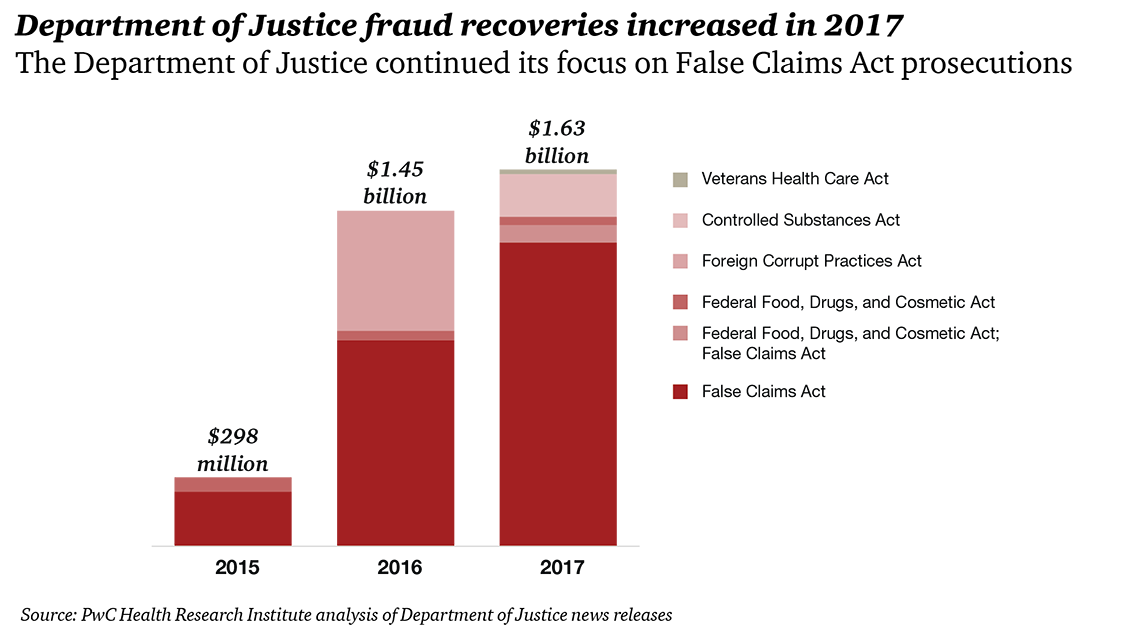 The largest recoveries for both years were False Claims Act violations, which are typically related to off-label marketing of FDA-approved products.
However, a large portion of the recoveries during 2017 occurred in the waning months of the Obama administration, and it is likely that nearly all recoveries originated in investigations launched prior to 2017. It may be another year or two before the industry begins to see if the Trump administration engages in more or fewer investigations than its predecessor and whether it will focus on new areas of enforcement, such as actions under the Controlled Substances Act or False Claims Act related to the opioid crisis.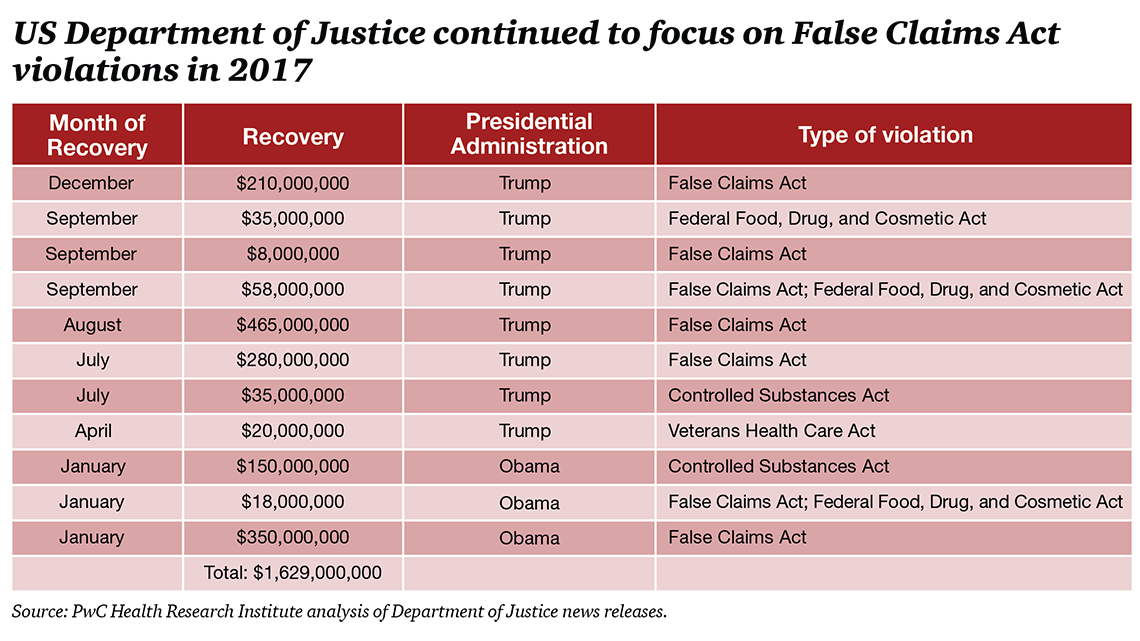 FDA enforcement activity sees highs and lows
When it comes to the FDA's enforcement activities, the agency continued many long-running trends in 2017, with some exceptions. The FDA in 2017 issued significantly fewer warning letters than it did in 2016—510 compared to 650 in 2016, an HRI analysis found. This was a 21.5 percent drop from the year prior, and a 25 percent drop from 2013.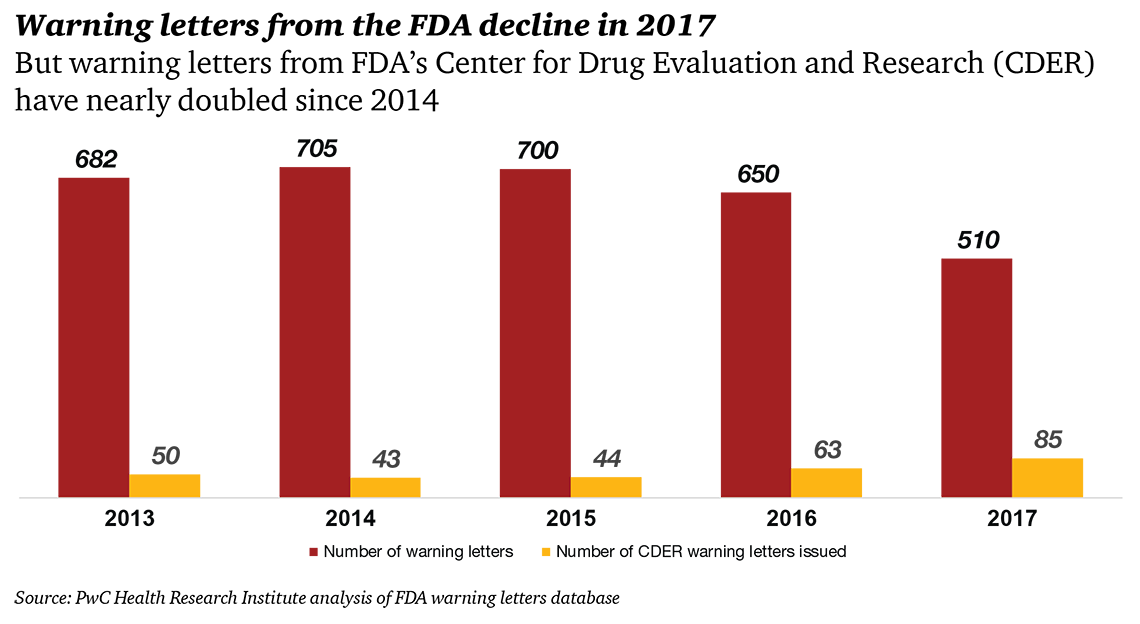 However, pharmaceutical companies have received more warning letters from a key FDA division in recent years, and in 2017 in particular. The FDA's Center for Drug Evaluation and Research (CDER), which oversees drug regulation at the agency, issued 85 warning letters in 2017, more than the 63 letters it issued in 2016 and more than in any of the last five years, according to HRI's analysis.
Many of the warning letters issued to pharmaceutical companies by CDER and district offices—which also oversee pharmaceutical companies in their local markets—focused on matters related to quality, and specifically current good manufacturing practices (CGMP), HRI found. These practices are upheld by the FDA as forming the foundation of quality drug manufacturing, and violations of them often indicate major issues, including issues related to contamination or potency. Drug quality has been of increasing importance to the FDA in recent years.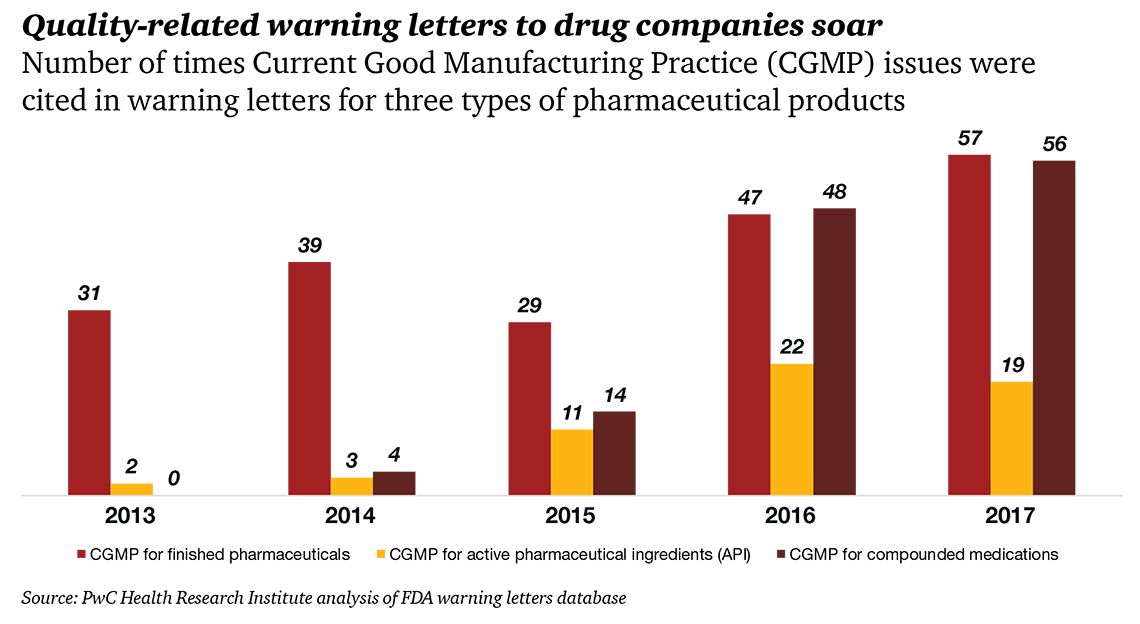 The agency obtained new legislative authority under the FDA Safety and Innovation Act of 2012 that allows it to more aggressively inspect domestic and foreign facilities, and the formation of a specific CDER unit dedicated to drug quality has brought further attention and resources to the issue. The agency also received new power under the Drug Quality and Security Act of 2013 to oversee certain compounding pharmacies, some of which were found to have major quality issues. The increase is likely due to increased emphasis on drug quality during FDA inspections, and not that the pharmaceutical industry is experiencing increased drug quality issues.
The FDA also has been placing a similar emphasis on data integrity issues in recent years. Data integrity refers to measures meant to ensure that data about the drug manufacturing and testing process are accurate, specific, original and tamper-proof. Lapses in data integrity practices can be a strong indicator of fraud, and regulators have won major felony cases against companies found guilty of data integrity problems in recent years.
FDA records indicate that the agency's interest in data integrity continues to grow, and that the majority of this interest remains focused on drug companies, including pharmaceutical manufacturers and clinical investigators.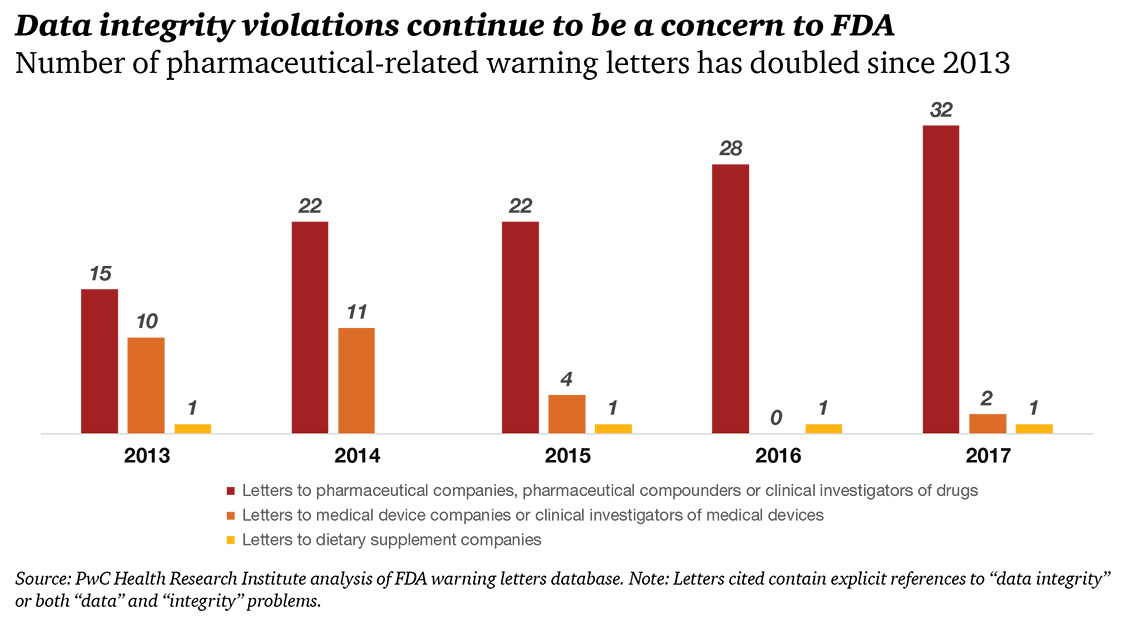 Inspection data shows little change
The FDA's inspections database indicates that the FDA issued 11.5 percent more Form 483s—reports indicating deficiencies found during an inspection that need to be remediated—in 2017 than in 2016, according to an HRI analysis. However, reports to drug and biologics companies remained almost unchanged in number in the last five years.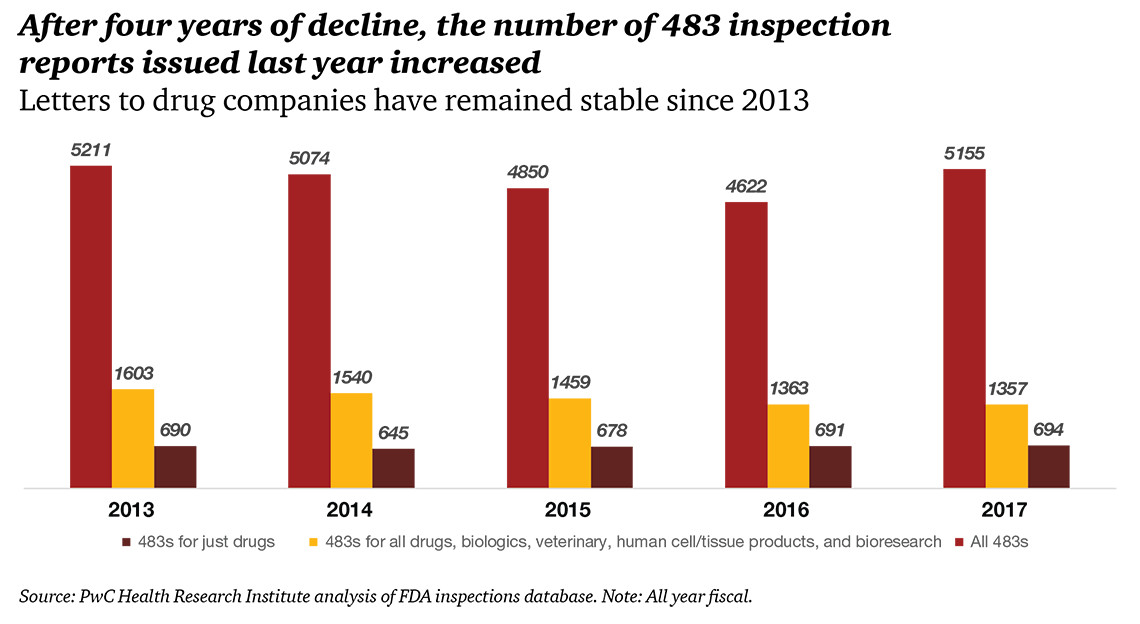 An analysis by HRI found that failing to have procedures written down, or failing to follow written procedures, was cited in 26 percent of all reports to drug companies in 2017. Other common issues included failing to scientifically validate testing procedures (18 percent of all reports) and failing to fully investigate discrepancies or failures in the drug manufacturing or testing process (14 percent of all reports).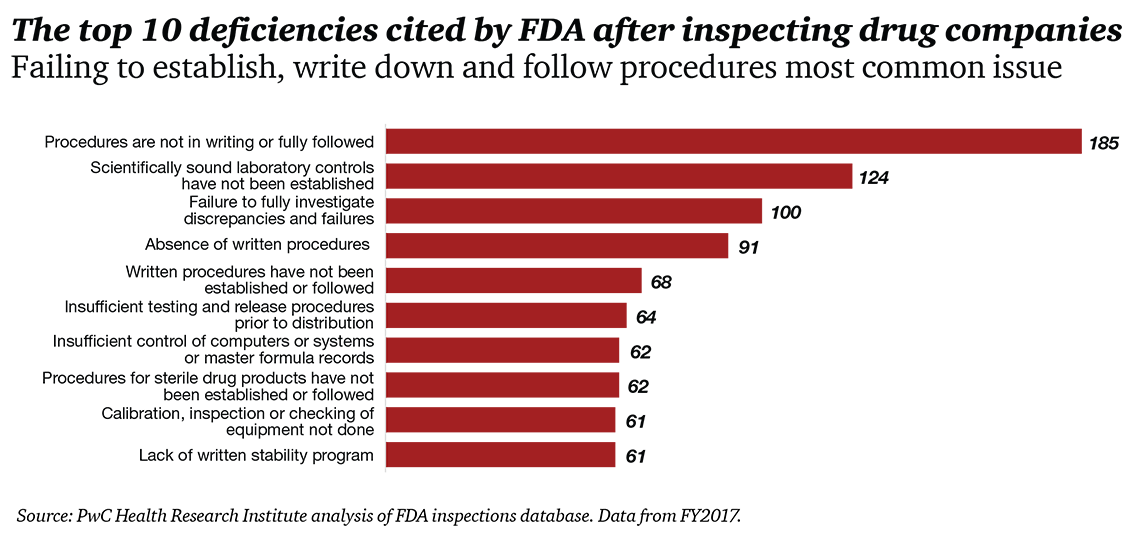 Another notable decline found by HRI relates to the issuance of so-called "untitled letters," which are used by the FDA to call attention to perceived violations of advertising and promotion regulations. The use of these letters has been in decline since at least 2012, but 2017 marked a new low. This may potentially be the result of a disadvantageous legal environment following the FDA's loss in several landmark cases regarding whether companies have the legal right to make off-label claims—that is, claims without explicit FDA approval—about their products. It may also be the result of companies' increasing adherence to the FDA's advertising regulations and standards.