As financial services continue to evolve, the small business sector is next
There are roughly 30 million small businesses in the US which collectively account for nearly half of all US employment.1 Despite the small business sector representing one of the largest potential volume customer segments, financial services providers have typically been slow to adapt to a sector shifting towards a digital-first approach. Loan approval rates for larger banks, for example, remain low at 20% to 30%.2 For both banks and insurers, the fragmented nature of the small business environment and associated local and physical infrastructure have often restricted the opportunities to efficiently serve this customer segment.
Similar to trends that already have played out in consumer markets, the use of broader data sets and automation of processes could meaningfully change product distribution in the small business market as well as the cost/income ratio to serve these customers. Select alternative marketplace lenders already incorporate nontraditional data such as business data activity (e.g., sales, shipping volumes, receivables) to more frequently evaluate and proactively identify credit risk relative to traditional personal credit scores and tax returns. This, in turn, has typically expanded the ability to efficiently capture a larger part of the market. If larger banks adopted similar methods, small business loan approval rates may look closer to their community counterparts, with the group as a whole potentially seeing annual incremental revenues of $1 billion to $3 billion. As the use of technology-aimed approaches and the regulatory landscape changes, opportunity to modernize small business financial services is arising not just for larger banks but also regional and community-based financial participants.
-----
1 "2018 Small Business Profile," Small Business Administration, April 2018
2 "Biz2Credit Small Business Lending Index," Biz2Credit, June 2018
Significant efficiencies may be gained in small business lending
Additional benefit available from reevaluating operational processes that underlie lending services. For the most part, banks have lagged in implementing more efficient process improvements such as process automation and digital-enabled lending. The cost/income ratio of a small to midsize banking institution is roughly the same as it was before widespread online and mobile banking existed, suggesting there are significant efficiencies to be gained. An evaluation of basic operational efficiency opportunities is a likely starting point for community banks.
The efficiency ratio for all FDIC-insured institutions was 57.9% in 2017, a slight improvement from 58.5% in 2000.3However, smaller banks (banks between $1 billion and $10 billion in assets) have seen their efficiency ratios rise from approximately 55% to 60% over the same period as this cohort has not kept pace with growth or efficiency realization relative to the broader banking industry. Although community bank efficiency ratios have begun to decline, as seen below, there is still significant room for improvement relative to their larger peers. Smaller banks typically have an outsized reliance on small business loans for growth, which provides a decent proxy for assessing the operational efficiency of the small business market.
Community banks may have more room for operational improvements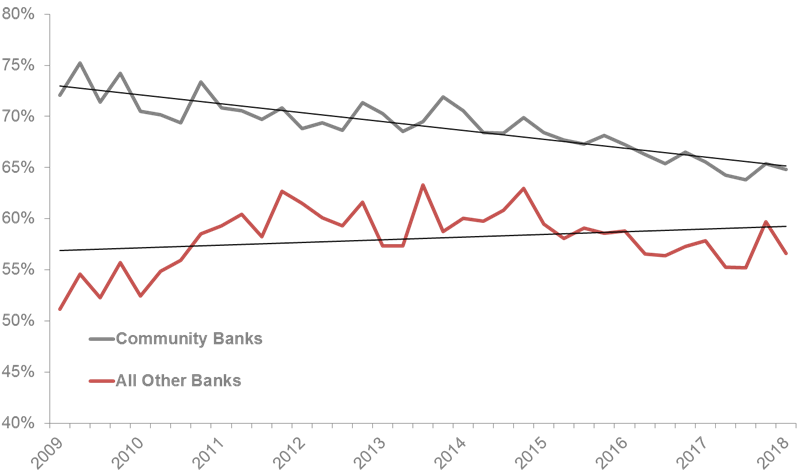 - Source: FDIC
Evolving competitive landscape could be a catalyst to adapt. Small business loan balance growth has been anemic with compound annual growth rate of 0.50% over the last decade, one-third of US GDP growth, with total balances just returning to pre-financial crisis levels. At the same time, the field of lenders to serve this market has meaningfully expanded. New marketplace lenders have entered the space along with alternative credit scoring models and digital distribution channels that are often lowering cost to serve and enabling non-bank financial institutions to enter the space through partnerships.
In fact, the developments with alternative credit models and use of digital channels will likely begin to change how banks approach the small business lending market. Historically, a focus for many banks in small business lending has been a partnership approach for loan referrals or portfolio purchases in order to meet Community Reinvestment Act (CRA) requirements. However, recent bank-FinTech partnerships specifically focused on small business lending have materialized to enable segment expansion. Due to the digital distribution efficiency opportunities, larger banks could begin to pursue a more dedicated approach.
Looking ahead, lenders should consider looking inward to determine how the efficiency realized from new models can be applied. Efficiency ratios approaching 70% for smaller banks that rely on small business lending indicate further potential for both revenue- and expense-driven profitability improvements. As more lenders look to serve a potentially increasingly competitive market, institutions can consider models that incorporate alternative data to bolster higher profit-per-loan performance. A recent analysis completed by the Federal Reserve of Philadelphia found that borrower ratings compiled through the use of alternative data sets can be more accurate in predicting a borrower's default probability than a cumulative set of traditional credit scores, other traditional risk variables, and economic factors.4 By incorporating a wider breadth of data points, lenders can likely piece together a more complete understanding of borrower tendencies and improve loan performance.
Pursuit of these capabilities should be complemented with a review of both regulatory compliance and governance standards. Prior to an implementation of scoring models that incorporate alternative data sources, internal controls should be reviewed to ensure that they can accurately assess whether ongoing iterations of these lending models remain compliant with existing regulations, such as the Fair Credit Reporting Act. From a governance perspective, a lender should also put procedures in place to help ensure that scoring models correlate with loan performance and that the acquired data feeding these models are both accurate and verified.
Many large banks are also responding to the growing competitive field by improving the highly manual processes that underlie these services. Automation and cross-channel onboarding can typically improve the traditional branch loan application process and raise digital engagement. Several large banks already offer more streamlined product application processes for repeat small business customers, automating form completion and reducing approval times significantly. Such capabilities are increasingly necessary as the competition for loans rises and approval times in a digital-only framework shrink. In an increasing number of cases, organically built platforms are being used to generate a more efficient loan approval process, a replacement for the partnership model, as banks are increasingly finding these offerings mandatory rather than supplemental.
A path toward higher profit-per-loan can possibly be paved through efforts to fully automate loan origination and maintenance processes. As digital origination capabilities mature, large banks may be able to effectively originate and service smaller loan balances more profitably than they have historically. Over the next several years, lenders may find limited investment in data architecture and emerging technologies to be a common characteristic of those institutions that lag the market in both product quality and price competitiveness, as investment in this area often compounds in favor of those that invest and works harshly against those that fall behind. Machine learning can help achieve end-to-end loan origination automation by pointing the algorithm-based engines to the relevant data points.
To try to further drive profitability, financial institutions can take steps to increase efficiency through robotic process automation (RPA) to improve small segments of the lending process, such as pre-funding data and document verification. Those considering implementation should be sure to evaluate the broader context of the function that RPA can help to automate. After all, the automation of a bad process is still a bad process. Nonetheless, RPA has the potential to reduce the cost of executing portions of a loan process that do not require subjective decision making, although the real opportunity to create sustainable competitive advantage comes with a review of how to make the entire process more efficient.
Finally, a near-term catalyst for renewed focus on small business loans may also come with the recent redesign of parts of Dodd-Frank. The recent rollback of a portion of this banking regulation may improve the appetite for community banks to accelerate balance sheet growth, likely driven by small business clients. Before the Dodd-Frank reform, evidence suggests that small banks found success in serving the small commercial market. According to the Federal Reserve of St. Louis' fourth quarter 2017 survey, small banks had the highest percentage of survey participants reporting increasing demand for commercial and industrial(C&I) loans.5 Over this period, these small banks were approving loans at a rate of 86%, compared to large banks with approval rates just above 50%, a substantial difference.
-----
3 "FDIC Quarterly Banking Profile," FDIC, February 2018
4 "The Roles of Alternative Data and Machine Learning in Fintech Lending: Evidence from the LendingClub Consumer Platform," Federal Reserve Bank of Philadelphia, April 2018
5 "Kansas City Fed Small Business Lending Survey," Federal Reserve Bank of Kansas City, April 2018
Small commercial insurance customers may need an end-to-end digital experience, not just digital distribution
In the small commercial insurance space, the relative cost of acquisition has increased despite new digital capabilities. Relative to the banking space, the trend line for small commercial insurance has shown even less improvement. Customer acquisition and commission costs have been flat, relative to premiums, which indicates potentially large opportunities for incumbents to improve their cost base.
Small commercial insurance has seen little to no efficiency improvement
- Source: S&P Global Market Intelligence
Inclusion of agents in the digital value chain is part of the solution. Channel conflict is a sensitive topic, especially as insurers look toward digital channels to improve expense ratios or expand their geographic footprint. However, rather than pursuing direct digital distribution, insurers can equip agents with the digital tools to increase sales volumes and market coverage, essentially encapsulating the agent network within the digital distribution strategy. Beyond front-end tools, this could include branded or white-label in-sale solutions such as comparison or mobile submission tools, or post-sale conveniences such as mobile-based claims submission and status apps.
By including the agent network as part of the full digital channel, insurers may solve two issues. Not only will digital channels likely help modernize and create efficiencies, but the fragmented and local nature of the broker network can be in position to help policyholders with digital interactions, as the actual propensity of small business to purchase online is early in materializing.
Agents will not go away, but their role may shift in light of evolving customer preferences. Typical new applicant questionnaires can be digitally converted and partially automated for standardized risks, but the expertise of an agent will likely continue to be needed for many small commercial policies. This is partly seen in the low percent of online sales despite the entrance of startups focused on digital distribution. Online-only sales for commercial multi-peril have likely been lower than expected, but there is potential for future improvements with a shifting demographic. As millennials constitute an increasingly larger portion of business owners, small commercial insurance may become increasingly digital, which may see the enabling of agents as a near-term differentiator in the space.
The push to disrupt the small commercial market may start with larger players. Potential synergies may come with a desire to expand down market, which is an advantage established players have over startups. The back- and middle-office infrastructure is not easily replicated and has seen significant investment in recent years. The ability to access alternative data, whether through data aggregation firms or through internal scraping of pertinent information, can help form a more granular risk assessment to enable this expansion. Smaller policies are typically easier to underwrite and do not include as many bespoke risks. For these established players, there may be an opportunity to win new business through improved digital capabilities, capitalizing on their strengths with how fractured and provincial the market is. Looking at Figure 3, highlighting market share for commercial multi-peril in the US, insurers ranked 11-20 have nearly 5x the average market share of those in the 21-100 range. The relatively larger size of these established players and their ability to invest in partnerships and efficiency could help them gain share from these smaller, regional players.
Digital channels may enable larger insurers to go down market in commercial multi-peril insurance as relative market share is skewed towards the top
- Source: S&P Global Market Intelligence
InsurTechs arrive with front-end digital capabilities. A vast majority of the new entrants (InsurTechs) in the small commercial industry have been digital front-end agents or brokers, typically specializing in a certain customer segment. These startups provide a new distribution path for insurers, often leveraging capabilities that have tripped up new players in the past, such as being able to effectively target small businesses through social media platforms and online-only marketing and analytics strategies. In addition to new distribution partnerships, insurers could also see near-to medium-term success by acquiring automation tools to scrape business level data and pre-fill the many required forms, or help create networks to share costly leads and match risk appetite across regions or lines of business, some of the ways startups are looking to augment the small commercial business. These solutions should allow for companies to use analytics across data sources to better identify potential risks and company details, introducing more efficiency throughout the underwriting process.
The small business segment is in the crosshairs of change
The complexity (or lack thereof) of financial services is a telling sign for when technology, distribution, and newer competition may impact the space. Many retail-facing sectors with relatively standard and simple transactions such as money transfer, savings, or unsecured lending have seen substantial change over the last ten years. The absolute dollar value of the transaction, and regulation, are also factors, as smaller loan or retail wealth management sectors have seen more change relative to primary capital markets or high net worth, respectively.
Maturity curve in financial services digitization tied to complexity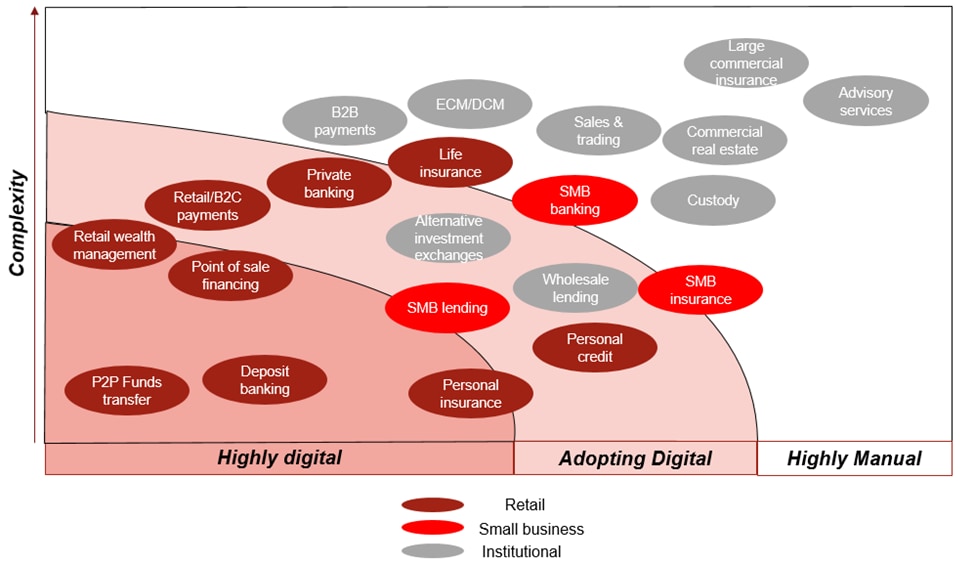 - Source: PwC Analysis
Following broad adoption of digital capabilities to serve the retail segment, delivery of financial services to small businesses may be on the cusp of widespread change.