Evolution of capital markets in the post-crisis world
When discussing recent disruption in financial services, the capital markets sector has been slow to evolve. Retail-facing financial sectors have seen more material change as the entrance of several thousand start-up companies and use of new digital distribution channels has changed the industry in a relatively short 5-10 year timeframe. In the wealth management area, start-ups and incumbents alike are adopting automated solutions that help democratize access, peer-to-peer (P2P) payments are forever changing the payments industry, and retail banks are developing more predictive and personalized services.
The capital markets industry, however, has been encumbered with new regulations, capital requirements, and cost reductions that have hindered transformational change. Further, barriers to entry, including expensive human capital and structural growth headwinds, have limited the appeal for the entrance of new start-ups, which typically spur innovation. When compared with retail banking, the operating models, product distribution, and competition within capital markets are fairly similar to the pre-crisis era. Looking forward, growth likely remains overly dependent on external factors such as market volatility and comes with lower returns on equity. In this uninspiring environment, sustainable growth and further operating leverage expansion—which have largely been driven by expense and balance sheet reductions—may be limited.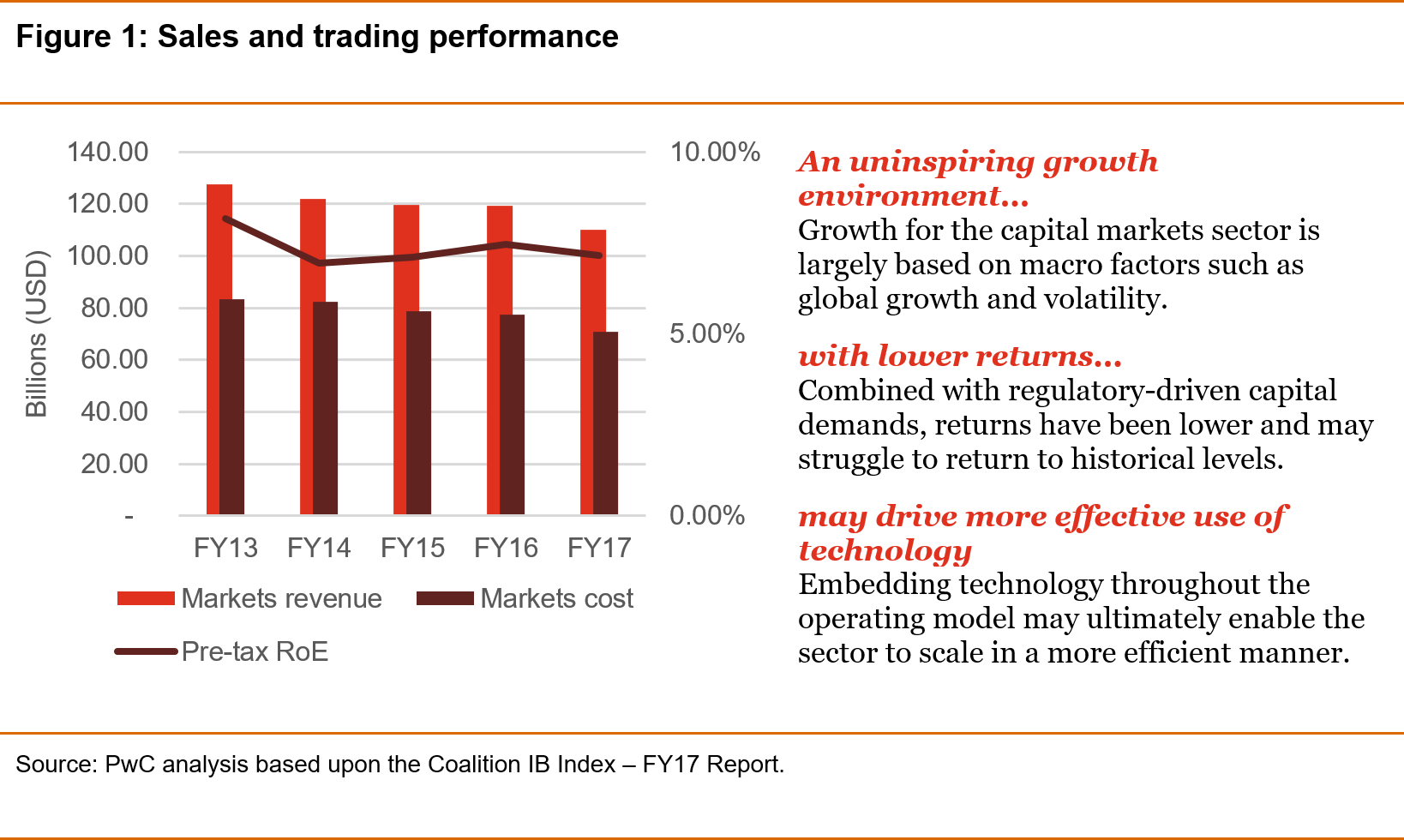 Capital markets companies face added pressure to accelerate growth, and that will involve deeper strategic change. Some companies already have announced new organizational structures and initiatives geared toward technology-enabled transformation from widespread use of automation and data science. As the industry emerges from its post-crisis shadows, strategic conversations may likely involve 1) requirements for new client service relationships and wallet share gains, 2) extending core systems and data as a differentiating factor, 3) marginal versus structural operational change, and 4) greater consideration for nontraditional approaches to revenue diversification.
Digitization is changing the game for strong client relationships
In market trading businesses, the industry is likely evolving toward end-to-end digital. This transition is further along in certain areas and may require changes to the client experience in order to offset further margin compression. Put simply, as the industry migrates toward digital low-touch, certain areas such as plain vanilla execution may face commoditization. As such, client relationships and various methods to generate wallet share growth could increasingly depend on new factors such as integrated product approaches or seamless direct access.

Client service will strive to replicate or enhance high-touch, but in a low-touch digital manner. This will involve technologies such as artificial intelligence (AI) to help refine the types of coverage clients would like to receive, or to personalize outreach based on data-derived insights. By leveraging predictive analytics and AI, capital markets firms may provide more encompassing insight such as cross-asset class market analysis, which could increase the client experience at a lower marginal cost.
A starting point for use of AI in the front office will likely involve evaluation of the data architecture. Clean data is a requisite for any type of AI solution, and will ultimately enable the technology to be broadly used within the business rather than just by IT staff. This often involves master data management (MDM) solutions, which many banks have implemented, yet an agile approach with these systems for specific use of in-production AI can create intuitive ways for the front office to leverage mass data for differentiated client use.
The transition to electronic trading may also require a reassessment of how middle- and back-office capabilities are structured and utilized. For example, front-office pricing tools may increasingly leverage traditional middle-/back-office knowledge to better anticipate client needs—whether it is to anticipate a client's demonstrated price elasticity derived from trading history or to provide personalized trading strategies based on appetite for exposure to adjacent asset classes. Even combining various trading units or moving traditional markets teams into corporate finance businesses, can help better address client needs throughout their life cycle.
A simple reality is that as banks try to work with clients across more digital channels, the faster the traditional product boundaries will break down. A front-, middle-, and back-office team dedicated to support particular asset classes may prove to be increasingly efficient. Rather, a life-cycle approach in supporting a client throughout onboarding, execution, post-trade, and other services will likely enhance service levels (wallet share) and can better leverage technologies such as automation.
Competition for client wallet share may also require multi-channel and self-service capabilities. Allowing clients to directly interact may involve exposing proprietary systems, primarily through public application programming interfaces (APIs). Select banks have started to provide access to their proprietary trading and risk management systems for various reasons, but ultimately in an effort to generate incremental revenue and to satisfy client demand. With self-service direct access, clients can more efficiently originate unforeseen trading strategies or test asset valuations based on hundreds of potential variables. In essence, the traditional front-office sales role may become antiquated as markets and businesses become increasingly electronic. To adapt, firms should not look at digital channels in just distinct areas. Rather, the approach should be end-to-end, which may require extending access to systems that were once maintained only in-house.
This may also amount to a need to change how to evaluate clients. Client profitability and cost/capital allocation by product type will grow in importance as certain flow businesses are potentially commoditized. Firms may consider efforts to replicate direct market access (potentially through proactive fee compression) for liquid assets to certain clients in order to maintain flow to monetize other more complex areas. Some firms may consider new revenue models such as subscription pricing for self-service capabilities.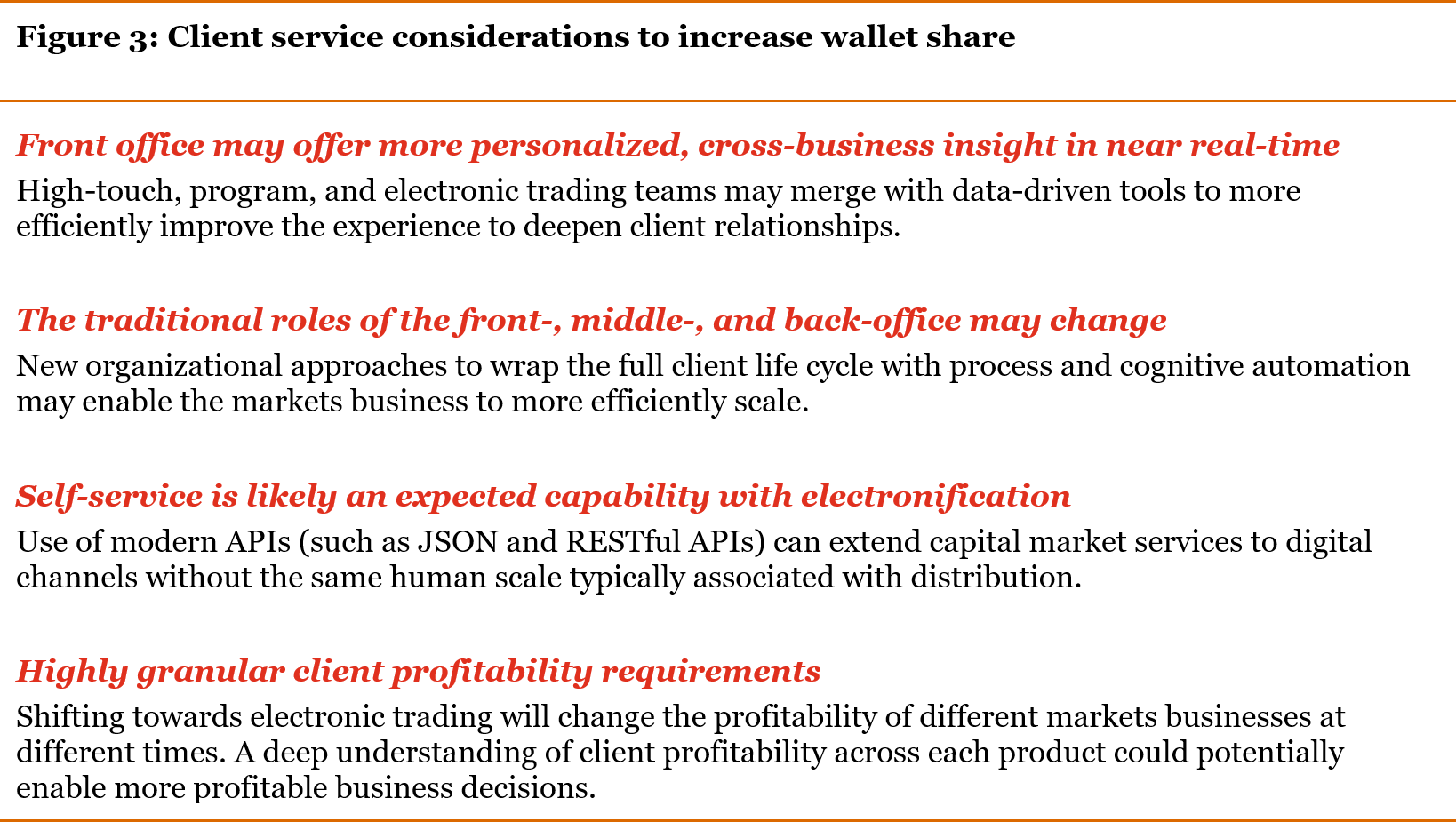 Expansion of traditional platforms and data with service-based API access
New approaches for value creation will almost certainly involve novel ways to leverage data. Data is core to how all capital markets firms operate and, given the vast amounts of new data produced by the financial markets, it is likely an ideal sector for AI-based systems. Access to cloud computing, however, may start to change how firms compete from the traditional strength of human relationships to the firms that make best use of data to improve outcomes. With public cloud infrastructure, a larger number of market participants have the same access to the systems that collect, process, and analyze vast amounts of data of any type. This can be seen as commoditizing the compute layer, which could shift value to the data and to those that have the ability to develop new data products and manage data quality for an outcome-based result.
Beyond the table stakes high-speed and algorithmic trading, more transformative approaches may involve new product and business model considerations. Capital markets firms have spent decades developing and refining state-of-the-art trading and risk management systems. Exposing these systems, and the data within, may exponentially increase the "trapped" value within these systems. By deploying core systems—primarily through APIs—a company can try to improve the client experience (self-service), create efficiencies (reuse and/or repurposing of existing functionality), and create growth opportunities by capturing a greater share of client interaction.
For example, some capital market firms have begun to offer their core trading and risk-management systems as API applications to buy-side clients. By enabling clients to explore trading strategies or test countless variables with visibility to potential risks, the opportunity for higher margin trading revenue exists. Others may pursue productized APIs, for example, enabling corporate treasury departments to directly connect with a foreign exchange desk through their Enterprise resource planning (ERP) or finance system. This could enable a client to get direct foreign exchange quotes, facilitate payables in local currency, and hedge risk in an efficient, low-touch manner.
Firms may also explore new data products. Similar to many other sectors, this can be a sensitive topic where privacy, security, and data inventory concerns should be addressed up front. But considering that broker-dealers often house valuable data from pricing of obscure assets to proprietary analysis, ways to monetize this data may rise in demand. Across the investment management sector, some firms already bring together alternative data such as geolocation or credit card transactions into financial models. Particularly given revenue pressure from the implementation of Markets in Financial Instruments Directive (Mifid II), firms may explore methods to monetize or share their data more broadly with clients. We note, this opportunity is in earlier stages and could see pushback given client privacy concerns.
Marginal versus structural operational change
With the potential for only marginal improvement in ROE if the recent tack with steady cost reduction continues, the sector is faced with a need to stimulate growth or pursue a more transformational cost realignment. New technology infrastructure such as public cloud and distributed ledger technology (DLT) offer may cost effective innovation, but also faces challenges. Automation, however, is different.
Automation is continuing to see greater use and here, goals should likely be expansive. It is a given that process automation tools will manage ever more middle-/back-office operational and repetitive functions. In fact, the capital markets sector is one of the most mature segments to use robotic process automation (RPA) tools. However, a steady pace of automating discrete functions will only likely maintain pace with the competition. Organizations that desire a more transformative overhaul should consider 1) expanding automation from individual "low hanging" functions, to the full client life cycle, and 2) advancing the capabilities beyond RPA to include cognitive capabilities, or intelligent automation (IA).
Likely keys to maximizing the benefits of automation will not just be end-to-end scale but how to integrate the automation project within the operating model, inclusive of risk and control. Particularly in operations, capital markets firms have repetitive but subtle work that they have to do. As automation tools continue to get smarter, they will start to handle many subtleties that previously required human judgment—but controls should still exist. If IA-based automation tools create rules and execute processes based on patterns and/or past data, humans will likely still control the knowledge of the decision and have control of final results.
Considering that middle-/back office roles (operations and technology) count for a meaningful share of total headcount, the growing use of automation could bring transformational change needed to boost returns. In fact, broad use of automation could help the sector overcome its inability to cost-effectively scale. As more sophisticated automation tools have become available, firms have more options than ever to consider the broader strategic footprint to arrive at end-to-end automation to drive down costs.
The growing use of automation should likely be combined with human capital management in order to maintain client centricity and to properly govern decision-making to achieve the desired efficiency gains. Firms will then be in a stronger position to consider the integration across front- to back-office in order to manage a transition of individuals to higher gross revenue positions. Given that industry growth is largely contingent on macro growth, expanding client relationships and wallet share—or targeting new client segments such as middle markets—could be a source of incremental growth. Human capital redeployment as an output from end-to-end automation is one approach to capture this incremental growth.
In looking at technology infrastructure, DLT may eventually play a significant role in lowering costs, but challenges with the measurement of return on investment (ROI) remain. When considering adoption of DLT, the big question beyond applicable use cases is the ROI. Core market infrastructure is typically challenging to replace, and given that DLT is a decentralized technology—meaning it requires a minimum number of banks to upgrade together—the adoption path and return are that much more complicated. The business case to justify adoption often includes:
The cost of parallel systems. DLT is a new infrastructure system, so banks will need to maintain parallel systems with duplicate costs until validation and comfort with the new DLT-based system is achieved.
Cost to decommission systems. Market infrastructure systems, which DLT may eventually replace, typically have long lifespans. Over this period it is likely that banks have developed many other processes and applications that are dependent on the legacy systems. For each product or system that might be replaced with DLT, all standardized workflows, messaging, and the like, will need to be evaluated to redirect or retire.
Product lifespan. An interest rate swap could have a 15-plus year duration, whereas an equity swap may see three months. Each product that could see settlement or other function move to a DLT will have a different life-cycle contract that may need to migrate to a new system. Banks may want to pick and choose shorter contract products to migrate first to best understand the ROI and reduce complexity.
Governance complexity. The ultimate success of a DLT investment may be dependent on a network of participating counterparties to settle transactions. Said another way, a bank may be held hostage to the adoption and use patterns of the network, which adds uncertainties to the time and scale of return. Without broad adoption, financial institutions could be left to run redundant infrastructure, capping savings potential.
Compliance costs. The lack of an established regulatory framework increases the complexity of developing a long-term strategy with DLT as the foundation This should not prohibit incumbents from adopting the technology, but the potential for onerous or duplicative regulatory requirements could limit the potential for cost efficiencies.
Modernizing internal workflows and processes. Given that an underlying concept of DLT is a peer-to-peer network in which everyone on the network can see and verify that a transaction has occurred and been recorded properly, many internal processes will need to change. Internal audit, risk, tax, and legal teams will need to test and/or refine established processes and controls to verify that the systems can adequately provide confidence to all stakeholders. For example, a process that confirms the validity of a transaction in real-time, as opposed to sampling, may need to be developed to accommodate an effective audit. Regardless of the different uses of DLT, the need for independent assurance of the underlying technology, controls, and policies is a part of the evaluation process, and the related costs should be considered within the overall project.
DLT is still in a nascent stage where the limited clarity to the financial benefit has likely kept some financial institutions on the sidelines. That said, DLT will likely need to be applied first to greenfield opportunities, as a rip-and-replace of existing infrastructure is not only extremely challenging and rare, but the ROI benefit can be difficult to quantify. In reality, market coordination may be needed as a catalyst for in-production use of DLT. Regulatory or financial market infrastructure (FMIs) motivation, where an upgrade path to new DLT is established by an FMI, would likely drive coordination to the member affiliates. Of course, this is at odds with a goal of DLT to replace the need for a centralized certifying authority.