Doing more with less: How can healthcare providers cut IT costs in today's economic climate?
Many healthcare providers have responded to the economic downturn by cutting expenses. However, the Obama administration is pushing healthcare providers to invest more resources to implement electronic health records (EHRs). This situation presents a unique opportunity born out of necessity to simplify and standardize the massive patchwork of IT functions. Organizations that focus on the long-term transformation of their IT infrastructure will likely thrive after the current economic downturn passes. Providers that meet the stimulus bill's directive for EHR adoption will be better positioned in an industry targeted for massive IT growth. These organizations will not only be rewarded with significant short-term benefits, but also will possess the foundation for long-term, sustainable IT cost reduction. This report highlights the following and details potential opportunities for savvy healthcare providers:
The stimulus package's incentives and penalties for EHR adoption means hospitals should pursue EHR implementation now.
A March 2009 PwC survey reveals that hospital IT leaders are struggling with significant budget cuts.
Healthcare reforms are forcing providers to rethink strategic decision-making.
The EHR directive is an opportunity to simplify and standardize IT functions.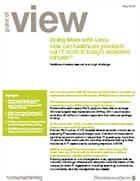 Look for papers, articles, and case studies. See all thought leadership.