Health Reform
Healthcare reform sector implications: Payer
Health reform was frequently called "health insurance reform," by its advocates, which is why the health insurance sector may be impacted more by this legislation than any other industry. However, companies may benefit from more individuals with insurance through coverage expansions. Health insurance companies are almost immediately subject to new regulations on their product. This report also addresses:
Policies impacting coverage
Insurance exchanges
Impact of mandates
Fees and taxes
Medicare Advantage payment cuts
Administrative simplification
Timeline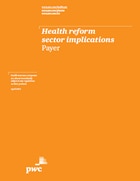 For more information about how health reform may impact health insurance companies also read PwC's report, Prospering in a post reform world.
Look for papers, articles, and case studies. See all thought leadership.