Thought Leadership
Top health industry issues of 2011
The new health reform law will prompt most organizations to do strategy makeovers as they react to and prepare for new rules and payment models in 2011. Continuing cost pressures and new customer demands require a fresh look at existing roles of industry players. Industry changes wrought by health reform are far from over. In fact, they've only just begun.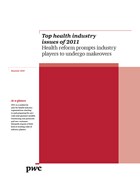 For more information about each issue including implications and related reports, please select the following:
Look for papers, articles, and case studies. See all thought leadership.