Thought Leadership
Multisponsor REMS
The pharmaceutical industry has entered an era of change, during which product development will focus on niche patient groups; generics and biosimilars will fill the space vacated by patent-expired blockbuster drugs; and FDA will likely exhibit more regulatory authority for drug safety and use. This brief from PwC addresses the following.
How REMS evolve with the changing pharmaceutical market
Multiple sponsors
Communication strategies
Formalized decision making process
Cost-sharing model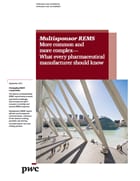 Look for papers, articles, and case studies. See all thought leadership.