The transformation of the $2.9 trillion healthcare economy is underway. The New Health Economy—characterized by value-based care and reimbursement, and focused on the patient—is overtaking many healthcare providers faster than they can adapt. To reduce costs and remain competitive, providers will have to deliver care more efficiently and effectively.
The need to update the revenue cycle
As healthcare shifts from a fee-for-service model to value-based reimbursement, providers must begin to view the revenue cycle as a central component of care delivery, not an isolated back-office function. Just as providers must improve the delivery of care to compete in the New Health Economy, they will have to incorporate new capabilities in their revenue cycle processes.
Health Services Deals Insights quarterly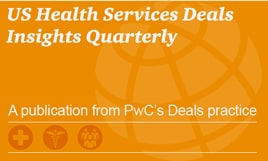 Our quarterly updates provide insights into deal activity in the U.S. health services industries. This issue also spotlights the important role of the customer plays in the evaluation of healthcare transaction strategies.
Learn more
PwC Introduces our Virtual Business Office (VBO)
Hospitals are making significant investments in upgrading revenue cycle systems, but budget constraints can stretch resources. Listen to John Dugan and Steve Lutfy, who work in our US Health Service practice, address the market need and the capabilities of virtual business office available to healthcare providers.