Factors Increasing Healthcare Spending Growth:
Hospital Consolidation
Health industry consolidation has increased more than 50% since 2009— activity that is expected to continue through 2014. Historically, consolidation has led to higher prices in some markets.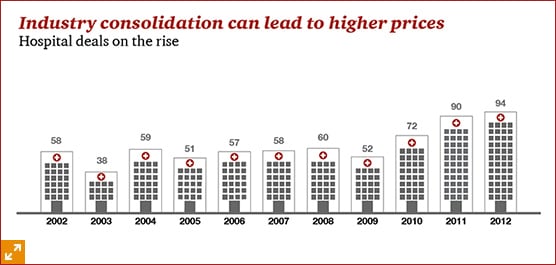 Why physician employment by hospitals is on the rise and its impact at
academic medical centers
Margaret Stover
PwC Principal
Margaret Stover, PwC Principal, discusses how access to data empowers physicians to increase quality of care and save costs.
Margaret Stover
PwC Principal
An innovative approach to collaboration.
Mark D. Birdwhistell,
VP, Administration and External Affairs
UK Healthcare
"Industry consolidation has been picking up steam -- in a variety of configurations. The fear with consolidations is the impact on pricing. The challenge for the health sector is to form alliances that can improve efficiency and provide high-value care to discerning customers. Where we have seen it work well is when the combined entities truly function as a system and create those efficiencies that are available to a larger organization."