Dear Educator:
We hope you are all beginning to enjoy the signs of spring!
We are pleased to highlight our recognition by FORTUNE magazine as well our focus on Women's issues and diversity this month with our Aspire to Lead event and HeforShe relationship, our US Chairman's recent LinkedIn post on advancing diversity, and our publication on The female millennial: A new era of talent. We also spotlight the wealth of information available in our CEO Survey and the resources for investors offered through PwC's Investor Resource Center. In addition, we have included the Strategy+business magazine, insights on Tax technology strategy, the evolution of the Chief Data Officer and access to PwC Webcasts.
---
PwC honored for 11th consecutive year; ranks #74 on FORTUNE's '100 Best Companies to Work For' list
We are very pleased to once again be part of FORTUNE magazine's highly selective list of the "100 Best Companies to Work For." This year, we were ranked at #74 as we celebrate our 11th consecutive year on the list. The full list of the top 100 was posted this month on FORTUNE's website.
---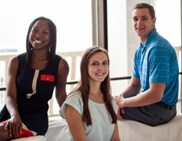 What would you do if you were not afraid? And if you are afraid, how can you build the confidence to lead?
On February 27, thousands of viewers from around the world watched the latest installment of our global Aspire to Lead webcast series to get answers to these questions and more. Building off of last year's inaugural Aspire to Lead event featuring Facebook COO and Lean In author Sheryl Sandberg, the 2015 Aspire to Lead event included Google UK leader Eileen Naughton and "The Confidence Code" authors Katty Kay and Claire Shipman in a panel discussion hosted by US and Global Talent Leader Mike Fenlon.
During the one-hour webcast, Eileen, Katty and Claire shared their personal experiences on building confidence, empowering women and developing leadership skills. Throughout the session, each talked about how they learned by taking risks and making mistakes. Mike discussed the important role that men play in gender equality, as well as PwC's relationship with the UN's HeforShe IMPACT 10X10X10 initiative.
We encourage you and your students to access the video replay at pwc.to/aspireus.
---
Earlier this month, Bob shared his ideas on LinkedIn regarding how white men can play a role in creating inclusion.
---
Organisations the world over are currently facing the challenges that come with vast numbers of millennial talent entering and reshaping the workforce. In parallel, they are also challenged with a lack of women in leadership positions, and fast becoming concerned with the financial and competitive toll this could mean for their organisations. Organisations looking to address the gender leadership gap must drive parallel efforts that tackle enhanced leadership diversity in conjunction with systemic change efforts targeting their workforce from day one. But to get this right, first, organisations must better understand how to attract, develop, engage and retain female millennial talent.
---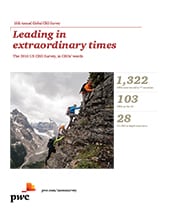 A closer look at the 2015 US CEO Survey: Leading in extraordinary times
PwC's US CEO Survey contains valuable insights from US business leaders. Our 365 app now features collections of the latest survey content. Open it up today and find:
Core US report: US CEOs are leading in extraordinary times: Learn how US CEOs positioning for a new era...where digital technology adoption rates are surging, and where growth in their important markets balances more evenly between developed and emerging economies.
10 business issues to know: Top findings reports: What changes do CEOs forecast in areas like talent, data, and cybersecurity? We break down the top findings from our survey into ten topics that matter most for businesses.
Industry focus: Our industry specialists present you with sector insights into the results of the survey. We invite you to explore the analysis by industry to learn about the new - but challenging - opportunities for growth.
Video collection: What's on the minds of US business leaders? Our media library of 29 video clips shows how leaders like Michael Dell and eBay's John Donahoe are taking advantage of tech and other opportunities for the future.
---
Through the Investor Resource Institute, PwC strives to provide insights to, and receive insights from, the investment community. We offer our views on accounting, auditing, corporate reporting, data security, and a myriad of other issues; as well as transparency about what we do that may be of interest to investors. We host events, both large and small, that are designed to strengthen the bridge not only between PwC and the investment community, but also between investors and others - such as corporate boards and audit committees.
PwC insights for investors: PwC provides Thought Leadership on a wide range of issues that are of interest to the investment community, including industry perspectives, reporting, accounting, auditing, corporate governance and sustainability.
---
PwC and Strategy& (formerly Booz & Company) have come together to form a new kind of consulting business. Strategy+business magazine is published quarterly featuring our extensive coverage of management thinking, business profiles, and strategic analysis, written by noted thought leaders, senior executives and seasoned practitioners. Click here to access the magazine and subscribe to receive the newsletter.
---
Today, tax departments around the globe face pressure to stay compliant and manage risk with limited resources, leaving little time to focus on strategic planning. Successful companies are reevaluating the way they do business and looking for efficient technology solutions to reduce cost and help transform their tax function into a modern, more efficient business enabler. PwC technologies automate processes and facilitate communication so tax departments can focus on what matters: adding value and growing their business.
---
A new role is gaining ground in the C-suite: the chief data officer (CDO). Charged with the enterprise-wide governance and utilization of information as an asset, this emerging leader strives to harness data, manage risk, and create revenue-generating opportunities.
With the number of executives holding the CDO title on the rise, we'll explore how the role is evolving, what factors are impeding its success, and how organizations can extract the most from its potential.
---
PwC webcast opportunities
PwC's webcasts offer a wide range of topics and are designed to keep you informed about emerging issues and current developments impacting your business. Live webcasts typically offer continuing professional education (CPE) credits, and we post archived versions for those who can't make the live event.
PwC's quarterly current accounting and technical developments webcast series: Keep informed on hot topics and recent activities of various regulatory bodies including the Financial Accounting Standards Board and the Securities & Exchange Commission.
PwC's US Tax services webcasts: Learn about relevant tax accounting matters including updates on recent developments from standard setters and discussions of reporting considerations.
---
We hope this information is helpful. Please contact us pwc.university.relations@us.pwc.com if we can be of assistance to you.
Best Regards,
Julie Peters
US University Relations Leader