Step 1: Assessment
Determine how critical IT is to the company and the current state of its infrastructure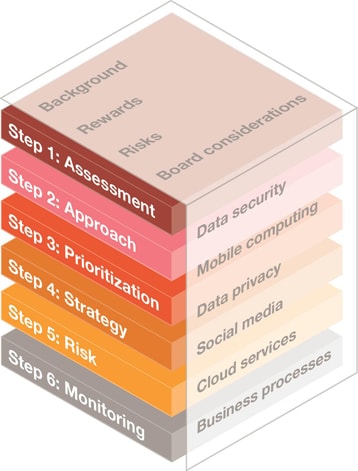 It is essential for directors to understand how important IT is to the company's success before the board can make decisions about its proper IT oversight approach. Directors should begin by considering the role IT plays in the company's industry and various attributes of the company, such as the current state of its IT infrastructure, budgeted IT spend, and existing and planned changes to its business model.
The role IT plays in the company's industry
For some companies, IT is an essential element of their business model and is often an integral part of the industry they're in. For example, a large financial institution could not survive without the systems that process millions of transactions each day, such as deposits, cash transfers, and credit card charges and payments.
IT health check
The board should understand management's assessment of the current state of the company's hardware and software infrastructure, including:
whether the company has put off upgrading its systems, resulting in a deferred IT maintenance backlog,
whether efforts are under way to improve IT productivity,
the recent track record of systems stability, and
the level of IT systems integration from prior acquisitions or mergers.
The IT budget
Many boards are already engaged in understanding the company's IT budget: 57% are either "very" or "moderately" engaged in doing so, but more than one-third believe that their involvement is "not sufficient" or they are not engaged at all. However, the majority of boards that are not involved in IT oversight consider IT to provide merely back-office infrastructure to their company.
Existing business model and expected changes
Other considerations for directors when evaluating the importance of IT to their company include the impact of:
current business issues
sensitive customer information
intellectual property
mergers and acquisitions
major IT system implementations
level of IT outsourcing
regulatory requirements
After considering these factors, directors should conclude on the importance of IT to their company. Our research reveals that nearly all directors believe they can determine the importance of IT, and more than half say IT is "very important" or "critical" to creating long-term shareholder value.