TwP Update: Assurance C hands out school supplies in Baler, Aurora
July 2014
 The children are our future. Share them faith, hope and love and school supplies, too.
On 11 June 2014, Assurance C donated school supplies to Grade 1 students of Baler Central Elementary School in Baler, Aurora.  Some 250 students received a school bag each containing pencils, eraser, sharpener, pad paper, notebooks, and a raincoat as part of the team's Tourism with a Purpose (TwP) activity.
The school, located in Barangay Sabang,  is one of the 11 public elementary schools in Baler with a total of 1,495 enrollees. Led by their teachers, the well-behaved students waited for their turn to receive their bags at the school's covered court.
Assurance C Partners Jenny Arciga, Gina Detera, JM Reyes and Aldie Garcia provided some entertainment by hosting parlor games.  Aldie facilitated a "bring me" game that had all the children on their feet racing to hand him the requested items.
The activity ended with a group picture of students and teachers with the Assurance C group. Everyone had fun during the event.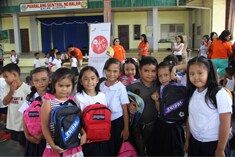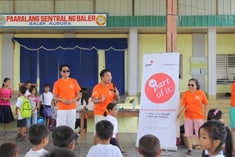 Baler grade schoolers show off their new bags.       Assurance C Partners JM Reyes, Aldie Garcia, Jenny Arciga 
                                                                                  and Gina Detera facilitate a "bring me" game. 

Assurance C associates enjoying the water at Ditumabo Falls.
Baler is a second-class municipality and the provincial capital
of Aurora. It is located 230 kilometers northeast of Manila and
is one of the top surf spots in the Philippines with nine-foot waves
serving as main tourist attraction. The town also boasts of its
Ditumabo Falls, which tourists can reach after a 20-minute uphill
trek that requires climbing over boulders, stones and waters.

Other tourist attractions the team visited were the Museo De
Baler featuring the history of Franciscan seminaries in the Aurora
region, and the Balete Park in  Maria Aurora. Inside the park is a
600-year old Balete tree designated as the "Millennium Tree" of
the Philippines because of its age. Said to be the biggest in Asia,
it will take 60 persons holding one another at arm's length to encircle
its gigantic trunk. The Assurance C group also explored the Ermita
Hill and rock formations during  their three-day Tourism with a Purpose
(TwP) activity.

Assurance C group with students and teachers of Baler Central Elementary School
Story by Angeli Cristie Clemente - Quesea, Assurance C Senior Associate