The state of integrated reporting in Malaysia
Date:
10 July 2014
Opening remarks:
Dato' Mohammad Faiz Azmi, Executive Chairman, PwC Malaysia
Overview of key findings:
Pauline Ho, Assurance Leader, PwC Malaysia
Moderator:
Sridharan Nair, Managing Partner, PwC Malaysia
Panellists:
Nik Mohd Hasyudeen, Executive Director of the Securities Commission & Executive Chairman of the Audit Oversight Board (AOB)
Azran Osman-Rani, CEO of AirAsia X
Highlights from the event
PwC Malaysia launched a report based on the results of a benchmarking analysis on Bursa Malaysia's top 30 companies' annual reports. Titled 'The State of Integrated Reporting in Malaysia', it shares where Malaysian companies stand in adopting integrated reporting, which is a new approach to corporate reporting.
We had a diverse crowd in attendance comprising business leaders of the companies surveyed, finance professionals, and investor relations and communications professionals.
The study revealed that Malaysian companies have the basics of reporting covered, but they still have a long way to go to truly embrace integrated reporting. Reporting practices in Malaysia tend to be rooted in the past, with more emphasis on communicating the company's historical performance in the annual report with limited linkages to corporate goals and the future viability of the business. This can be attributed to the compliance mindset observed among companies in Malaysia.
Dato' Mohammad Faiz Azmi, Executive Chairman, PwC Malaysia gave a brief background on integrated reporting, a market-led evolution to corporate reporting because 'financials could only capture certain and not all values of assets'. Essentially, how could the intangible values of good management, their staff capabilities and their strategy execution be reflected in the values of their company, which led to the creation of the International Integrated Reporting Council (IIRC) who produced a framework on how to apply integrated reporting in December 2013.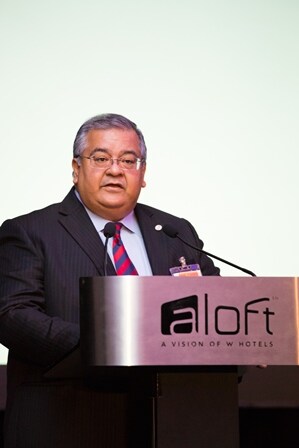 Dato' Mohammad Faiz Azmi, PwC Malaysia Executive Chairman delivering his welcome note
Pauline Ho, Assurance Leader, PwC Malaysia shared that integrated reporting can be a compelling stakeholder engagement tool, and this starts by crafting a cohesive storyline on the business (how the company creates long term value from the resources employed).
Once companies have a meaningful storyline in place, they can use this narrative consistently across all communications platforms, be it for analyst presentations, investor briefings or press conferences.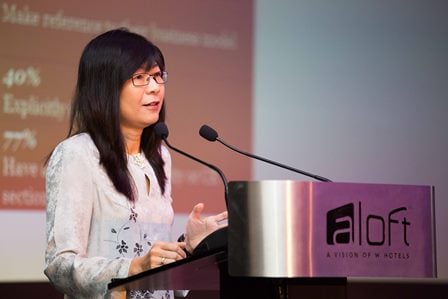 Pauline Ho, PwC Malaysia Assurance Leader providing a brief overview of the key findings from the report
Sridharan Nair, Managing Partner, PwC Malaysia, raised some interesting issues for the panel discussion with Nik Hasyudeen and Azran Osman-Rani. This included their views on the current appetite for integrated reporting among Malaysian companies, the extent of involvement by the market in driving integrated reporting vs the regulator's role, and AirAsia X's experience in pulling together their annual report (by taking a non-boilerplate approach to certain aspects of their corporate reporting).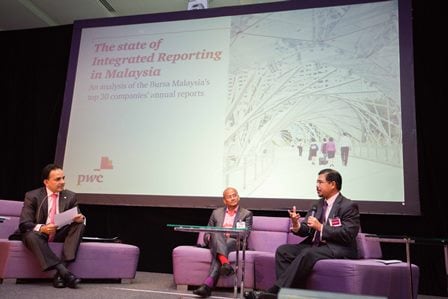 The panel discussion, moderated by Sridharan (Sri) Nair, PwC Managing Partner, and panellists Nik Mohd Hasyudeen, Executive Director of the Securities Commission & Executive Chairman of the Audit Oversight Board (AOB) and Azran Osman-Rani, CEO of Air Asia X
Nik Hasyudeen was upfront in challenging companies to know their business thoroughly first, including their business model before sharing their strategy, performance and prospects in the annual report.
Azran shared his concerns over markets' and regulators' view on the lack of independent verification of non financial information that goes into the report when it comes to communicating the company's prospects especially for public listed companies. This data is a reflection of how management sees their business performance but is very specific to the company and may not be comparable to others.
Interesting quotes from the panelists:
Hasyudeen on his outlook on the adoption of integrated reporting
in Malaysia:
"I'd like to see the market be more aggressive in adopting integrated reporting with the regulators facilitating."
Hasyudeen on what the market demands:
"People want more information beyond the financials. Performance and prospects can be manifested in many other areas. "
Azran on what he personally likes about integrated reporting:
"What I love most about integrated reporting is the use of charts and graphs vs prose
to tell the story about the business. Less clutter."
Azran on how AirAsia X communicated their business model in
their report:
"One advantage AirAsia X had was the need to pitch on why this business model will
work. Hence the need to be crystal clear about it in our report. And we need to be
cognisant about who we're speaking to – in our case it was the retail investors, so we had
to tailor our presentation to our audience."
---
Sri and Pauline summed up well in both their presentations, emphasising that there is still room for improvement if companies are to embrace integrated reporting, not just as a new approach to reporting, but as a change in mindset to promote integrated thinking as a business culture and a competitive differentiator.
Related information
Read the report here
Watch a video on why companies should invest in integrated reporting and find out how PwC can help here