Expatriate Policy Development
Well thought-out expatriate policies allow you to better manage the selection, compensation, transfer, administration, and repatriation of your international assignees. We will transform your current management philosophy into a comprehensive expatriate policy by determining elements such as:
Degree of flexibility required
Elements to be included in your expatriate package
Staff selection criteria
With this foundation, the comprehensive policy we provide enables you to minimize overall costs, manage risk, and provide an optimal working environment for your assignees, while facilitating your organization's global staffing requirements.
When developing an expatriate policy, industry and geographic benchmarks can be helpful. GMS specialists around the world conduct in-depth surveys of expatriate policies and best practices among large multinational corporations. These results provide information that ensures that your policies are competitive and up-to-date.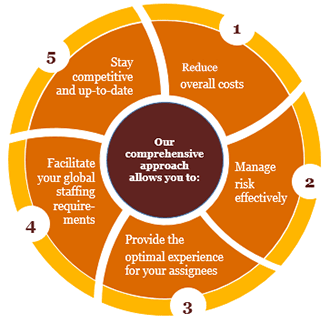 International Compensation Consulting
Global compensation structuring can be confusing to both the assignee and company management. Knowledgeable advice on expatriate compensation issues can ensure that your programs function tax effectively and your assignees are fairly compensated. We will advise you on issue such as:
Long and short-term incentive plans and off-shore premiums
Cost-of-living and other lifestyle maintenance allowances
Social security program continuance
Estimates for expatriating employees to specific sites under various policy scenarios
International Payroll Administration
Home and host country income taxes, social security, employment insurance and payroll tax withholding data are vital. We provide accurate information that is current to employers in Japan and abroad. We also calculate home and host location split-pay amounts.