Breast Care Unit Appeal
In 2013 the Manx Breast Cancer Support Group launched the Breast Care Unit Appeal, which aimed to create a specialist area at Nobles Hospital Isle of Man for the treatment of breast conditions. The unit opened in 2016 benefitting both staff and patients by ensuring the best possible care for all.
To show our support towards delivering this life-changing facility we sponsored the reception area of the new unit, to ensure the room had all the equipment and furniture required.
Community Projects
Each year we give staff half a day to work on our chosen community project, which typically supports a local charity or other organisations with a community focus. Our 2018 community projects included painting the MSPCA chill-out rooms, helping out in the Hospice gardens and cleaning our local beaches with Beach Buddies. Overall we had 93 members of staff involved in our community projects and spent a combined total of 287 hours with the three charities, giving a helping hand.
In 2017 we were involved in the Manx Wildlife Trust's 'Ramsey Eco-Active' project, an educational nature trail with exhibition stops such as Snail Fort, Troll City and the Hazel Maze. The Manx Wildlife Trust are planning to open the trail in 2020 and want it to be an active place for families to visit. We dedicated 238 hours of our time to help clear the way for the 'Stump Scramble' feature, which involved us cutting felled timber into small logs to make a stump ladder, ideal for active children to have hours of fun on.
In 2016 our community project was helping out the Isle of Man Children's Centre Community Farm. The farm was set up by The Children's Centre in 2011 and is a 15-acre rural education project for people to learn, connect and grow. The Community Farm welcomes Horticulture, Agriculture, Animal Husbandry and environment conservation.
Our team of staff helped the Community Farm by dedicating 252 hours of their time for various tasks such as gardening, fence building, and walkway building.
Douglas Athletic Football Club Juniors
We have recently sponsored the Douglas Athletic Football Club Juniors. Their junior program, Grass Roots, was set up in 2016 and is made up of three groups from age 4-8, with approximately 50 players in total. Grass Roots regularly compete in the Isle of Man Football Association Junior Development League alongside training once a week. Our sponsorship has helped them purchase new kit, will go towards indoor facility costs and help more of their volunteers gain their coaching badges, so the club can continue to expand.
Family Library Summer Reading Scheme
We supported the 2017 and 2018 Summer Reading Scheme ran by the Family Library. The Summer Reading Scheme is a challenge for children to read at least one book a week for the six weeks of the summer holidays. The challenge is great fun each year, and alongside the reading of six books, there is a points-scoring game, with prizes at the end. Each week there is different things to do in the library, including crafts, puzzles, games and activities, there's lots of fun things to do at home too. Our support enables the library to offer this scheme free to their young members and families.
Manx Hockey Leagues
We sponsor the Manx Hockey Associations (MHA) Mixed, Mens, Ladies, Under 16's leagues and the Summer Business League. We have had a long association with hockey from entering a whole staff team in the Summer Business League to staff playing for the national side and coaching.
Manx Wildlife Trust
As a Silver Corporate Member of the Manx Wildlife Trust, we play an important role by helping them to sustain and protect our local environment and wildlife whilst helping them meet their conservation aims. Over the years we have provided both financial support and practical support. Most recently our 2017 community project has supported their 'Ramsey Eco-Active' project.
Nobles Hospital Children's Ward
In 2015 and 2017 we donated portable DVD players to the Children's Ward at Noble's Hospital. The portable DVD players allow young bed bound patients and their families to relax and have some entertainment during their stay, enhancing their recovery. We have also provided portable coffee cups to let family visiting patients to be able to safely enjoy a hot drink on the ward.
Office Days
As a firm, we are passionate about helping the wider local community through various fundraising efforts. We regularly take part in office dress down days, cake bakes, raffles and general staff fundraising. We support many charities throughout the year including charities our staff care about.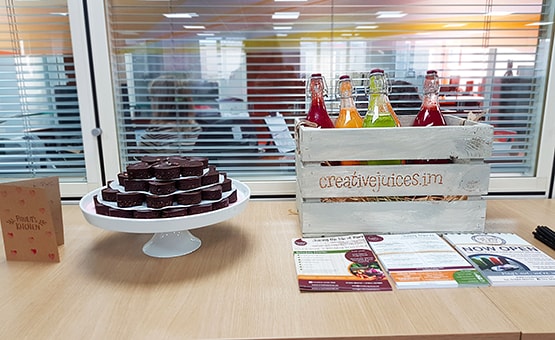 PwC Manx Gems
We not only support charities but also staff in their pursuits outside of work.
We have sponsored the PwC Manx Gems netball team since 2011. With our help the Manx Gems have grown from a two team seniors club to one of the largest clubs on the Island, with nine teams of all ages.
Question of Sport Dinner
We have sponsored the Question of Sport dinner, organised by the Isle of Man Sporting and Dining Club, since it began in 2012. It is a fun event offering guests an evening of competition, entertainment and networking, all whilst raising funds for local charities.
Our 2018 dinner raised a record total of £4,000, which was split between our charity of choice the Manx Diabetic Group and the MSPCA.
The previous year's charities which benefited from this event include project 21 and Friends of Robert Owen House, who each received £1,605
Sports Events
Every year our staff are encouraged to take part in many sporting activities and events as part of our 'PwC Summer of Sport'. These include events such as the Parish Walk, Lisa Lowe Appeal Walk, Relay for Life and Santa Dash all whilst raising money for local charities.
Members of staff walk the Parish Walk in memory of a much admired colleague Mark Freeman, who tragically lost his battle with Leukaemia aged 50 on 10 August 2010. Marks loved life and particularly sports, having taken part in the Parish Walk for 11 consecutive years; finishing in 2004 and 2007. Each year we sponsor a feeding table during the walk, providing the walkers with much-needed refreshments and support. Shown in the photo below.
"The Mark Freeman trophy" was donated by his widow Carina and is awarded annually to the member of staff who takes part in the event and best demonstrates the values that Mark aspired to, being personal achievement, teamwork and having fun.
10,000 Steps Challenge
For the past couple of years we have challenged our staff to walk 10,000 steps a day, for 31 days and raise money at the same time. Our 2018 Steps Challenge team of 44 staff members achieved a total of 15,984,740 steps whilst raising money for Special Olympics Isle of Man, our star stepper of 2018 was Helene who smashed the challenge with an impressive total of 693,469 steps in 31 days! Overall we beat our target of 15,000,000 steps by 984,740.
In 2017 a team of 23 raised £500 for Special Olympics Isle of Man by walking 8,998,285 steps, unfortunately missing our target by 1,715 steps.
During 2016, a dedicated team of 26 staff took to the challenge, raising £1,005 for sports relief and walking 10,534,521 steps, beating their target of 9,000,000. Our star stepper was Carol Karran who walked 652,087 steps during the month!