Consumer and Industrial Products and Services
The Consumer, Industrial Products and Services sector covers a wide range of businesses. This is a sector where a lot of companies in Indonesia operates and is very vital and contributes significantly to the Indonesian economy. Our major clients include those major players in the automotive, plantations, pharmaceuticals, retail and consumers products, port operation and logistic sectors.
To remain competitive, companies need to look closely at their supply chain in order to eliminate inefficiencies and maximise both customer and shareholder value. Emerging trends are the formation of alliances within the supply chain, vertical integration and the customisation of products to meet demand and replace costly supply, distribution and warehousing problems.
The industrial manufacturing sector changes rapidly in response to globalisation. For Indonesian companies traditionally heavily dependent on the domestic economy, the increase in global competition creates pressures to be internationally competitive. As a result, companies in the sector face many key business issues including the rationalisation of supply chain and distribution channels, restructuring and cost management, mergers and merger integration issues, and the constant pressure to develop new and innovative products.
At PwC, we understand the challenges and issues faced by our clients and our client needs. We work together with our clients to deliver industry focused assurance, tax and advisory services.
Growing a sustainable plantation business - a capabilities statement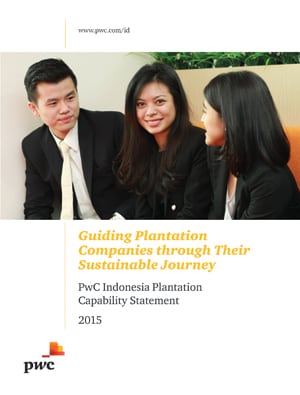 Palm oil plantation - Industry lanscape, regulatory and financial overview
At PwC, apart from Automotive, Capital Projects & Infrastructure, Plantations, and Retail & Consumer, we also cater the following - but not limited to - industries:
Engineering & Construction
Education/not for profit
Government & Public Sector
Healthcare
Industrial & Manufacturing
Pharmaceutical
Professional Services
Transportation & Logistics