Clear regional differences emerge in the extent of energy transformation. The strongest expectations of transformation among survey participants are in Europe, North America and South America where, on average, survey respondents predict 60–70% transformation by 2030. In the Asia Pacific and Middle East and Africa regions, the average expectation is for 50–60% transformation by 2030.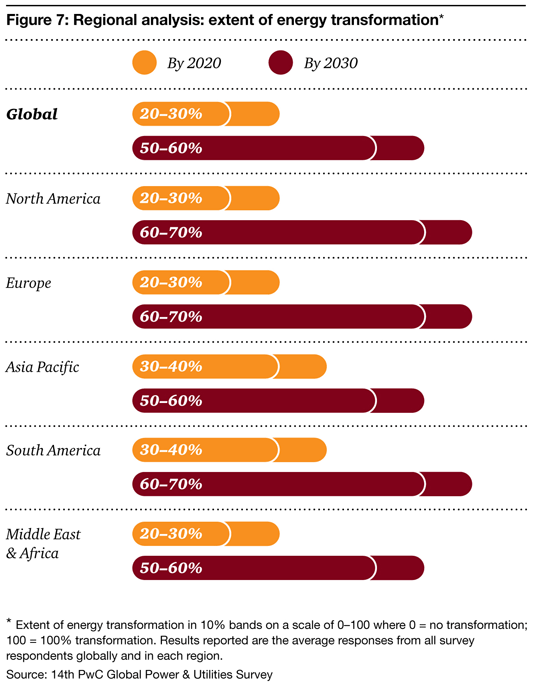 Across all regions, 70 per cent expect significant or very significant market model change by 2030. A further 22 per cent anticipate medium change. Less than one in twelve think there will be little or no change. The global figures mask significant regional differences with the expectation of change most intense in Europe and North America where 91 per cent and 86 per cent predict major change. There is less consensus about the extent of market change elsewhere although a clear majority (59%) in the Asia Pacific region and nearly half (46%) in the Middle East and Africa share the viewpoint of their peers in Europe and North America.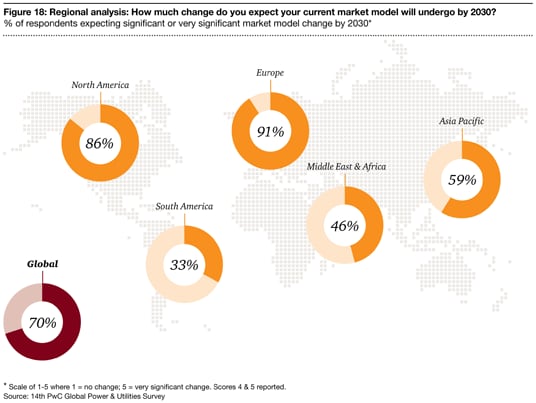 The area where there were significant regional differences was whether current business models might survive or, at the opposite extreme, whether
they were already broken. None of the respondents in South America, for example, agreed with this pessimistic view of current business models whereas it did win support from 43 per cent of North American and 35 per cent of European survey participants.
While there is a significant global consensus that current power sector business models are not sustainable, there is less unanimity about the
urgency of change and, indeed, there remains significant support in some parts for the view that current business models may still remain viable. Whether this is the case or not will depend on the regulatory and market models in place to support the continuing viability of current business models.