Q1 results
The first quarter of 2015 had the second highest first quarter proceeds since 2010 with US$6.1 billion. However, compared to Q1 2014, the first quarter's total proceeds fell by 11% and the number of IPOs declined by 12% (23 versus 26). Although Q1 2015 is down slightly from the end of last year, it marks a promising start for 2015.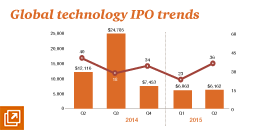 Subsector distribution
In Q1 2015, Internet Software & Services once again emerged as the clear leader with eight listings and total proceeds of US$3.4 billion. The subsector contributed 56% of the total proceeds and 35% of the listings. On an annual basis, this subsector has dominated the tech IPO market for the last four years (2011-2014). After being absent in Q4 2014, Computer Storage & Peripherals made a comeback with four IPOs and proceeds of US$1.3 billion. The Semiconductor subsector came in third, with proceeds worth US$503 million from five listings, and contributed 8% of the proceeds and 22% of the number of offerings. On a year-over-year basis, the number of IPOs grew by 150% and proceeds increased by 104%, while sequentially proceeds declined by 30% with 25% increase in IPO numbers.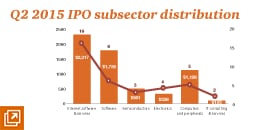 In Q1 2015 the geographic distribution of technology IPOs was spread across 11 nations. In terms of number of IPOs, China led with eight IPOs raising US$1.1 billion. The Chinese regulator's shift from an approval-based to registration-based system for IPO listings is believed to have simplified Chinese IPOs and enhanced the attractiveness of going public in China.
Europe was number two raising US$3.0 billion with five IPOs from four different countries. The total proceeds raised grew by 38% while number of deals increased by a quarter, sequentially. Auto Trader Group Plc from the UK was the largest IPO of the quarter. It raised US$2.4 billion or 78% of the total proceeds raised in Europe. The US was number three with four IPOs, and raised funds worth US$1.4bn (23%). But when compared to Q1 2014, proceeds fell by 9% from US$1.6bn and the number of IPOs dropped significantly by 67% from 12 IPOs.