Image sensor: Steady growth for new capabilities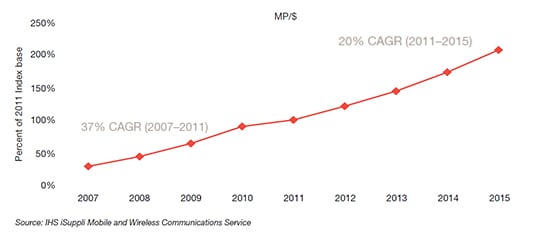 PwC forecasts a compound annual growth rate (CAGR) of 20 percent for image sensors as measured in megapixels per dollar (MP/$) through 2015. Since 2007, image sensors have followed Moore's Law, doubling megapixel density per dollar every two years for a CAGR of 37 percent. The MP/$ will continue to grow, but at a slower rate.
Higher resolution image sensors equal to or approaching those of the point-and-shoot digital camera are only one part of the formula for image improvement. Through software manipulation and various MEMS devices, smartphones will continue to deliver improvements in image stabilisation; auto focus; zoom; light sensitivity; low-light performance; noise reduction; reduced power use; integrated image processing hardware; sound recording for video and lens improvement. Software will also become a differentiator in image collection, compression, picture editing, video editing and searching.
Improvements in image sensors, MEMS and software will enable future-generation camera phones to offer 3D imaging. 3D will not only provide a richer, more realistic photographic image, but the 3D depth map will be crucial to the sensing required for hands-free gesture control of the device and improved facial recognition.
Further, improved image sensors and camera modules will factor into machine vision capabilities that are just now appearing on the horizon. Machine vision broadly comprises the translation of light (visible to the human eye or not) into digital information, and the analysis of that digital data for the purposes of identifying and extracting information about objects of interest.
To learn more about how the increased power of image sensors will impact new mobile device use cases, please read or download the full article.
Mobile innovations forecast articles
Subscribe for
updates: