Total impact approach: What CEOs think
187 CEOs across the globe shared their views on the value of measuring total impact. From all industries, they explored the benefits, opportunities and challenges of a total impact approach. There's an overwhelming consensus (85% CEOs) that results from a total impact approach would be more insightful than financial analysis alone. Business leaders saw the more holistic perspective useful in not only managing their business, but also in communicating with certain stakeholders. But less than 25% of CEOs measure their total impact with the lack of availability of data or a robust framework holding them back.
But times are changing. With new research and methodologies in place to turn qualitative social impacts into quantitative, and new approaches such as Total Impact Measurement & Management (TIMM), there is a new way for businesses to understand their total impact. Certainly, some companies are embracing a total impact approach to better understand the value they create behind the balance sheet - we have great case studies from SHE transmission, PUMA, Rio Tinto, HP and Standard Chartered.
How a business benefits from a total impact approach
A total impact approach gives you a new perspective to share
Using a total impact framework - who's reaping the benefits?
What stops business from using a total impact approach?
Push or pull - could capital markets drive the adoption of total impact?
Push or pull - will government regulation stimulate take-up?
Value in the UN promoting social and environmental reporting
The great trade-off!
What would you do?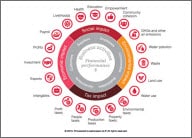 You have a choice. With TIMM the trade-offs are clear. What would you choose?