Business and shareholder value still trump social value
In brief, the results show that:
Comparing 2007 and 2014, the number of CEOs for whom creating value for the business was a desired legacy doubled (20% vs 11%). In both years, the largest proportion of CEOs wanted to be remembered for business transformation/growth.
The number of CEOs who wanted to be remembered for creating social value and value for others was the same (totalling around 40%). This held across genders, countries and sectors.

"I would like to be remembered for my role as a change agent who created an organisation that maintains its profitability and growth in the turbulent business condition." –CEO, automotive company

The responses suggest that some 60% of CEOs don't have social value or value to others as their desired legacy. What then, do they see as the main purpose of the organisations they run? Some will say that business is there to make money… but for whom, and at whose cost? We seem to easily accept that business should be aggressive — "it's not personal, it's business". But when businesses look only at profit, resulting in greenhouse gas emissions, deforestation or obesity for example, they leave others in society to pick up the bill. Should we need to be reliant on regulation to keep a balance?
Surely, business can't be seen as separate from society, devoid of any responsibility to it and without moral obligation — after all it operates within, is resourced by, and impacts heavily upon society.
To some extent, CEOs' near-distance vision still reflects the aftermath of the global financial crisis that occurred during the period between the two surveys — a struggle for business survival for many, strict austerity measures and the enduring impact of cost-efficiency strategies. This has necessarily kept CEOs preoccupied with short-term results, financial stability and solid shareholder returns.
However, running a business successfully today requires CEOs to see the world through multifocal lenses. To ignore the long-distance horizon is to risk reputational damage, irrelevance and obsolescence — and thus to fail shareholders, too, in the long term.
Faced with this tug-of-war between inevitable but longer-term priorities and the acute, short-term priorities at hand, have CEOs taken their eyes off their responsibilities to society?
It's a struggle to juggle diverse demands
It would be simplistic to conclude that a majority of CEOs have total disregard for the societal responsibilities of their businesses. The fact that the percentage of those whose desired legacy was to create social and other stakeholder value didn't drop between 2007 and 2014, in spite of the global financial crisis, indicates that as a whole they do place importance on non-business value.
Another part of PwC's 17th Annual Global CEO Survey survey corroborates this. CEOs were asked to what extent they agreed or disagreed with the following statement: "Satisfying societal needs beyond those of investors, customers and employees, and protecting the interests of future generations is important to my business." Over 75% of CEOs agreed with this.
However, what CEOs think is important isn't always followed up by action. For example, only 26% and 33% of CEOs, respectively, see addressing environmental risks and creating jobs for young people as priorities for their business.
So, while wider societal value is important, it is not seen as urgent or being acted upon. Important — but only reflected in the desired legacies of 40% of CEOs.
Mind-set, measurement and methods
We can suggest three reasons for this disconnect between desired legacies and actions.
Firstly, there's a mind-set shift that needs to happen among CEOs who see shared value and business value as separate. Business gurus Michael Porter and Mark Kramer talk about "shared value" as the idea that societal needs, not just conventional economic needs, define markets². They argue that businesses need to start creating economic value in a way that also creates value for society by addressing its needs and challenges. These views are echoed by R. Edward Freeman³ and the World Economic Forum's Klaus Schwab4, and we're seeing them manifested within organisations such as Google, Unilever, Nike and Novo Nordisk.
Secondly, it's also possible that some CEOs answered the question framed by the way they have long been measured as CEOs — by shareholders, and on financial performance. Would they have given a different answer if the question had been: "As the CEO of your enterprise, what is the one thing you want to be remembered for by all your stakeholders?"
Thirdly, those CEOs who want to change the focus of their businesses may lack established methods and tools to enable them to do it. Measuring and understanding where your organisation's activities create and destroy value, both now and in the future, is fundamental to being able to shift its purpose and activities.
What will it take for more CEOs to prioritise social value?
"Building a lasting legacy beyond just profits and improving the lives of our stakeholders." –CEO, asset management company

"Leading a company is not just about making profit. How to use our own power to make our society better is a more important thing." –CEO, aerospace & defence company

As the interviewees quoted here show, shareholder and societal value are both important — one without the other will lead to failure over time. CEOs must adopt strategies that enhance both. As megatrends create new business realities and societal pressures increase, this is a constantly changing tension that CEOs will have to master, and some of the "value for business" and "business transformation and growth" oriented responses also recognised this tension.

"Seeking for better balance between social responsibilities and shareholders' benefits." –CEO, metals company

Making a long term difference to the socioeconomic needs of our country whilst doing this on a profitable basis that gives good returns to the shareholders." – CEO, insurance company

It's not an easy equation to balance — the long- and short-term horizons and risks, the urgent and the important, the shareholders and the others. But CEOs need to lead both their organisations and their shareholders as society demands. Not knowing how to is no longer acceptable.
With that imperative in mind, here are some guidelines that can help them on their way.
Keep being a business, no need to become a charity

Shared value requires businesses to act as businesses. It's not the same as corporate social responsibility, philanthropy or charitable donations. A number of CEOs or founders have admirably donated the proceeds of their success to drive change. However, shared value looks at using the business as a driver for change. The magic lies in businesses having a socially centred purpose — a mission to create economic value in a way that also creates value for society by addressing its needs and challenges through innovative products, solutions, services or delivery mechanisms. Social progress becomes company growth, not at the margin, but at the core. This is when businesses will start to have real impact on societal value.


"I want to be known as a CEO that built a company that improves the lives of people by creating innovative solutions to some of today's pressing healthcare problems, making healthcare more efficient, effective and safer." –CEO, pharmaceuticals and life sciences company


Understand that societal value is business value, not just cost

Business can only thrive in an environment where society survives. So instead of seeing social policies as a "necessary cost", CEOs can identify how their businesses can help solve the social weaknesses that will in turn resolve some of the business challenges they face. It is not just a moral duty, it is a long-term strategic imperative to take social impact into account. Social constraints — such as wasted energy or raw materials, costly accidents, the need for remedial training to compensate for inadequacies in education — create internal costs and challenges for companies. Addressing these can help firms become more effective.

One engineering and construction company CEO reflected this idea as he explained his desired legacy:


"I want to have meaningfully and positively changed lives of previously disadvantaged youth that are caught in the poverty cycle through ongoing interventions that will enable them to become sustainable breadwinners. The target is to deliver 1,000 technically skilled breadwinners per annum."


Quantify, measure and illustrate value differently — in terms of impact on all stakeholders

Delivering broader stakeholder value requires a shift away from measuring value, performance or growth in the ways that businesses have done for so long — using conventional financial and management reporting. Leaders will need a way to understand and measure the short- and long-term impact of their strategies on all stakeholder groups so that they can make better choices that help create value for them.

One way businesses can do this is to measure their total impacts across society the environment and the economy — and put a value (negative or positive) on these. Measuring total impact (see the graphic below as an example) allows businesses and governments to understand and compare the trade-offs between different strategies. They can make decisions with a more complete knowledge of the overall impact they will have, and a better understanding of which stakeholders — employees, communities, shareholders, governments, customers or suppliers — will be affected.

They have clearer sight of the social, economic and environmental impacts of their strategy, in addition to the usual financial performance metrics, and are therefore better equipped to make optimal choices.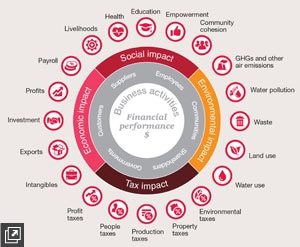 Have a conversation with your shareholders

CEOs who want to get serious about broader shared value need the commitment, alignment and support of their own shareholders and investors. Business leaders will need to set the agenda for a long-term outlook, based on environmental, social and profit goals if they want to combat the short-termism that hinders the implementation of socially centred visions. Using the findings of a total impact analysis can serve as a basis for a neutral, objective discussion with shareholders.

Unilever CEO Paul Polman demonstrated leadership in this area a number of years ago when the consumer goods giant started discouraging speculative hedge funds and "actively courting long-term investment funds to buy the company's shares."5 This is not a risk-free approach, but it was made possible by the combination of Unilever's strong brand and a leader determined to take a long-term perspective.

Start a conversation within your organisation about value priorities and core purpose

Shareholder value is just one measure of one dimension of how well a company is doing in achieving its core purpose. A corporate purpose that is defined by a genuine commitment to the social good is highly compatible with profitable growth. All levels of the organisation need to understand and commit to this. The most successful businesses are unwavering in embedding their purpose within the organisation, including explicitly aligning the interests and priorities of management, boards, and shareholders with that identity. This allows them to align corporate behaviours visibly and consistently with their purpose at every level of the organisation.
Without a legacy is there just liability?
Desired legacy or not, CEOs no longer have a choice. Their role is defined by balancing multiple priorities and risks and assessing trade-offs, including but not limited to shareholder and social value. This is tougher than ever today as increasing transparency means that all stakeholders can —and do — have opinions and expectations which they're often vocal and visible in sharing.
To deal with conflicting priorities, CEOs need to change their and their stakeholders' views of what creating social or shared value really means, why social value is business value, and how it can be achieved in their business context. The good news is there are more and more methods and tools available to help them do that — and more and more role models to be inspired by.
Legacy is a business imperative
Your CEO's desired legacy needs to be embedded in the business. Although it will take shape after their departure, if it's been neglected during business as usual, it won't be in place when they leave. They'll be remembered for the wrong thing and the business will be moving in the wrong direction.
Legacy ambitions aren't personal to your CEO — in order to be achieved, they need to be articulated and embedded into business strategy.
So ask your CEO, what is the one thing he or she wants to be remembered for?

"Personally, I do not want to be remembered for anything. I very much want our company and our team to be remembered and celebrated for innovating a new category of care for patients, for transforming those patients' lives, for helping our customers' practices flourish, for creating significant wealth for shareholders, and for being positive contributors to the communities in which we operate." —CEO, pharmaceuticals & life sciences company