Explore the data
The global snapshot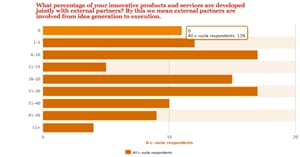 View the global data snapshot for several key innovations questions we asked c-suite executives overseeing innovation from 1,757 companies to answer. Which innovative approaches will they take to drive growth? How will they make innovation happen within their companies?
The country snapshot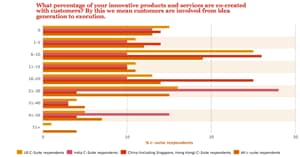 How important is innovation to the success of companies based in the emerging versus developed economies now or in five years time? View the data snapshot for companies across more than 25 countries. Build your own charts by comparing global data with country-specific data.
The sector snapshot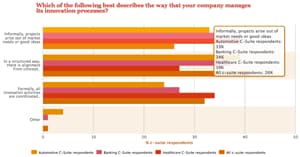 Which sector has the highest percentage of overall revenue spend on innovation? From automotive to utilities, view the data snapshot for more than 30 industrial sectors. Build your own charts by comparing global data with sector-specific data.
About the survey
For our survey—the largest and most comprehensive study of its kind exploring innovation from a global, multi-sector perspective—we drew on insights obtained from interviews with board-level executives with responsibility for overseeing innovation from 1,757 companies, across more than 25 countries and 30 sectors.
1,750+
C-suite and executive-level respondents
25+
countries where respondents had headquarters
30+
industrial sectors of activity
Methodology
For the purpose of our analysis, we segmented these companies based on a balanced scorecard calculated from their responses to the following six areas, which are explored in our study:
How important innovation is to their company
Their appetite for innovation (on a scale from "laggard" to "pioneer")
The proportion of annual revenue derived from major products?or services launched in the previous year
The proportion of annual revenue spent on innovation
The proportion of products and services co-developed with external partners
Their projected revenue growth over the next five years
From this scorecard, we then identified the top 20% innovators (359 companies), and the bottom 20% innovators (395 companies), enabling us to contrast their relative characteristics and experiences—and zero in on the strategies and tactics of the most-innovative group.
Industry focus
Gateway to growth: Innovation in the Oil and Gas Industry
We surveyed 66 oil and gas industry executives from 18 countries across the energy value chain, to find out how innovation is impacting their businesses. The oil and gas respondents in our survey anticipate faster revenue growth than nearly any other sector. Some of this growth may come from energy price increases. But for oil and gas, that is far from the whole story.