In our work with industrial manufacturing clients, we see the critical impact of innovation up close every day. It's one sector where innovation has a dramatic impact on not just the bottom line of individual companies, but also on the productivity of entire sectors like mining, construction or agriculture. And it has a dramatic impact on company competitiveness. The most innovative manufacturing companies managed a 38% increase in revenues over the past three years. That's nearly four times the rate of growth of the least innovative companies in the sector.
Most of our industrial manufacturing clients already recognise the importance of innovation. But they're not always getting the benefits they could be from their investments. That's where this paper comes in.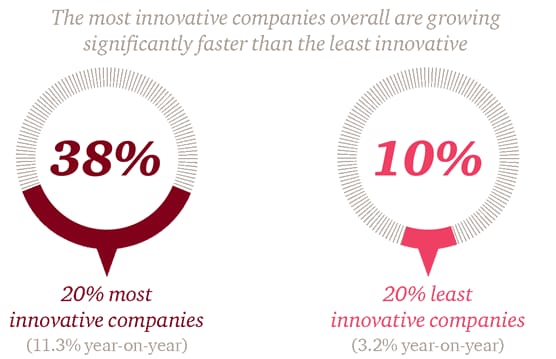 We drew on insights from interviews with 1,757 C-suite and executive-level respondents across more than 25 countries and 30 industries that are responsible for overseeing innovation within their company. Our sample included 249 executives from the industrial manufacturing industry from 20 countries.
Their responses form the basis for this companion paper.
Explore industry trends with Rethinking innovation in industrial manufacturing: Are you up for the challenge?