Adapt to survive: How better alignment between talent and opportunity can drive economic growth
The need for markets to adapt to change is nothing new. In countries where a workforce lacks the skills that are suddenly in demand we see a skills gap emerge. This leads to higher unemployment rates while vacancies increase and productivity and growth decline. In a fast-moving world, talent adaptability becomes even more critical.
There are two essential ingredients to adaptability. The ability of employers to look differently at sources of talent - investigating new geographies and sectors as well as investing in existing employees, equipping them with the necessary skills and motivating them to adapt to meet new challenges. Secondly of course this requires willing individuals who are prepared to embrace change and apply their skills somewhere new.
'Adapt to Survive' for the first time brings together the two most comprehensive sources of talent data in the world; the real-time behaviours drawn from LinkedIn's 277 million members and employer information from PwC's Saratoga database of people and performance metrics, which covers more than 2,600 employers across the globe.
Some markets are more adaptable than others:
Our analysis has led us to create a Talent Adaptability Score – a benchmark that evaluates a country's ability to match talent with opportunity. The Netherlands, UK and Canada recorded the highest Talent Adaptability Scores of the 11 markets in the study.
Adaptability could unlock billions in additional productivity:
Markets with the most adaptable talent are more efficient and productive – a better talent fit between employer and employee results in a greater return on an organisations investment in people unlocking USD$130billion of additional productivity for the countries covered in this report.
The skills gap will narrow with increased adaptability:
Worldwide unemployment continues to rise while jobs go unfilled. Half of all CEOs globally intend to increase their headcount over the next year but 63% are worried about the availability of key skills. As talented people become more adaptable, the skills gap will shrink, leading to better economic performance.
Compromising on talent costs the global economy:
In less adaptable talent markets poorly matched candidates drive up recruitment costs associated with hiring and onboarding people. The hiring process takes longer and recruits don't stay. This creates a cost burden of USD$19.8billion a year for the markets we looked at.
Visibility created by online professional networks leads to better hiring:
Online professional networks give organisations access to a larger talent pool and critically to passive candidates, those not actively looking for jobs. More visibility, coupled with adaptable talent and broad-minded employers creates better hiring.
Compromising on talent costs the global economy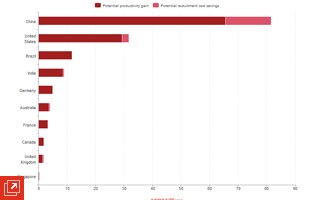 Quotes
"It's key that we find and retain people who are open to new experiences within the company, both from a function but also location point of view; we hire people with a long term career trajectory in mind."
Jennifer Candee
Head of Global Talent Acquisition,
SABMiller plc
"Individuals are more connected, open minded, and willing. They can easily consider whether their company's offerings – challenges, salary and benefits – are comparable to other opportunities in the market."
German telecommunications company
PwC Social Media and Talent Acquisition survey, January 2014
"Technology has broken down so many barriers, we no longer need to be blinkered by where a candidate is based, the sector they work in or the university they went to. Forward thinking organisations are looking beyond traditional metrics to take into account individual behaviour, drive and cultural fit to make better informed, strategic hiring decisions."
Lee Yeap
Head of Resourcing,
British Sky Broadcasting
"Brand experience is THE battleground and truly only point of differentiation – delivering a consistent experience via YouTube, Pinterest, Facebook, Xing/LinkedIn etc is critical to building the brand in the eyes of your prospects."
UK consulting firm
PwC Social Media and Talent Acquisition survey, January 2014