When he said these words in 2013, Ban Ki-moon's reflections resonated with many business leaders and investors worldwide. They decided to act – in collaboration – and the result is the R!SE Initiative. Launched on 19 May 2014 by the UN Office for Disaster Risk Reduction (UNISDR) and PwC, the R!SE Initiative aims to transform the way we manage disaster risk by incorporating risk into investment decisions.
Other public and private sector players are also stepping forward to take leadership together on disaster risk reduction as part of R!SE. These include: The Economist Intelligence Unit (EIU), Florida International University (FIU), UN supported Principles for Responsible Investment (PRI), AECOM and Willis.
R!SE: An ambitious global response to a daunting global challenge
The R!SE Initiative is focused on collaboration and tangible action to achieve risk-sensitive investment. In this way, R!SE will contribute to building the resilience of local communities and a more sustainable global economy. It will:
Act through 8 Activity Streams under the oversight of the UNISDR
Connect 6 key communities with the resources and ability to influence the direction of disaster risk management (DRM)
Deliver information, application and education to implement comprehensive DRM for business investment
Move with urgency: a 6-year horizon to 2020 to achieve its ambitious goals
The R!SE Initiative seeks to build a strong alliance that spans the globe, connects countries and allows for open exchange within and between industries and sectors. Learn more at: www.theriseinitiative.org
The mission: To make investments risk-sensitive
Awareness of disaster risk is increasing, as are investments in risk management. Yet losses continue to rise and risk is increasing at a faster pace than it is being addressed — in both the public and private sectors.
Recent events have shown the growing impact of disasters on business. Whether direct losses, supply chain interruptions or wider effects on performance and reputation, these impacts undermine long-term competitiveness and sustainability. The Global Assessment Report 2013 highlighted that the interdependency between public and private sector presents an opportunity to improve the outcome of investments.
The public sector relies on private sector investment to create economies required to provide public services. The private sector depends on reliable public infrastructure and utilities, efficient urban systems, a dependable workforce as well as a range of ecosystem services. Instead of continuing to create shared risks, public and private sector risk-sensitive investment and practice should begin to create shared value.
That's the opportunity that R!SE seeks to unlock.
How can you get involved?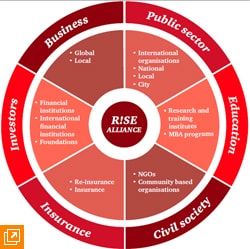 By 2020, the R!SE Initiative will have reached out to a minimum of 1,000 asset owners and investment managers, 200 insurers and reinsurers and 100 global businesses in at least 50 cities spanning 20 countries. Would you like to be one of these?
If so, you may have something to offer one of the 8 Activity Streams. Each is led by a leading player in their field as well as stakeholders from 6 connected communities who have the ability and resources to influence the future direction of DRM.
The 8 Activity Streams aim to deliver tools, recommendations and good practice to implement comprehensive DRM for investments. These include: business strategies; factoring in risk metrics; development of DRM industry standards and disaster risk investment principles; business education; city-level resilience; and the role of insurance.
Find out more about the activity streams and how you might contribute to them in The R!SE Initiative Program Summary at www.theriseinitiative.org.
PwC, disaster risk management and R!SE
PwC has been working with UNISDR and 14 leading private sector companies since 2012 to develop risk-resilient societies. Find out more about our work together and our Disaster Risk Management Framework.
PwC will lead two R!SE Activity Streams and leverage its global network of firms and capabilities in enterprise risk management, actuarial modelling, sustainability, climate risk, business continuity planning, business operations improvement and supply chain optimisation. It will support the private sector in developing improved DRM capacities and support the development of voluntary industry standards for DRM.