In PwC's response to the WEF case study, we take an expanded view to focus on the underlying threat of novel pathogens. First we move beyond bacteria, against which only antibiotics are used, and include all pathogens such as viruses and fungi, against which antimicrobials are used. Overuse of antimicrobials increases the natural rate of mutations of genes in pathogens. It is this man-made acceleration in evolution that has resulted in the higher incidence and prevalence of novel pathogens against which our existing arsenal of antimicrobials and diagnostics can have diminished or no efficacy.
Yet AMR is just one of three main catalysts for the accelerated emergence and evolution of novel pathogens we're seeing today. The second factor, increased contact between human and animal populations, as well as travel, has created an environment where pathogens are readily passed between species — a global mixing bowl of pathogens. Finally, genetic engineering and synthetic biology provide the ability to custom-build microbes, including novel man-made pathogens.
To address the unprecedented acceleration in the emergence and evolution of novel pathogens, a more comprehensive approach is needed. Recognising the global nature of the threat and the multitude of contributing factors, the World Economic Forum and the World Health Organization have called for a solution that involves greater international and multi-stakeholder collaboration. Recommendations include creating public-private partnerships, and embarking on international efforts to reduce barriers to drug development, to name but a few.
In our response to the WEF case study, we recommend adding structure around this collaboration, outlining a basic framework for a robust, comprehensive, and integrated response built around the pillars of detect, develop and deliver. This framework addresses the capabilities needed to become resilient against these novel pathogens — to continuously and rapidly identify, characterise, develop and make available treatments against them. It also looks at how to re-align incentives to reduce the activities that are unnaturally accelerating the creation of the novel pathogens.
In this article, we will expand upon this framework by:
Further exploring the role of each stakeholder group in combating the issue
Identifying practices that can be adopted to improve resilience
The call for an international and multi-stakeholder solution in the fight against resistance is much more challenging in practice than in theory. A structured approach toward addressing this challenge can facilitate both planning and execution. We propose that any effective solution include the following elements:
A comprehensive, balanced approach. A successful response requires action across the healthcare continuum, from pathogen detection through delivery of care. A comprehensive approach includes understanding the desired outcomes and basic activities required in a response, and directing resources appropriately to enable effective execution of those activities.
A collaborative stakeholder ecosystem. Since many organisations have a role to play in responding to AMR, any framework for response must include an assessment of the stakeholder ecosystem. To build resilience, it is critical to understand the roles, motivations, and interdependencies of each stakeholder and any factors that might result in inaction or insufficient action.
1. What needs to be done? A balanced approach that spans the continuum of care: Detect, Develop and Deliver: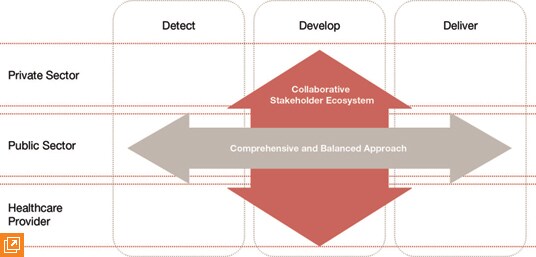 Detect: Developing a biosurveillance capability that enables rapid detection and characterisation of novel pathogens. Detection also includes the sharing of information across the ecosystem of stakeholders to prompt a timely response.
Develop: Augmenting the arsenal of antimicrobials available to combat novel pathogens.
Deliver: Improving the accessibility of diagnostics and antimicrobials worldwide with responsible use policies and practices.
An imbalance in any of these elements, represented by insufficient resources or outcomes, will result in an incomplete and ineffective solution. For example, governments may build state-of-the-art biosurveillance capabilities, but without treatment or an effective mechanism for delivery, the root causes contributing to resistance will not be addressed, and the problem will persist and worsen. Rather, in a comprehensive response, all three elements must be present and working as intended.
2. Who should be involved? Responsibility for combating the problem isn't isolated to governments or health systems, but rather must involve a comprehensive and coordinated 'ecosystem' approach. This implies combined and synchronised efforts from all stakeholders involved in the Detect-Develop-Deliver spectrum, which broadly includes the private sector, public sector and healthcare providers (HCPs). While PwC's response to the WEF case study generally introduces the reader to each stakeholder group, this article will detail the roles and responsibilities of each group, as well as explore the role that each stakeholder should play in risk mitigation.
Private sector: Primarily comprised of product developers. In the case of AMR, these organisations develop drugs, platform technologies, new molecular diagnostic tests and more. Non-pharmaceutical companies also have an important role to play. Large employers with global footprints have access to huge sets of valuable data, which can be referenced for the purposes of surveillance, advocacy and information sharing. While commercial opportunities for these organisations are limited, non-pharmaceutical companies may be compelled into action as leaders in maintaining healthy and productive workforces.
Public sector: Includes advocacy groups (e.g., Alliance for the Prudent Use of Antibiotics), professional organisations (e.g., Infectious Diseases Society of America) regulatory authorities (e.g., European Medicines Agency), academia, NGOs (e.g., Project Hope) and international organisations (e.g., WHO) and policy-makers/funders (e.g., national and local governments).
Health care providers: Includes the healthcare payer and provider community, including patients.
Where does your organisation fit?
Each stakeholder group identified in our analysis plays a role in each of the Detect, Develop and Deliver pillars, though some are especially prominent (Detect – public sector, Develop – private sector, Deliver – HCPs). Primary stakeholders are often supported by secondary actors that may play an equally important, albeit indirect role.
Acknowledging and understanding the role that each actor should play within each pillar of response is critical to building resilience. Practices aimed at improving resilience should consider the unique challenges that prevent each stakeholder from performing the role required to combat resistance, and should focus on establishing incentives for stakeholders to perform activities outlined in Figure 1 below and described further in this article.
Figure 1 - Outlining roles and responsibilities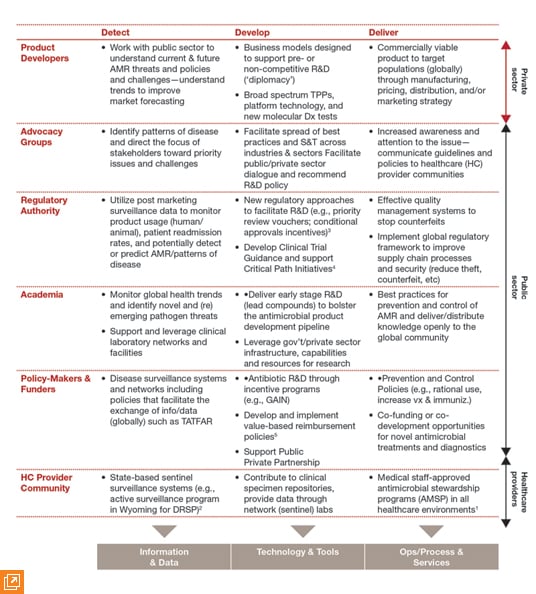 Source: PwC
1. Detect
Private sector: While the private sector is generally a secondary actor in detection, it is a consumer of information gathered by other stakeholder groups. The private sector can use this information to improve market forecasting and, in turn, profitability. Increased and early visibility of the spread of a novel pathogen will reduce the availability of the existing armamentarium of treatments — or lead times associated with R&D, regulatory approval, distribution and dispensing, policies for new diagnostics and concomitant treatment. In the absence of full access to data related to emerging trends and potential demand, private sector actors may not have meaningful incentives to invest in product development.
Public sector: Public sector actors play a primary role in the detection phase. Roles and responsibilities typically include implementing disease surveillance systems, facilitating the exchange of information, monitoring product usage and identifying, monitoring and communicating trends. National borders and differences in regulatory systems, however, present a challenge to international collaboration and information sharing, and may negatively impact the timely dissemination of data across the stakeholder ecosystem, including to the HCP community.
Health care providers: HCPs are also secondary actors in detection, although their role in this pillar is critical. Since infected patients will typically seek treatment through a number of channels, any single HCP will not have access to, or visibility of, the full range of data that can ease the identification of emerging trends. However, by recording information and reporting to relevant authorities in a timely manner, HCPs can speed up the process through which the spread of a pathogen is identified. Ineffective communication between the public sector and HCPs may result in delays associated with accurately diagnosing a disease — leading to the use of antimicrobials where not appropriate, or exacerbating the problem of resistance.
2. Develop
Private sector: The private sector is a primary actor in the development of new medicines, platform technologies and kits that enable effective diagnosis and treatment of diseases. However, since limited commercial incentives exist for developing new antimicrobials, private sector actors are generally more focused on developing treatments for which there is a longer duration of care (e.g., non-communicable diseases). Such circumstances result in a limited pipeline for new and innovative products.
Public sector: Public sector actors play a secondary role in antimicrobial development. Roles and responsibilities include performing early-stage research and development (R&D), providing funding/incentives for advanced-stage R&D, sharing best practices and encouraging dialogue between public and private sectors. Regulators may introduce incentives/approaches to facilitate R&D through initiatives such as priority review vouchers and conditional approvals incentives. Public sector challenges include justifying time and resources spent on addressing this challenge at the expense of other priority efforts and initiatives.
Health care providers: HCPs collect, catalogue and store biological material for the purpose of laboratory research. HCPs may help perform clinical trials and can share lab results pertinent to research and development. HCPs may also be involved in development in that they can contribute/specify requirements (Target Product Profiles) for therapeutic interventions. Challenges primarily include the timely sharing of information with product developers, and the availability of accurate diagnostics to ensure appropriate treatment.
3. Deliver
Private sector: The private sector is a secondary actor in the deliver pillar. Once products have been developed and tested, and have cleared all necessary regulatory hurdles, the private sector has a vested interest in marketing products to increase potential sales. Product developers are also responsible for manufacturing and delivering products to the market and for developing competitive pricing strategies. These organisations play a critical role in assuring the affordability and availability of key drugs in global markets, and in educating consumers on appropriate use. Private sector actors also have a commercial incentive to protect against counterfeit/sub-par quality drugs — another factor contributing to increased resistance. Barriers to full private sector participation in delivery include insufficient manufacturing and delivery capacity to meet global demand, limited commercial attractiveness in some markets, and poor delivery infrastructure to some locations.
Public sector: Public sector actors play a secondary role in the deliver pillar, encouraging the adoption of consistent standards and policies to be adopted by national and local governments related to proper dispensing, rational use and aligning health system incentives. Public sector organisations often take a lead role in educating patients on appropriate use of products, and can facilitate Public Private Partnerships (PPPs) focused on improving access to and availability of products. Regulators issue guidance on quality management standards to combat counterfeit products. Challenges include coordinating and standardising policies across governments and other public health organisations that are required for a consistent and systematic response.
Healthcare providers: HCPs play a primary role in the deliver pillar, as they are the closest to the patient. HCPs are responsible for diagnosing diseases and prescribing the appropriate courses of action. Formularies play a direct role in educating patients that seek treatment at hospitals, clinics, and/or pharmacies. They are responsible for implementing guidance and policy dictated by the public sector. Misaligned doctor and health system incentives and the limited availability of accurate diagnostics may result in inaccurate diagnoses and can result in inappropriate treatment.