Diversity and inclusion
Be yourself.
Be different.
PwC, creating value through diversity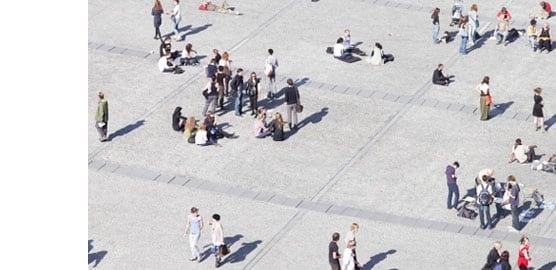 Building and maintaining resilient, long-lasting relationships between people with a mix of talents, experiences and backgrounds yields a multitude of benefits-for both PwC and its clients. We always focus on building a diverse and inclusive business. To be the number one professional services firm, we need the best available talent to serve our clients – and that means attracting, developing and retaining a diverse set of skilled professionals.
Sponsored by Chairman of PwC International, Dennis Nally, our Global Diversity and Inclusion Leadership Network includes members from PwC firms around the world who are influential partners and subject matter experts.
We're encouraging open minds. At PwC we start from the simple premise that talent has no age, race, gender or nationality. Being open-minded means one can adjust to different types of working styles. Studies show that people make approximately 11 judgments within the first seven seconds of meeting someone new. We all have blindspots - we make assumptions (often unconsciously) that lead to conclusions that influence our behaviour. We can get things wrong. Blindspots are bad for business. Our global diversity office implemented 'Open Mind', a network-wide training programme using innovative e-learning, video and face-to-face discussion sessions to help partners and staff reflect on how open minded they are.
We're creating career opportunities. Our Global Mobility Programme not only boosts the delivery of increasingly high-quality services to clients but also develops the cultural skills and international perspective of people across the PwC network.
We're reaching out to our communities. Aspire to Lead, our leadership series for women (but open and useful for both women and men), arms graduates with the skills they'll need to begin their careers with aspirations towards leadership. PwC is also a signatory to the United Nations Global Compact (UNGC) principles on human rights, labour, environment, and anti-corruption. Finally, as a founding corporate sponsor of UN Women's HeforShe, PwC is leading the conversation about getting men engaged in women's advancement.
We're creating leaders. Genesis Park, established in 2001 is an accelerated leadership development programme that turns top talent Senior Managers/Directors into future global leaders. It focuses on expanding creativity, problem-solving skills and an aptitude for working across cultures through real work and real life experiences, supported by real-time coaching.
We're creating better workplaces for our people, starting with an ethical framework that helps us maintain trust across the PwC network, supporting a culture that upholds integrity, objectivity, professional ethics and competence. We're working with our people to build and promote diversity of thought, which goes beyond visible differences such as gender, race, and age. Many PwC firms also support their people in to achieve work-life balance, and offer support for personal charities or community activities through programmes such as 'matched giving'.