Chemicals and Process industry findings: Global Supply Chain Survey 2013
Supply chain performance
Supply chain performance:
The leading Chemicals and Process industry companies achieve average EBIT margins (13.5%) with a high number of inventory turns (17.3) and a better delivery performance than does any other industry except Retail and Consumer goods (97.5%). The supply chain performance gap between the Leaders and Laggards is also the smallest.
Organisational set-up:
Chemicals and Process industry companies typically manage their planning, manufacturing, operational procurement and delivery functions regionally, and their enabling and strategic procurement functions globally. They outsource about 5% of their planning, sourcing and enabling activities; only 13% of their manufacturing and assembly activities; and 7%-45% of their delivery activities.
The key attributes of Chemicals and Process Industry companies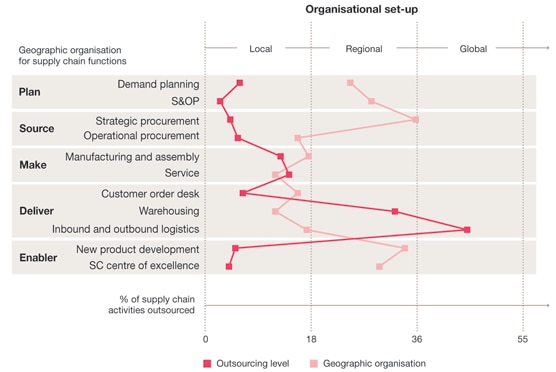 Leading practices
Leading practices:
The most important value drivers for Chemicals and Process industry companies are minimised costs (87%), maximum delivery performance (87%), maximum volume flexibility and responsiveness (77%) and complexity management (72%). The Leaders focus on continuous improvements in production efficiency and inventory management — coupled with process simplification — to drive down costs and on end-to-end supply chain planning and visibility.
Top differentiating practices
Inventory reduction
Decreased manufacturing costs through reduction of wastes
Reduction in process flow complexity
End-to-end supply chain planning and visibility
Collaboration with key customers on planning (e.g., effective forecasting)
Order fulfilment cycle-time reduction to improve information flow
Internal capacity flexibility 80%-120%
End-to-end supply chain planning and visibility
Involvement of partners for capacity reservation
Development of multiskilled employees in order to cope with complexity
Making to order
Assortment/inventory policies distinguished by product family and storing location
Multiplication of sources and sole-sourcing avoidance
Visibility over short-term supply through order traceability, vendor-managed inventory and so on
Visibility and regular monitoring of main suppliers' operational indicators
Responsible supply chain partner footprint and procurement framework
Integrated risk management
Agreement of supply chain partners to adhere to highest ethical standards
Transfer pricing
Localisation of procurement organisation in taxefficient countries
Manufacturing and assembly optimisation (toll manufacturing)