Automotive industry findings: Global Supply Chain Survey 2013
Supply chain performance
Supply chain performance:
The leading Automotive companies achieve the lowest EBIT margins compared with other industries (10.4%). But they have the highest number of inventory turns (18.2) and a nearly best-in-class delivery performance (97.3%). The performance gap between the Leaders and Laggards is quite small, signalling that the industry has already adopted mature supply chain practices.
Organisational set-up:
Automotive companies typically manage their planning, manufacturing, operational procurement and delivery functions regionally, and their new product development and strategic procurement functions globally. They outsource less than 10% of their planning, sourcing and enabling activities; a relatively low, 15% of their manufacturing and assembly activities; and 10%-35% of their delivery activities.
The key attributes of Automotive companies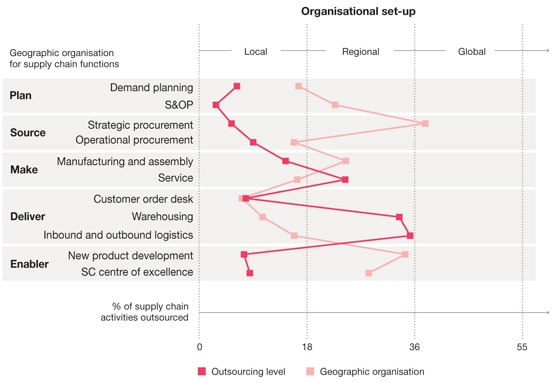 Leading practices
Leading practices:
The most important value drivers for Automotive companies are minimised costs (90%), maximum delivery performance (87%), maximum volume flexibility and responsiveness (83%) and complexity management (67%). The Leaders focus on continuous improvements in production efficiency and inventory management — together with best-cost country sourcing, to drive down costs and on collaborations with key customers and suppliers.
Top differentiating practices
Decreased manufacturing costs through reduction of waste
Inventory reduction
Best-cost country sourcing
Collaborative planning with key suppliers
Collaboration with key customers on planning and execution
Order fulfilment cycle-time reduction improve manufacturing time
Flexible shift models/payment structure
Internal capacity flexibility 80%-120%
End-to-end supply chain planning and visibility
Making to order
Automation of processes in order to cope with complexity
Assortment/inventory policies distinguished by product family and storing location
Multiplication of sources and sole-sourcing avoidance
Visibility and regular monitoring of main suppliers' operational indicators
Regular review of suppliers' financial risk and mitigation through risk-sharing partnerships
Agreement of supply chain partners to adhere to highest ethical standards
Internal carbon footprint optimisation and improvement
Return of supply chain to manage recycling
Localisation of procurement organisation in tax-efficient countries
Intellectual property and patent royalty optimisation
Import/export optimisation (e.g., bonded warehouse)