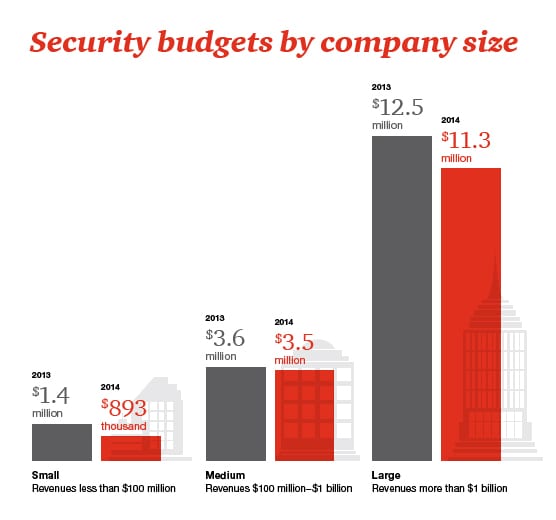 Despite a global increase in cyberattacks, technology companies reported 17% fewer security incidents in 2014. That may sound like good news, but the reality is that incidents are very likely going undetected as threat actors mount increasingly advanced assaults. Another concern is that information security spending declined sharply in 2014, particularly among smaller businesses.
Insiders and nation-states accelerate risks
Current and former employees are the most-frequent culprits of incidents, but attacks committed by organized crime groups, hacktivists, and nation-states represent the fastest growing risks. In fact, nation-state attacks soared by 80% in 2014, which very likely explains the uptick in intellectual property theft.
Insider threat programs are lacking
Compromises committed by insiders like employees and business partners are steadily increasing, which could have critical implications for technology companies that do not adequately control access to key data assets. We found that many technology companies are still grappling with insider security fundamentals like automated identity and access management, as well as employee training.
Identity management goes to the cloud
Cloud computing is now mainstream, and technology companies are adopting more advanced service offerings. One in four technology respondents, for example, say they use cloud-based security services, a solution that is gaining favor as providers offer services like cloud-based identity and access management. Yet many organizations that send sensitive data to the cloud do not have a security strategy for cloud computing, nor do they perform risk assessments on third-party providers.
Adoption of three key security initiatives
On the upside, technology companies are leading the way in adopting several key security initiatives. Many are embracing the National Institute of Standards and Technology (NIST) Cybersecurity Framework to more closely link technologies, processes, and personnel skills with enterprise risk management. They are also very likely to share information on threat intelligence and response tactics, and many are purchasing cyber insurance to help mitigate the financial losses of cyberattacks.